As part of the Symposium, our annual seminar series attracts attendees both in person and via Zoom with an interest in educational topics relating specifically to Thoroughbreds and their transition from the track to the equestrian world.
Makeover attendees will have the opportunity to sit in on three educational seminars and panel discussions dedicated to the care and training of off-track Thoroughbreds. Seminars will be free and open to all and will also be livestreamed. Details on individual sessions are below.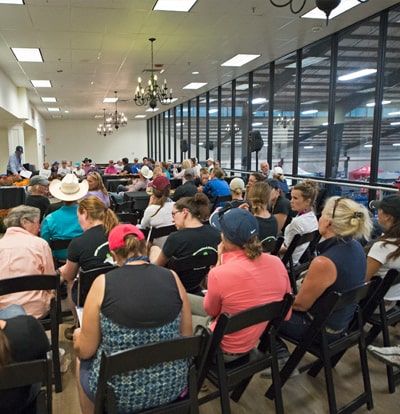 ---
2022 Thoroughbred Makeover Seminars
Complementary and Alternative Therapies for the OTTB
Sponsored by Rood and Riddle Equine Hospital
Stephanie L. Church, The Horse Media Group, moderator
Is your OTTB's performance a bit off? Is he stiff, sluggish, or sore? We'll discuss how you can pair complementary therapies with conventional treatments to boost his overall well-being and performance and take audience questions on therapies such as chiropractic and acupuncture.
Panelists: Dr. Heath Soignier, DVM, Rood & Riddle veterinarian; Larkspur Carroll, DVM, CORE Therapies
Latest Developments in Joint Therapies
Sponsored by Godolphin Lifetime Care
Alexandra Beckstett, The Horse Media Group, moderator
While navigating equine joint therapy options can be challenging, it's easier when you have a good understanding of each treatment and how it works. We'll discuss everything from corticosteroid injections to biologic therapies such as stem cells and take audience questions on the topic.
Panelists: TBA
Optimizing the Management of the Sport Horse
Sponsored by Boehringer Ingelheim
Shoshana Rudski, The Horse Media Group, moderator
Our OTTBs were professional athletes well before we got them. Now we're responsible for helping them flourish in their new roles by maintaining their soundness and stewarding their gastric and respiratory health. We'll discuss common challenges when maintaining OTTB performance horses and take audience questions on the topic.
Panelists: Sarah Reuss, VMD, Dipl. ACVIM, Boehringer-Ingelheim; additional veterinarian TBA
2021 Thoroughbred Makeover Seminars
Watch recordings of last year's seminars, which can also be found on our
YouTube channel
: