ASPCA Right Horse Adoption Barn
In 2022, the Marketplace expanded the population it serves by adding the ASPCA Right Horse Adoption Barn to the Thoroughbred Makeover, offering
no-cost
stalls, listing, and promotion to Thoroughbreds of any age and background (i.e.; Makeover eligibility is NOT a requirement for participation) who are up for adoption with the ASPCA's Right Horse Adoption Partner organizations. Additional support for transportation and expenses may be available through the ASPCA Right Horse program. Inquire directly with
ASPCA Right Horse staff
.
ASPCA Right Horse Adoption Barn is a designated barn at the Thoroughbred Makeover for Right Horse partners to showcase adoptable Thoroughbreds at any range of post-racing experience. While some participating horses may be Makeover-eligible, that's not a requirement for being part of the Adoption Barn: any Thoroughbred is a candidate to participate!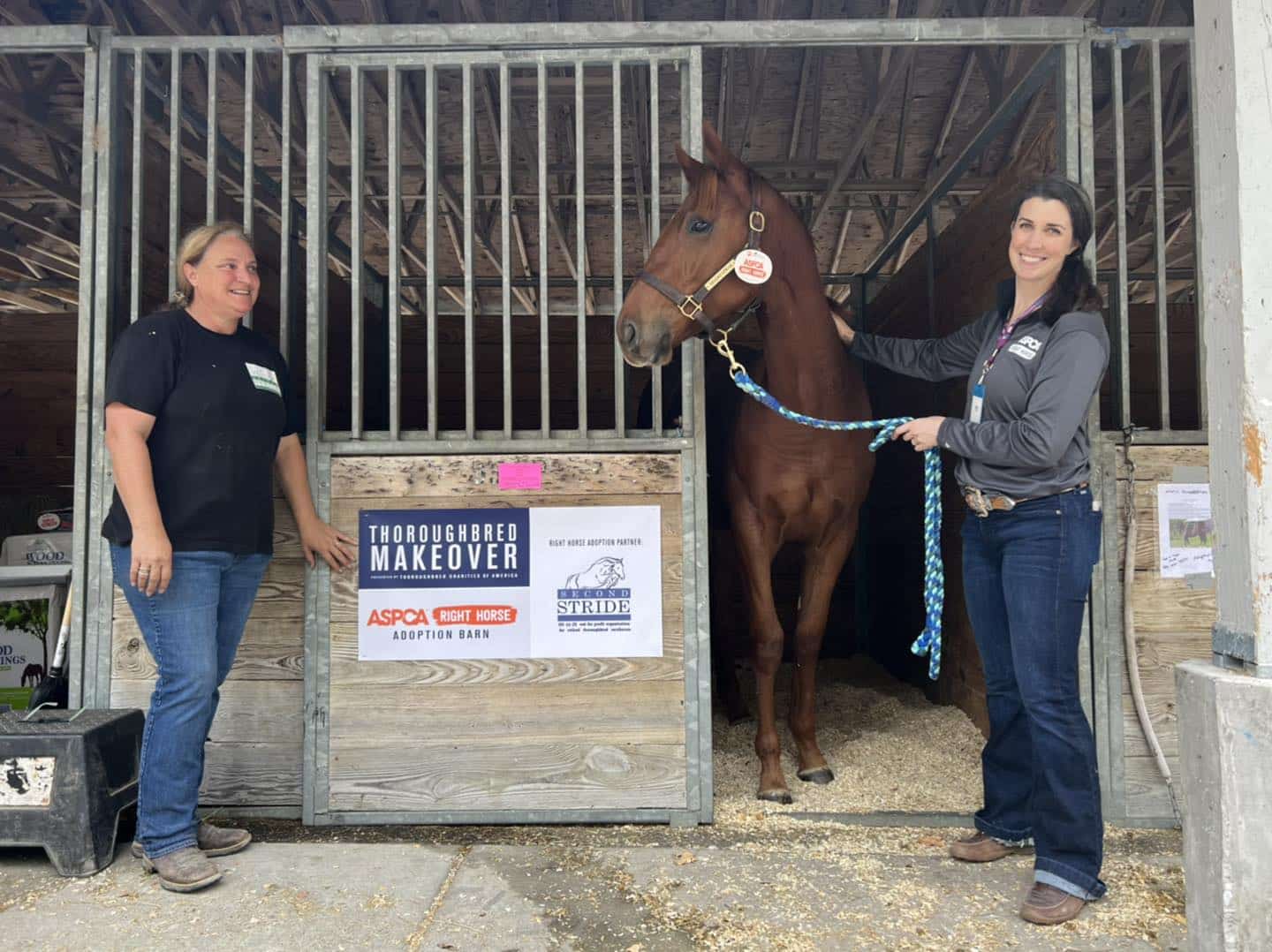 ---
The Adoption Barn will be located in Barn 5 at the Kentucky Horse Park, highly visible in the heart of activity during the Thoroughbred Makeover/T.I.P. Championships.
For more information about becoming a Partner of the ASPCA's Right Horse program, visit the Right Horse website.
Follow the link below to register your organization to participate in the ASPCA Right Horse Adoption Barn.
ASPCA Right Horse Adoption Barn adopters have access to the same tools available to ASPCA Makeover Marketplace shoppers: you can still "take a look, take a ride, and take one home" with access to the trial ring and vets on-call from Hagyard Equine Medical Institute for a pre-adoption exam, depending on participating organizations' individual policies and procedures.
Browse the stalls in Barn 5 to meet adoptable Thoroughbreds in person and speak with the Right Horse partner organizations who are transitioning them.
---
Makeover General Information
Register for the Adoption Barn
---
---
---
2023 Participating Organizations
---
---
Information for Participating Organizations
---