About the 2023 ASPCA Makeover Marketplace
The ASPCA Thoroughbred Makeover Marketplace is a one-of-a-kind shopping opportunity where shoppers can evaluate over 100 Thoroughbreds who are completing the Thoroughbred Makeover and their first year of training post-track. An online catalog is made available in advance of the Thoroughbred Makeover and horses are identified as being for sale/adoption throughout the event. Following the Thoroughbred Makeover, available horses are showcased in a special section of the Winter issue of Off-Track Thoroughbred Magazine. Arena space is designated at the Kentucky Horse Park exclusively for Marketplace trial rides, and official veterinary partner, Hagyard Equine Medical Institute, schedules coverage for pre-purchase exams.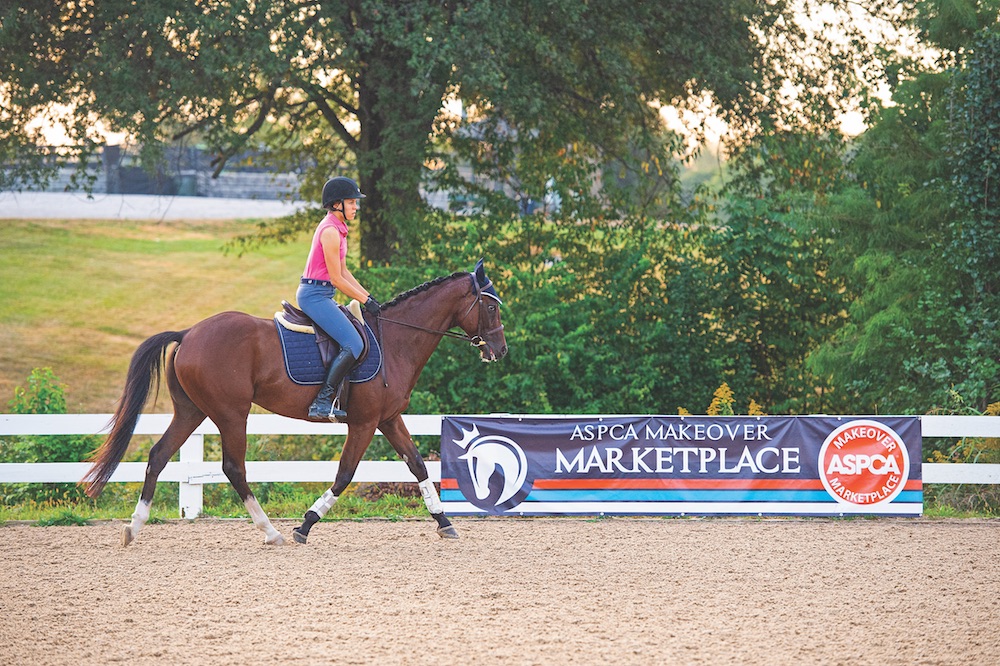 Welcome shoppers! We are so pleased that you are considering a Thoroughbred Makeover participant for your next partner.
The ASPCA Makeover Marketplace is a unique opportunity for potential buyers and adopters in that you can:
Take a Look: Use this online catalog to identify your top choices and then watch them compete in one or two of ten different disciplines at the Kentucky Horse Park
Take a Ride: Arrange a trial ride of your prospective partner in our dedicated trial ring. Where else can you arrange to ride diverse candidates from multiple different sellers in one trip away from home?
and Take One Home: Bring your trailer! We will have vets on call from Hagyard Equine Medical Institute all week to perform pre-purchase exams so you can buy with confidence.
...all in one location!
---
Let's Celebrate Together!
---
Look for the photo-op space outside the trial arena and snap some pictures if you had a "Match Made at the ASPCA Makeover Marketplace"! Tell us about your sale and send us updates. Sales of Makeover horses are a key metric in tracking the RRP's progress in pursuit of our mission to increase demand for Thoroughbreds and we want to hear from you!
---