Meet the 2021 #RacehorseResolution Winner
January 11, 2021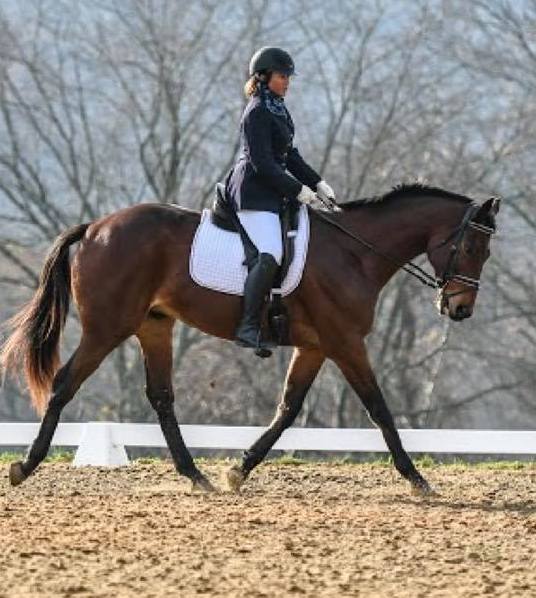 Big thanks to EVERYONE who participated in our 2021 #RacehorseResolution contest! We put out the call for you to share your Thoroughbred-related resolutions for the year on social media, and received a ton of entries. The staff favorite: Jean French!
"2020 is over…be appreciative that you, your family, your horses and your business survived and now, work even harder to keep it that way…"
Yes, we all overcame incredible hurdles in 2020, but more challenges await us in 2021.
My 2020 mega-makeover bound OTTB Moneigh Moproblems, AKA Mo, and I, are so very thankful to have the extra months to continue body building, training and pushing on, in a continuous uphill battle.
Many may disagree, but this uphill battle is exactly what Mo and I need! 2020, we overcame so much, including but not limited to a minor fracture, major abscesses, and of course typical young horse opinions that come with training…and every "Mo-Moment" was worth it.
Mo has big shoes to fill…
Mo's new full-time job is as my lead trail horse, a job previously occupied by my two ranch quarter horses, both newly retired. I'm the owner of a public western trail riding operation in VA, and Mo is now my primary lead horse, at age 7. All I can say is he's exceeding all expectations thus far…and customers love to see and learn about this gentle giant.
Mo is entered into the Freestyle for RRP this October. He is training for a 5 minute performance to the music of "A Knight's Tale" and not only is learning to carry me with armor, but has to learn to joust. All I can say is so far, I sound like a giant conglomeration of pots and pans banging around on Mo's back as he just putters around quietly, probably thinking…"Can you PLEASE be MO quiet up there??!"
Mo is also entered into Dressage for his second discipline. He is developing his topline, learning to use his body and has started intensive dressage training, when he's not busy doing his full-time job. When Mo pins his ears while learning a new skillset, I'm positive he is saying, "…dressage is way MO harder than it looks!!!" 
Honestly, these are very lofty goals, mostly because it's simultaneous, but I simply cannot wait to see who Mo will be by October of 2021!
Our goal is simple…to get better, to be better than yesterday and stay hopeful for tomorrow.
2021-WILL-BE-MO-BETTA!!
Jean will receive her choice of a $100 credit on her Thoroughbred Makeover application fee, or $100 in credit at the RRP Store.