2023 Thoroughbred Makeover Vendor Fair Reservations Now Open
February 27, 2023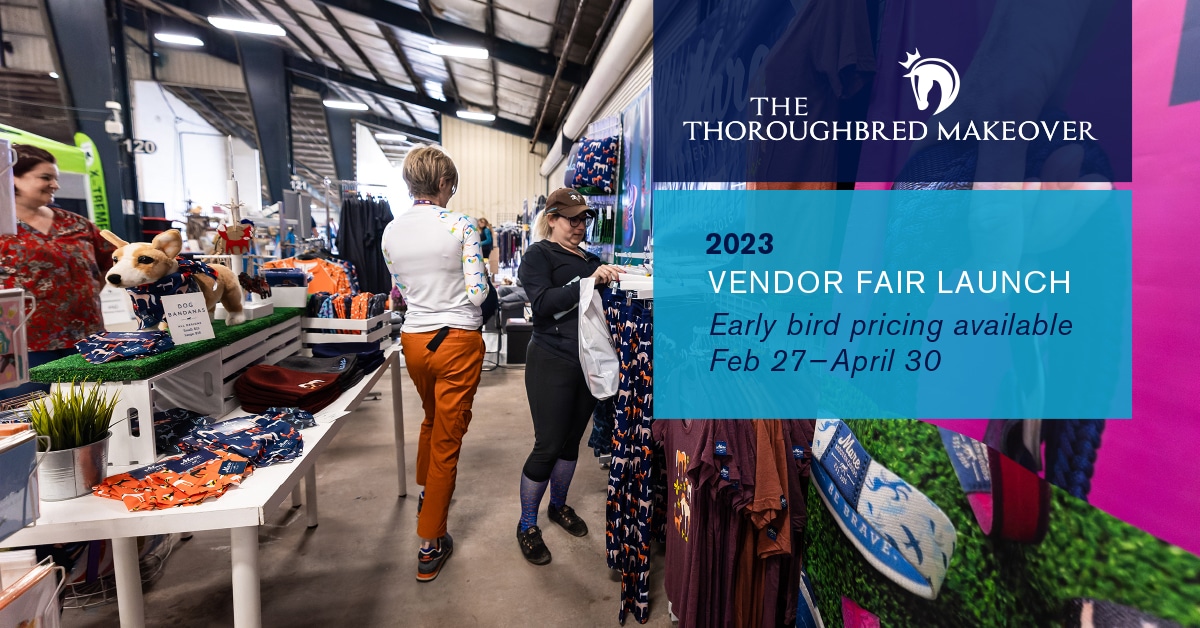 Booth reservations are now open for the 2023 Thoroughbred Makeover Vendor Fair! The Vendor Fair runs throughout the Thoroughbred Makeover and National Symposium, presented by Thoroughbred Charities of America, October 11-14, 2023 at the Kentucky Horse Park in Lexington. 
The Thoroughbred Makeover is the only national gathering of the organizations, trainers, and farms dedicated to serving Thoroughbreds when they retire from racing. The event draws a captive audience of professionals, amateurs, and families, plus spectators, representing a wide range of disciplines and equestrian interests. The RRP is also again partnering with The Jockey Club Thoroughbred Incentive Program (T.I.P.) to host an expanded T.I.P. Western Championships and a Central Region Dressage Championships during the 2023 Makeover.
The Vendor Fair is located in the TCA Covered Arena on the concourse, which is the hub of activity at the Thoroughbred Makeover all week long including with competition, demonstrations and seminars. Outdoor spaces are also available.
Vendor booth space can be bundled with additional advertising opportunities in print and social media. Vendor booth space can also be part of sponsorship packages, which include naming rights to various event aspects of the Makeover.
Booth reservations paid in full through April 30 will lock in early bird pricing and top choice in booth space! Get started with your booth reservation now.