Your Story: Meredith and Chewy
January 06, 2015
Especially after being successful for many years, eventing, local hunters, and even that random western show. But my life had changed – I was a full time teacher, getting married, and my OTTB Juice couldn't adjust to a life where he was only being ridden sporadically. Our rides ended in frustration and tears and I knew it wasn't fair to either of us to continue. Thankfully I found a wonderful friend to lease Juice and she has been training and showing him successfully since this past summer.
That left me on the ground however and that's not fun for very long!
So I began my search for a new horse. I personally hate shopping of any kind. My retired horse, Jay, was picked out by a CANTER PA photograph I saw online. And Juice had been given to me on a whim. I'm very impatient, impulsive, and in truth, a sucker, so I often end up with horses I probably should not own. I made a promise to myself that this time I would take my time, enlist the help of my trainer, and be willing to spend money to get all of the things I want.
I wanted something small (under 15.3), over 5 years old, and quiet.
2 out of 3 requirements isn't that bad right??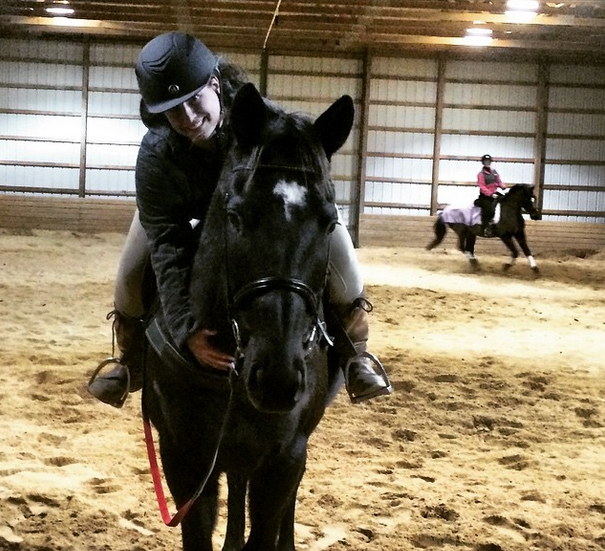 Meredith and Chewy enjoying a relaxed ride together.After posting an "ISO" ad on OTTB Connect (big mistake…huge mistake!) and wadding through the sea of "THIS IS YOUR PERFECT HORSE" and "DON'T MISS THIS ONE" I was offered many 3-year-old, fresh off the track, 17 hand mares.
Trying to show maturity, I made a notebook with pictures of all the potential horses, their info, pros and cons, and took it with me everywhere. I bugged my trainer all the time, sending her pictures and videos. I scheduled visits to see horses and always kept my options open.
Then, less than 2 weeks later, Chewy was getting on my trailer (I told you I was impatient!).
I saw Chewy's ad on the Retired Racehorse Project website. He first caught my eye because he looked like my retired horse Jay. I loved his description and when I contacted the seller, Megan Doran (wife of Fair Hill trainer Carl Doran), she answered me promptly and was friendly and honest. I went to see him 12 hours after I first talked to her, canceling out all the others!
I was really nervous going to see him. I'm a competent but not extremely confident rider. Although many people say my own horses are crazy, it's a crazy I know. I've never been great riding unfamiliar horses. I didn't take the trailer with me and I promised I'd be critical and professional.
Then I met Chewy.
My fiance would be offended if I said it was love at first sight, but I think I can go ahead and say it was love at first sit. When I got on Chew, he was the perfect mixture of my two other OTTBs but I didn't feel the need to have a death grip on a grab strap! I just felt so comfortable on him, like I had been riding him my entire life. His seller was supportive, letting me do whatever I wanted to try him and be sure. She also pointed out that I have a terrible poker face and it was obvious I was in love (she was right).
I instantly called my trainer, Kaitlin Spurlock, and begged her to come look at him with me that week. Because she's amazing, she did, and was a great help in my final decision. She made me jump him not only over rails, but all sorts of crazy things she found in the indoor (remember…competent but not confident). I couldn't believe I was jumping a horse I barely knew and felt safe and happy doing it.
The final test was the vetting. Because I had become so mature in my horse buying (ha!) I knew I had to vet a horse before I bought it. Chewy was barefoot and a bit foot sore the second time I rode him so I had to make sure it was nothing serious. Thankfully, my vet instantly found a stone bruise and Chewy passed the vet. My squeals echoed through the barn and I made my offer.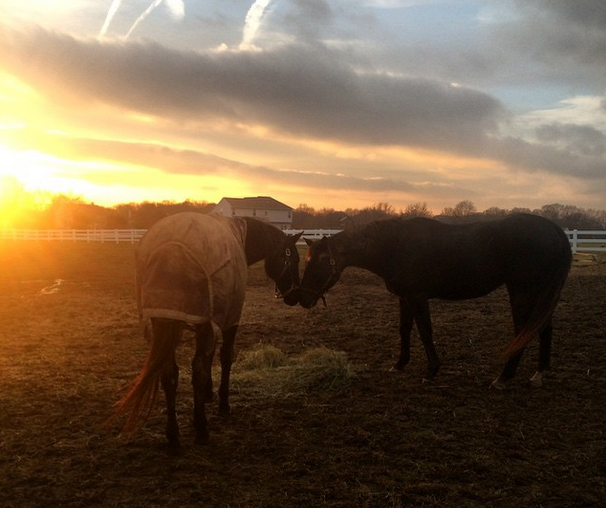 Chewy hanging out with his new friend Jay.Of course the day I was supposed to pick him up there was a snow storm warning, but the day finally came and I took Chewy home. He now lives with my two other OTTBS Juice and Jay, my fiance's leopard Appaloosa, and our rescue miniature donkey. The herd accepted him quickly after figuring out with him here, I won't be torturing them as much!
After I met Chewy I instantly started researching his pedigree and life as a racehorse. I was told his sire Harlen's Holiday was nice and he had some of the usual suspects back in his lines (Storm Cat, Mr. Prospector) and some cool legends like Secretariat and Affirmed. As a Grade A stalker that wasn't enough for me though, so I paid for the subscription to watch his racing videos and even had a friend who gallops at Fair Hill talk to some of his old trainers. While I didn't expect his trainers to really remember him, they were all nice and at least pretended to remember! I learned that he raced on turf as a young horse and then eventually on dirt. He had 47 starts and even won 7 times (which was a lot more than my $150,000 sales yearling Juice ever did!).
Whatever his life was like as a racehorse it's obvious that the connections he had took care of him. He is sound in body and mind, he has good manners and trusts people. I'm thankful to the owners and trainers he had and I'm glad to give him his final home. Every horse deserves a soft place to land, no matter how far they may have fallen from.
The End (or really, just the beginning!!)