Your Story: Mensa G
May 15, 2014
Bloodlines:
As a son of the 1993 Belmont Stakes winner, Colonial Affair, and out of a female family that shown a preference for long distances on the turf for several generations, it comes as no surprise that Mensa G (who raced as Merisa G) has the strength and stamina to compete at the four-star level in eventing.
Colonial Affair was sired by Kentucky Derby winner and Champion 3-Year-Old Colt, Pleasant Colony, a noted source of soundness and stamina in modern bloodlines. Colonial Affair's broodmare sire was Nijinsky II, the last horse to win the English Triple Crown, which includes the 1 3/4 miles St. Leger Stakes, therefore Colonial Affair's ability to win the 1 1/2 mile Belmont Stakes came as no surprise.
Retired at four after notching wins in the Whitney Handicap and Jockey Club Gold Cup, Colonial Affair's penchant for maturing late and loving a distance of the ground may have hurt his overall chances in the breeding shed. After siring five crops in the US (including Merisa G's crop in 1998), he was shipped to Japan where he stood for three years and then eventually to Argentina where he stood at Haras El Paraiso for a total of ten years. Overall, Colonial Affair sired 17 crops worldwide, with 21 stakes winners and total earnings of over $19 million. He might best be desrcibed as a "workmanlike" stallion, producing horses that ran often, stayed sound and loved a distance of ground to run on.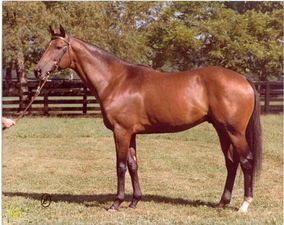 Stop the Music, broodmare sire of Mensa G.On his bottom side, Mensa G's family reflects that same aptitude for maturing late and running long distances. Of his five siblings to reach the track, none won at two years of age only two of them won at three. The best performances by the entire group came at four. Of the six foals out of his dam, Fire the Secretary (by Stop the Music), that made it to the races, Mensa G is by far the most successful with his half sister by Polish Numbers earning the next most with $44,660 in earnings.
While Mensa G's dam produced no stakes winners, his granddam, Esdiev (by Secretariat) had no difficulties in that department. Stakes-placed herself, of her six foals to race, all were winners, two were stakes winners and one was stakes placed. Her best foal was Lake George, a flashy chestnut that won the 1995 Oceanside Stakes and placed second in the Del Mar Derby. In addition to her other stakes winner, September Sunrise, and stakes-placed horse, Georgiana Lake, she produced Bastille (by The Minstrel) who set a new course record at Gulfstream for 1 1/2 miles, further firming up the family's reputation for great stamina.
Relaxed Gesture (Ire), one of the best runners from Mensa G's female family.Mensa G's third dam, Day Line, was unplaced in one start but more than made up for it in the breeding shed. She produced the Coaching Club American Oaks winner, Magazine, who in turn became the dam of her own dynasty, with stakes winners around the globe. Her daughters and granddaughters have produced the likes of Canadian International (G1) winner Relaxed Gesture (Ire), Australian Cup (G1) winner Intergaze (AUS) and Grande Premio Oswaldo Aranha (G1) winner Etcher (Brz). Of Day Line's 14 foals, 8 have gone onto to create stakes-producing families of the highest caliber and most often, over long distances.
Racing Career:
Mensa G begame his career at age 2, in 2000, with Graham Motion. After being given a chance to run with the best of the maidens (horses who have not yet won their first race) in what are term "maiden special weight"races, he was dropped down to easier company in a maiden claiming race and promptly claimed from that race by trainer Scott Lake. While he took second by just a neck in that first foray into an easier level, it would take him eleven more starts to finally notch that first win, in June of 2001.
He would be claimed again in his next start, in Phillie, and become a part of the Elaine Hagy barn in Charles Town. There, he would rattle off two straight victories in first claiming and then allowance company. The track at Charles Town seemed to suit Mensa G as he would get a total of four wins there in a space of just 13 months. During that time, he would be claimed once more, this time by the David Walters barn. He did not win for that barn and was eventually dropped down the claiming ranks until being retired in the spring of 2003.
Overall, Mensa G showed he inherited his family's soundness at the track, retiring with a total of 40 starts, with five wins, seven seconds and four thirds for total earnings of $92,901.
Second Career: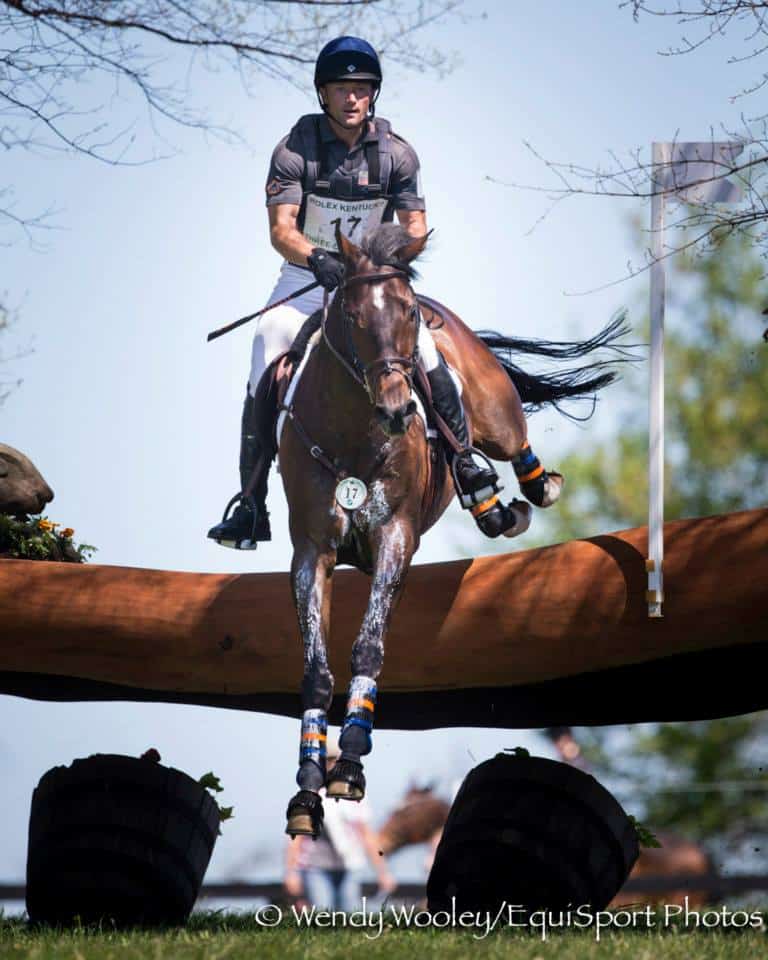 Mensa G and Michael Pollard at Rolex Kentucky 2014. (photo courtesy of EquiSport Photos)CANTER Mid-Atlantic was still in its formative years when Mensa G was listed with the non-profit group in 2003. Trainer Andrea Leatherman saw him online and had her parents accompany her to the track to view him. She describes that first meeting with "He was beautiful….some people are charismatic and have that something special, that was Mensa. He was beautiful and incredibly personable. All we could see him do was walk and a little trot in a halter and lead. We couldn't really see much, just that he seemed to have a good temper, good conformation, and a good attitude."
Initially told he was sold, Andrea was disappointed because she had already decided she wanted him. The trainer then told her that she could buy him if he was still there at 5:00 that evening. She returned and, voila, he was still there. The person who'd been on the line to buy him had backed out when she thought she saw him cribbing. Lucky for Andrea, not only is he not a cribber (he was chewing on a bucket), but he turned into a fabulous event horse.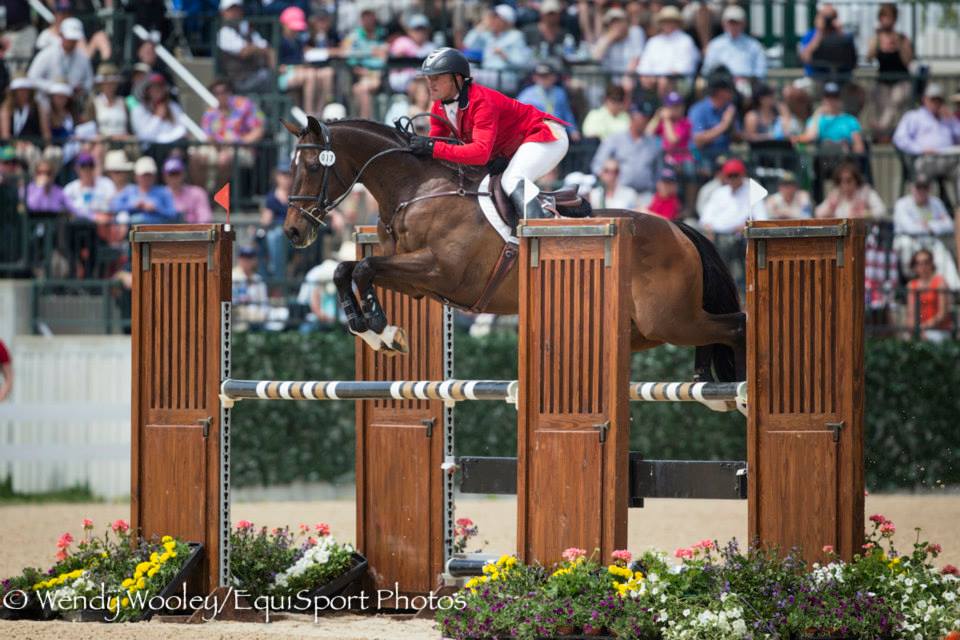 Mensa G and Michael Pollard at Rolex Kentucky 2014. (photo courtesy of EquiSport Photos)Andrea had a lot to do with Mensa's success – she took him all the way to the Advanced level of eventing, including winning the Jersey Fresh CCI3* in 2011. She turned down many offers to buy him along the way, until finally selling him just after that 3* win. Michael Pollard's father-in-law and Mensa's part-owner, Carl Bouckaert rode him for a few events after that – including a second place finish at Poplar Place Farm's CIC3* in 2012 – before Michael took over the ride in 2013.
Michael and Mensa have proven to be a great match. As they showed at Rolex this year, dressage is often their strong suit and have been strong in both cross country and stadium jumping as well. In 2013, they took 6th at the Jersey Fresh CCI3*and second at the Richland Park Horse Trials CIC3*. In 2014, they went to Rolex after placing second at Pine Top Spring Advanced Horse Trials.
Rolex Kentucky 2014
Rolex Kentucky 2014 had Mensa G in the spotlight right from day one. After leading dressage on day one, they ended up in fourth going into cross country. There, Mensa G would jump clear but pick up two time penalties, but that still allowed him to keep his 4th place spot. Stadium jumping proved difficult for many that day and Mensa G had a few down rails to leave him with a final standing of 14th.
At age 16, after 40 starts and 10 years of eventing at the highest level, he still managed to not only complete a 4-star event, but place in the coveted top 20. An achievement to be proud of! Go Team OTTB!