Your Story: Lara Knight and Shooby Do's First Event of 2014
February 11, 2014
Friday was Dressage. It went as well as could be expected for first time back in the "white box". I was quite pleased, actually, especially since it was cold, drizzling, and we were in grass on a slope! Shoo got better as we got further into the test. He is a horse that does better when he memorizes a test because it makes him relax knowing what's coming up.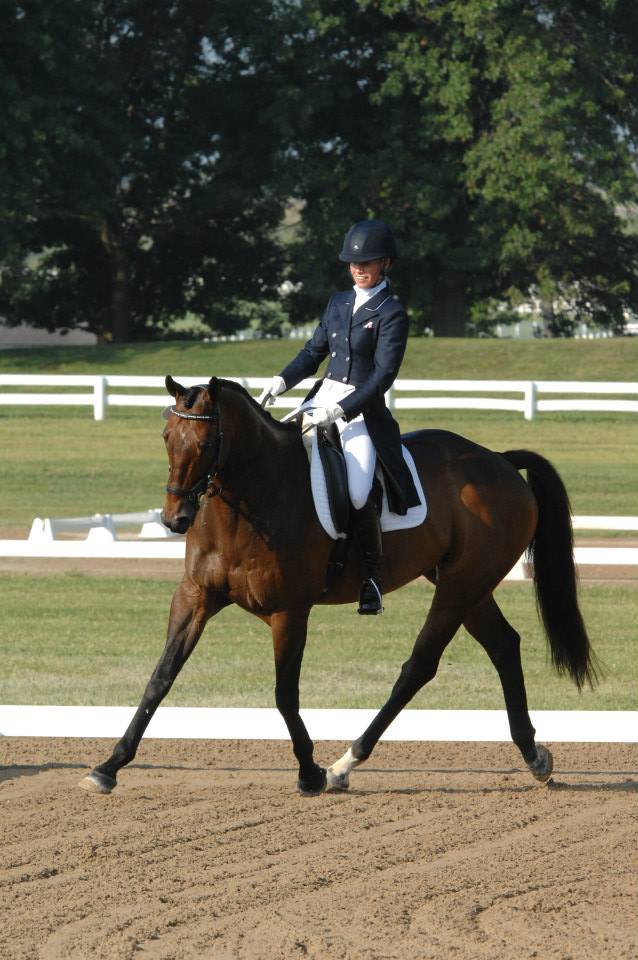 Lara and Shoo at an event last summer in Kentucky.
I thought it was a fair score with a 35.8 and less than 3 points off the leader to land us in 4th. Mostly I was happy that he is more supple through his back this year and that my half halts were working for me; helping to keep him rounder and more powerful. He was just tight the first few movements which hurt us but then got his groove on and settled in. But for being on wet grass and on a slope, I was thrilled with how it turned out! It is hard enough to ride on dry groomed footing!
Saturday was MISERABLE. Pouring rain left everyone drenched to the skin and cold from the outset. I got caught in one downpour while trying to walk my show jumping course and then hiking back to the trailer, I felt the wet dripping down my neck from my ball cap and my wet jeans dripping past my knees down into my socks – so not cool Ocala!
By the time I had to run my stadium course the arena had turned into "Lake Ocala",and that's no joke. Over three-fourths of the time we were in six inch deep water while cantering around the course. You had to ride hard and forward just to give the horses enough impulsion to try to get good jumps done.
Shoo and I had 4 rails down just jumping a touch flat in the heavy footing but I came out actually quite pleased. I felt better things from Shoo and liked that some of the issues we'd been working on didn't rear their ugly heads this round. Again, this was our first event back in quite a while and then we added the difficult of weather, ring, footing, and water, I was pleased with him and the direction we are headed!
Showjumping at an event in Kentucky in 2013
Sunday we woke to the blessed, blessed sun outside and blue skies. The beauty of Ocala is that no matter how hard it does rain, in just a few hours the ground is safe to ride on. Sand drains well!
Shoo was full of himself as he knows when he's getting his cross country gear on. The track was a good one; asking five hard technical jumping questions with multiple elements in each, as well as some flat out big bold jumping questions. Shoo was arrogant and full of run. A couple of times I had to yell at him to wait for me because he grabbed the bit and wanted to take off.
He jumped like a super star and showed tremendous heart in the water complex when we lost our hind end over the 'C' element, which was a grey manatee in the water. We then had four tight strides to a huge narrow brush jump out and while we had no straightness, no balance, and little impulsion, that horse he still jumped between the flags! If he had run out, I wouldn't have blamed him in the least! We finished clear with no jumping penalties and just a few time which was planned for. For his first run back I never wanted to run him hard enough to make time and risk hurting him before he's ready.
We finished 11th out of 22. But again, this was a pure throw away show just to air out the cobwebs and I wasn't going to push him past his state of readiness. We have plenty of time yet this year! We lost too much training time in Dec due to weather, which we have to make up and move forward from this first trial run.
Shoo and I are here in Florida until March 19 to train and then we will head to Poplar Place Farm in Georgia to compete before heading home to Tennessee. Our main goal this spring is the Ocala CCI 2* in April so we are being careful to leg him up just right and keep him happy healthy and sound for that. After that we'll see what's next on our horizon!
You can follow Lara and Shoo on their Facebook page HERE.