Webinar on the Amazing Athletic Ability of the Horse
April 17, 2020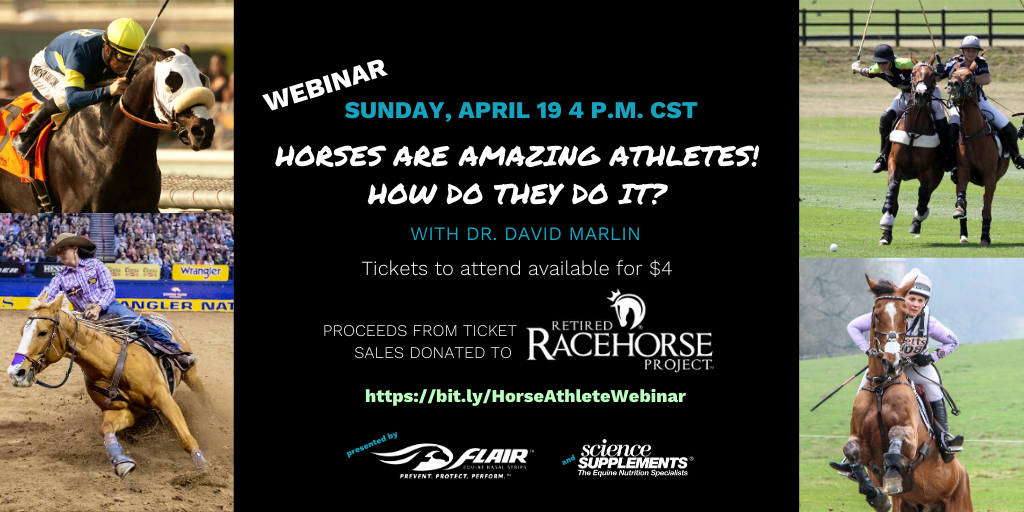 Sunday, April 19 at 4 p.m. CST
It's about the horse™  
Horses perform incredible athletic feats, most of the time while also carrying a rider as they run fast, run for long distances, perform complex movements and more! They are certainly amongst the elite of the animal kingdom. In a webinar this Sunday afternoon at 4 p.m. CST, join Dr. David Marlin, an expert in equine physiology, to explore what makes horses unique from other animals in their athletic abilities. Tickets to attend the one-hour webinar are $4 USD and all proceeds will be donated to the Retired Racehorse Project. Limited to the first 100 participants, sign-up now at: https://www.eventbrite.co.uk/e/the-horse-is-an-amazing-athlete-how-does-it-do-it-dr-david-marlin-tickets-102894279560
You won't need a science degree to be able to follow this, as Dr. Marlin's style of presentation is clear and easy to follow. Entertainment and education combined! Flair, LLC and Science Supplements USA are pleased to present this webinar opportunity.
About Dr. David Marlin: As a PhD physiologist and biochemist with over 25 years of experience in academia, equine industry and consulting, Dr. Marlin has authored more than 200 published peer reviewed papers. He has several notable achievements, including working with the Federation Equestre Internationale (FEI), International Olympic Committee (IOC) and as a consultant to the British Equestrian Teams since 1994. Visit https://davidmarlin.co.uk/ for more information. 
About Retired Racehorse Project: The Retired Racehorse Project (RRP) is a 501(c)3 charitable organization working to increase demand for off-track Thoroughbreds and build the bridges to second careers. It publishes Off-Track Thoroughbred Magazine, hosts the Thoroughbred Makeover and National Symposium, manages the online Thoroughbred Sport Tracker, and presents programs at major horse expos across the country. Visit the RRP online at http://RetiredRacehorseProject.org.
About Science Supplements USA: The first Science Supplements products were the brainchild of Dr. David Marlin. Committed to supplying the finest quality horse supplements, Science Supplements have key ingredients that have been proven to benefit performance, health and well-being in laboratory, clinical and field trials. Products launched in the UK and other parts of the world in 2014 and are now available in the US and Canada. For more information, contact JM@ScienceSupplements.com. 
About Flair, LLC: Flair LLC, maker of FLAIR® Equine Nasal Strips, is dedicated to evidence-based products for health, welfare, and performance of horses; it's about the horse. Developed by veterinarians, FLAIR Strips are drug-free, self-adhesive nasal strips that support horses' nasal passages and promote optimum respiratory health of equine athletes at every level of competition. FLAIR Strips are clinically proven to make breathing easier, reduce fatigue, conserve energy, quicken recovery, and reduce lung bleeding. More than eight clinical studies have been conducted on FLAIR Strips at leading equine research centers. For more information about FLAIR Strips, please visit http://www.flairstrips.com.