Virtual Makeover Week a Success
October 13, 2020
Many of the non-competition aspects of the Makeover transitioned well to virtual presentation, including a Virtual Vendor Fair, webinar series presented by Horse Media Group, the Thoroughbred Aftercare Summit, TERF Makeover Master Class, and the Silent Auction.
The RRP also added the "Make 2020 Over" Virtual 5K, sponsored by Boehringer Ingelheim, inviting participants to complete a 5K however they liked — by walking, running, or even riding. Participants were encouraged to fundraise for the RRP via social media, and many runners found creative ways to spark additional donations (such as the Makeover Maidens, consisting of handicappers from major networks who ran their 5K at Santa Anita!). The Virtual 5K ultimately raised over $11,000 for the RRP.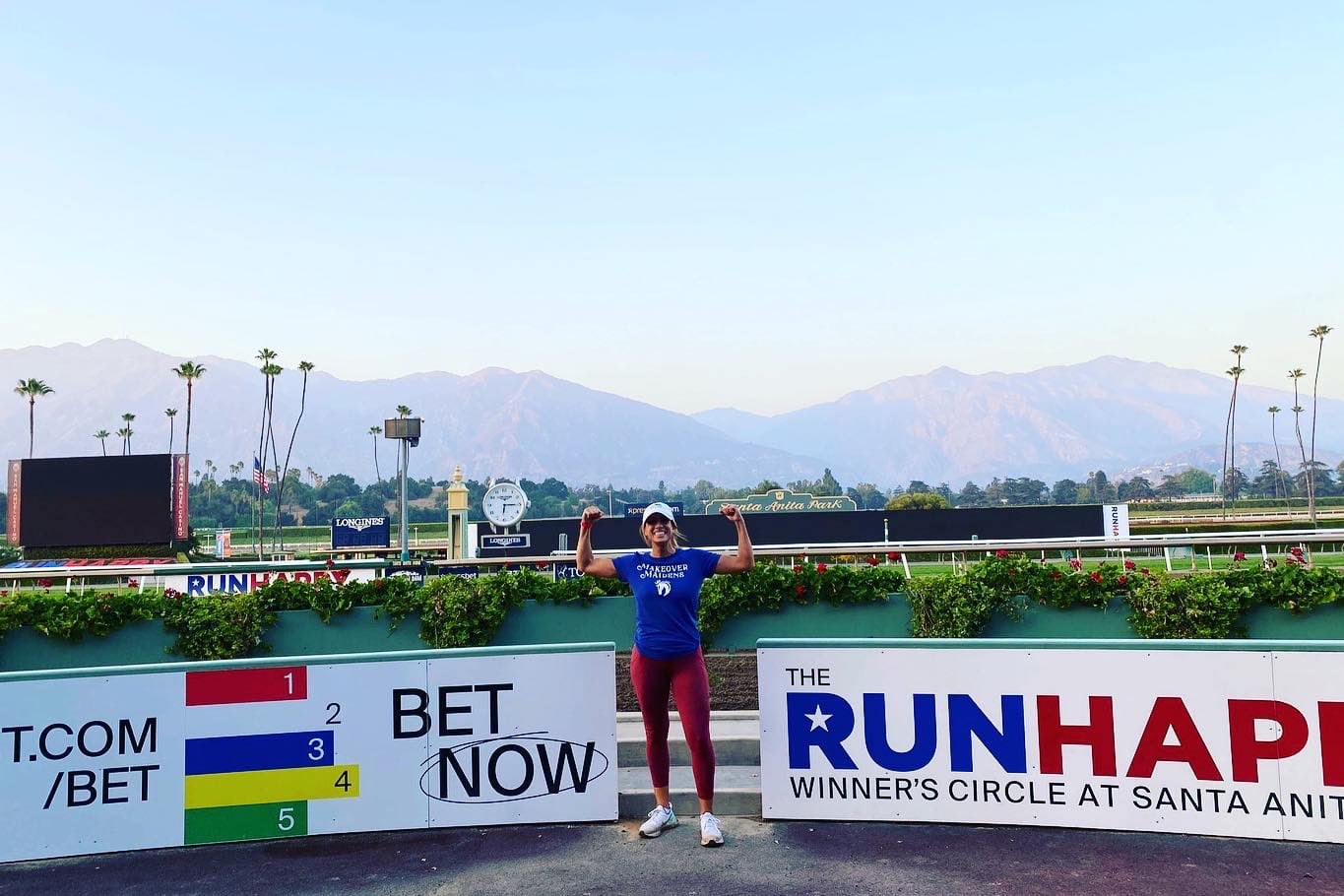 Team "Makeover Maidens" led the charge in total fundraising for the Virtual 5K, with Makeover Maidens' Cynthia Smith running the group's fast time at Santa Anita.
Thoroughbred enthusiasts tuned in from all over the world to the webinar series, presented by Horse Media Group. Held over three evenings, webinars included "Do More, Spend Less" sponsored by Godolphin Lifetime Care, "OTTB Behavior: Why Does My Horse Do That?" sponsored by Maryland Jockey Club, and "Dealing with Gastric Ulcers," sponsored by Triple Crown Feed.
The Thoroughbred Education and Research Foundation (TERF) Makeover Master Class transitioned to a unique virtual format, filmed with three different teams of trainers, commentators and emcees with three different horses. Teams based in Colorado, Kentucky and Maryland each demonstrated and narrated their own processes for approaching early training sessions with recently-retired Thoroughbreds, offering unique insight into analyzing conformation and trainability. Additional support for the Makeover Master Class was provided by the United States Polo Association and Arapahoe Park.
The Silent Auction, sponsored by Ocala Jockey Club, featured many items of interest, including halters worn by Authentic, Tiz The Law, Catholic Boy, English Channel, and Go For Gin; a unique Thoroughbred lover's experience in Aiken, SC; lessons with top trainers in multiple disciplines; and high-quality sporting art. The Silent Auction ultimately surpassed its fundraising goal, bringing in over $27,000 for the RRP, thanks to the hard work of the Silent Auction committee led by Carolyn Karlson and Valerie Callcott-Stevens.