Two Ways to Play in the Retired Racehorse Project's Sire Madness, Presented by Surfside Stables, LLC
February 22, 2021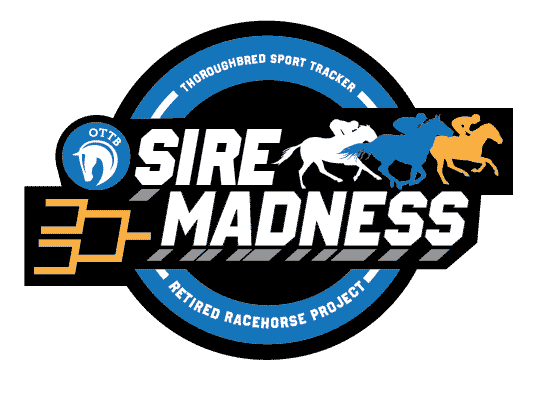 As today's equestrians discover (or come back to) the off-track Thoroughbred as America's own sport horse, savvy horsemen want to learn more about how specific bloodlines perform across disciplines. That's why the RRP created the Thoroughbred Sport Tracker, the internet's only user-driven database for Thoroughbreds in second careers after racing. 
Every March, the RRP celebrates the Thoroughbred Sport Tracker with its Sire Madness contest: we take the 16 most popular Thoroughbred stallions as represented by offspring entered into the Thoroughbred Sport Tracker, put them in a bracket, and then let OTTB fans decide: who is the best modern sire of Thoroughbreds in sport?
Starting February 22 through February 26, fill out your bracket at the Retired Racehorse Project's website and submit for a chance to win big prizes: anyone who nails the full bracket will win $100 in RRP Store credit, and if you pick the correct Final Four, you'll earn yourself a code for 20% off. You just need a free web user account at TheRRP.org to get started!
Then, watch the RRP on Facebook starting on March 1: every other day, we'll have a new match-up of stallions. You'll learn more about their racing careers and the achievements of their offspring both on the track and off. Your vote will decide the winner!
The 2021 Sire Madness is generously sponsored by Surfside Stables, LLC a privately-held Thoroughbred partnership owned by Howard Appel and his sister, Debbie Appel. Its missions are to race its horses at the highest levels, while providing them with the best training and care, and to ensure they enjoy healthy and happy lives after racing. Besides racing and breeding, Surfside Stables, LLC is committed to supporting the horse racing community by partnering with charities including the Retired Racehorse Project and Permanently Disabled Jockeys Fund, among others. Check the Retired Racehorse Project's Facebook page for a photo of the newest addition to Surfside Stables, LLC — a filly, the first foal bred by the partnership, born on February 11, 2021.