Thunderous Affair Is 2020 Thoroughbred Makeover Champion
October 25, 2021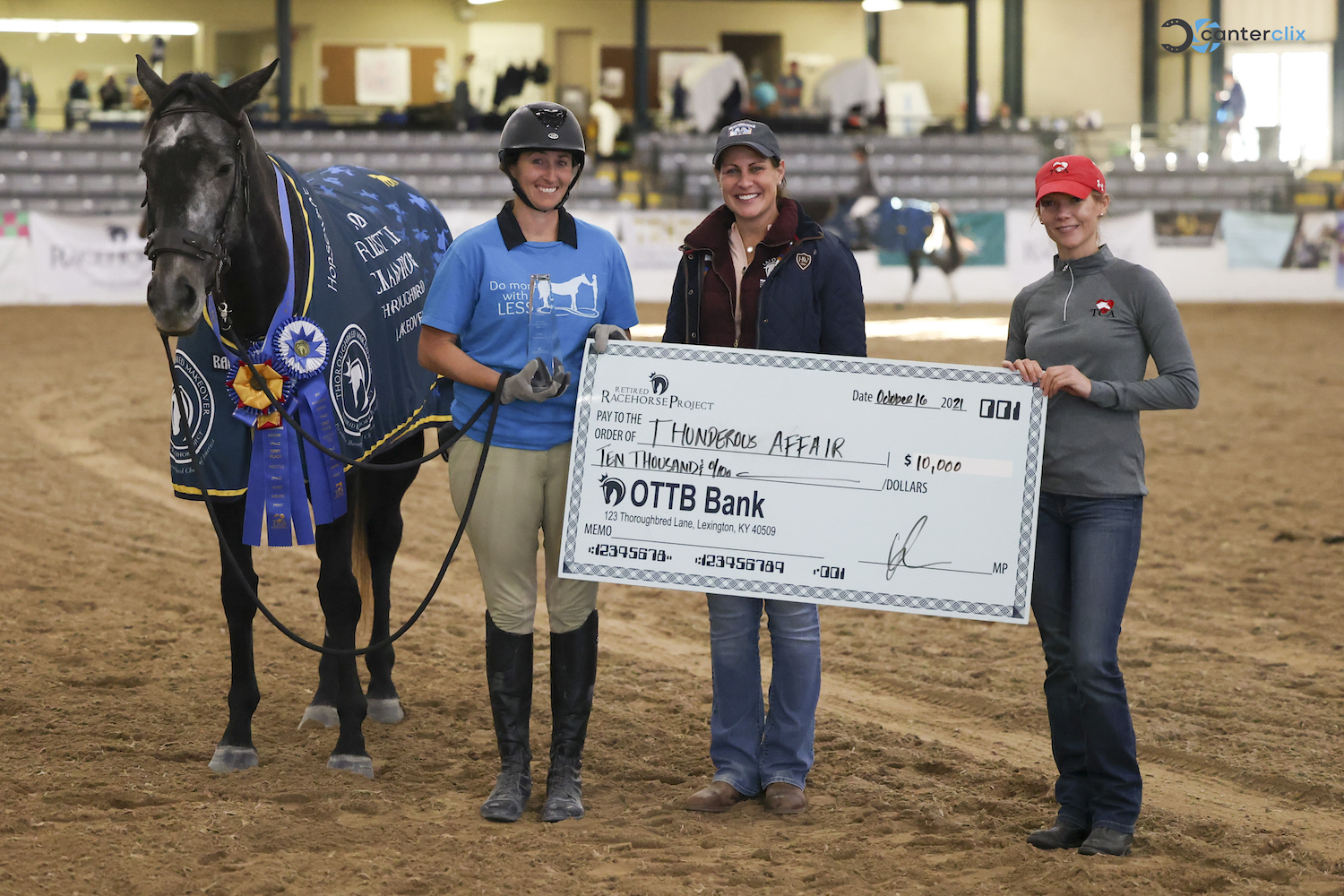 L-R: Thunderous Affair, Lindsey Partridge, RRP Executive Director Jen Roytz, TCA Executive Director Erin Crady
The 2017 16.2 hand gray/roan mare was bred in Kentucky by Jim Williams. She never made a start, but did train to race. By Liaison out of the Thunder Gulch mare Thunder Fan, Thunderous Affair was placed through CANTER Michigan.
Lindsey Partridge, a professional based in Pontypool, Ontario, is no stranger to the Thoroughbred Makeover — she won the overall title back in 2015 with Soar — but this particular journey has not been without its challenges.
"She didn't trust me in the beginning," recalled an emotional Partridge. "I really had to slow down and just go to events, and just not make it about competing. Just the fact that she was so calm and relaxed here and able to trust me to do everything — gosh, I'm going to start crying!"
Partridge, who has made a name for herself with her unique brand of horsemanship and crowd-pleasing freestyle routines, trained Thunderous Affair to not one but two discipline championships — Freestyle, in which the pair played with Partridge's signature big blue tarp and other props, and Competitive Trail, in which Thunderous Affair's easygoing demeanor impressed judges and spectators alike.
"It's all about putting that relationship first," Partridge described, reflecting on her past Makeover performances and her road to success. "I've done ranch and field hunter and trail and freestyle, but it all comes back to that partnership first."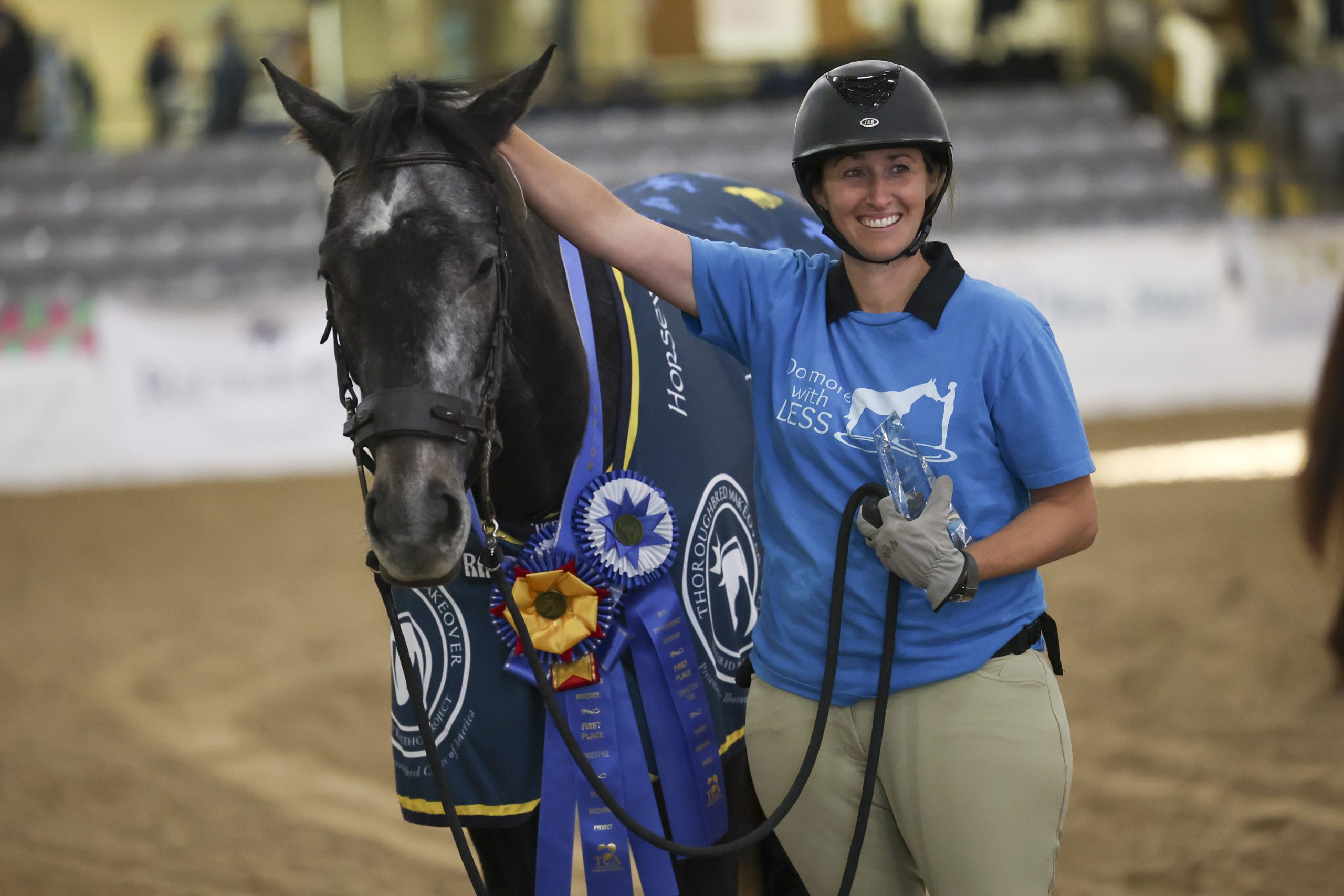 Thunderous Affair and Lindsey Partridge
2020 Thoroughbred Makeover Discipline Champions (in order of go):
Eventing, sponsored by Tipperary Equestrian: Legend's Hope, trained by Jazz Napravnik
Show Jumper, sponsored by Excel Equine: Canton Comet, trained by Samantha Fawcett
Show Hunter, sponsored by Beyond the Wire: Still Dreaming, trained by Charles Hairfield
Field Hunter, sponsored by Masters of Foxhounds Association: Zapper, trained by Cameron Sadler
Dressage, sponsored by PTHA's Turning For Home: Elbow Room, trained by Helen Pianca
Polo, sponsored by United States Polo Association: That's My Bertie, trained by Willowbrook Polo Team
Freestyle, sponsored by New Start: Thunderous Affair, trained by Lindsey Partridge
Barrel Racing, sponsored by SmartPak: Czraina Maria, trained by Jessica Frederick
Competitive Trail, sponsored by Godolphin: Thunderous Affair, trained by Lindsey Partridge
Ranch Work, sponsored by MidAtlantic Horse Rescue: Aussie Prayer, trained by Raechel Ramsey
A full list of results and awards can be found at TBMakeover.org.