Thoroughbreds For All! Kentucky Year Three A Home Run
April 29, 2014
Boyd Martin, Linda Zang, and Jen Roytz offered fascinating insights on a group of New Vocations horses that were presented in hand. Anne presented the horses' racing backgrounds, Jen talked about the pedigrees from a sport horse perspective, Linda spoke from her background as a dressage trainer and judge, and Boyd spoke from the experience of having trained eleven Thoroughbred ex-racehorses to the four-star level of eventing.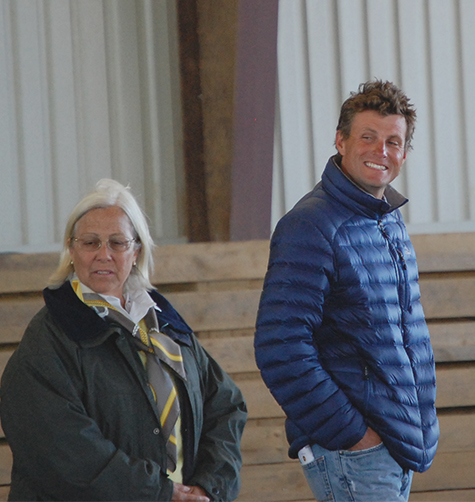 Boyd Martin and Linda Zang evaluate OTTB prospects from New Vocations.Linda is a world-renown educator. Everything she says is clear, articulate, and understandable even when explaining the biomechanics that allow a racehorse to develop into a dressage horse. It was particularly fascinating to hear how she and her late husband Jim Lewis, a racehorse trainer and breeder, would look at horses together. Linda had just returned from Italy where the elite group of international dressage judges had held their annual brainstorming session. For her to volunteer her time and her sought-after knowledge to this event is a testament to who she is as a person. We can't thank her enough.
Boyd also moved us with his generosity. He reluctantly declined our invitation when his plan had been to ride four horses at Rolex, but after suffering the disappointment of a broken leg just weeks before the big weekend he called and offered his services. Boyd's love for Thoroughbreds is well known, but until Friday night very few people had ever had the honor to "listen in" as he sorted through prospects. We all wonder what he saw in horses like Neville Bardos and Ying Yang Yo, and now we know something about his thinking. "I want a horse that walks in here like he owns the place. I don't care if he's particularly friendly." Boyd had a favorite in the bunch, but was quick to note that the ones he was less impressed by were probably the ones most suitable for the average rider.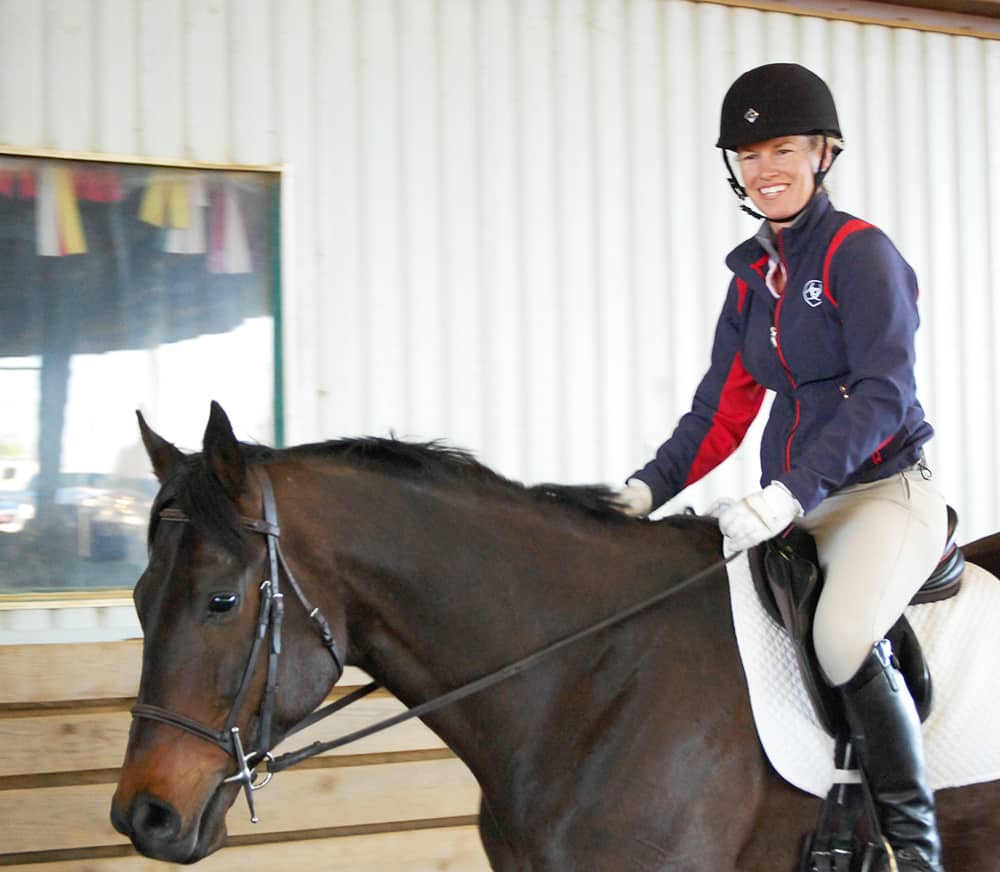 2013 RRP Makeover trainer, Lara Knight, taking one of the New Vocations prospects for a spin.Jen Roytz makes her living marketing and writing for the Thoroughbred industry in Kentucky, but can't look at a racehorse without evaluating it's potential for riding. Her comments on the temperaments, soundness, size, bone, and athleticism of the horses in their pedigrees were fascinating. Knowledge like hers is hard to come by and made many of us wish she were available for consultation. Read her articles in The Paulick Report and Horse Collaborative.
Two of the horses that were evaluated in hand appeared under saddle, one with New Vocations trainer Melissa King and the other with eventer and RRP Thoroughbred Makeover trainer Lara Knight. Linda coached them on the flat a bit and Boyd set up a jump. The two horses had only jumped a handful of small x's in their lives but both gamely cantered over a two foot oxer while Boyd cheered them on and assessed their talent and temperaments.
The final part of the evening was a series of four demonstrations. First was Nuno Santos on Ken's Kitten, a seven year old who ran five times and never hit the board, by 2013 North American Leading Sire Kitten's Joy. After just two years of dressage training he entered his first recognized show at third level and won a first and second against all warmbloods. To see him work under the direction of Linda Zang was both inspiring and educational. Nuno was so impressed that he plans to approach Linda for lessons.
Ken's Kitten was bred by Ken and Sarah Ramsey, owners of Kitten's Joy and Ramsey Farm. Mr. and Mrs. Ramsey not only attended the event but also generously paid all of the expenses to have the horse shipped from Maryland and back. This couple's success as an owner and breeder of racehorses is legendary. Ken's Kitten did nothing but cost them money. But nobody could miss the delight that Mr. Ramsey showed watching his horse dance across the covered arena Friday night. He proudly marched into the arena, took the microphone, and showed beyond doubt that horse people share a bond, regardless of the sport they play. He was like a proud father whose son has finally found a way to succeed in life.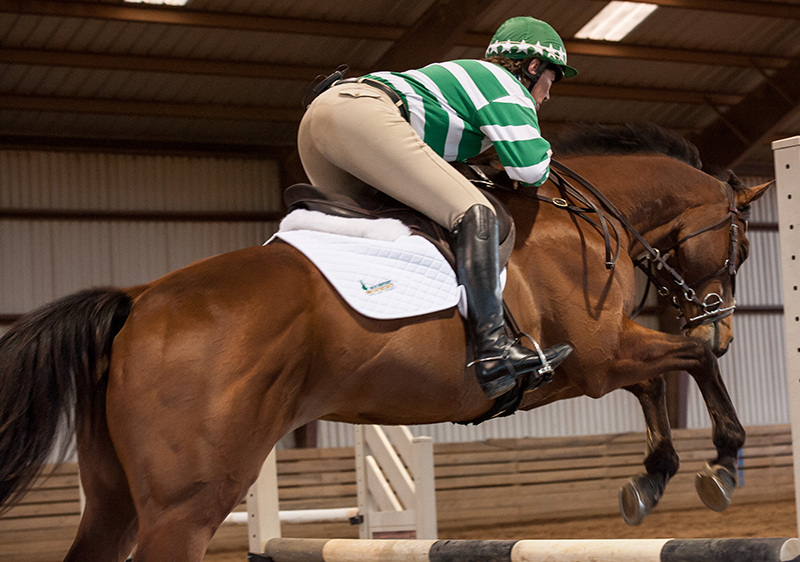 Cathy Wieschhoff and Action Now showing everyone how to fly on a Thoroughbred. (photo courtesy of Megan Stapley Photography)Next up was Cathy Weischhoff, the local Kentucky girl who travelled the world eventing at the top levels and now is one of central Kentucky's most popular trainers and instructors. Riding a horse named Action Now that she bought off the track and sold to student Morgan Garrett, Cathy demonstrated the epitome of Thoroughbred jumping talent. This horse could have done the hunters as easily as eventing. The beautiful canter rhythm, ears pricked forward studying every fence, and knees to his chin, this is a horse who trusts his rider and is the product we are all trying to create. Cathy also demonstrated her natural horsemanship work with the horse jumping at the end of a rope, learning to take care of himself while being directed by the person on the ground.
Lynn Symansky and her magnificent Donner, who raced in Maryland as Gorky Park, chose to skip Rolex 2014 after placing fifth and then running double clear at the Pau CCI**** in 2013. US Team Coach David O'Connor encouraged her to work on her dressage and she did the test dressage ride at Rolex as part of that effort. Lynn talked about her horse's incredible gallop, his cross country brilliance, and his challenges in dressage.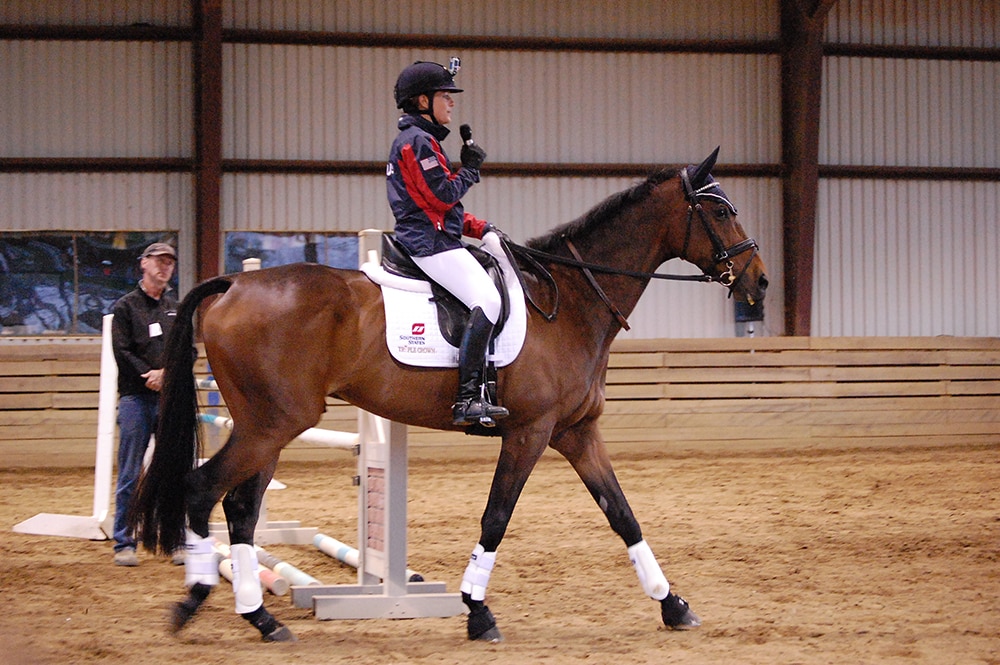 Pan American Games gold medalist Lynn Symansky and her 4-star eventing OTTB, Donner.After explaining that he was a horse with no confidence that she wanted to give up on early in his career she proceeded to demonstrate magnificent flatwork and focus in a testing environment. Lynn's message to the crowd was, "Don't give up." I must say personally that just standing next to Donner sent chills up my spine. He is the rangy kind of horse who looks like he could run a ten mile race over timber.
The final act of the evening was further proof that racing and riding people are all just horse people. Rosie Napravnik is a very famous woman. Last year she was the first female jockey to ride in all three Triple Crown races, and this year her success continues. But Rosie didn't want to come to our event to talk about herself. She wanted to talk about a horse. Rosie came with Sugar, a gray gelding she fell in love with on the track and picked up when he got to the bottom of the claiming ranks. Sugar has screws in his ankle and a few other old injuries, but he travels with Rosie and works as a track pony with Rosie's husband Joe Sharp, who is an assistant trainer to Mike Maker. Sugar also spent some time as a school horse at Rosie's mom's barn.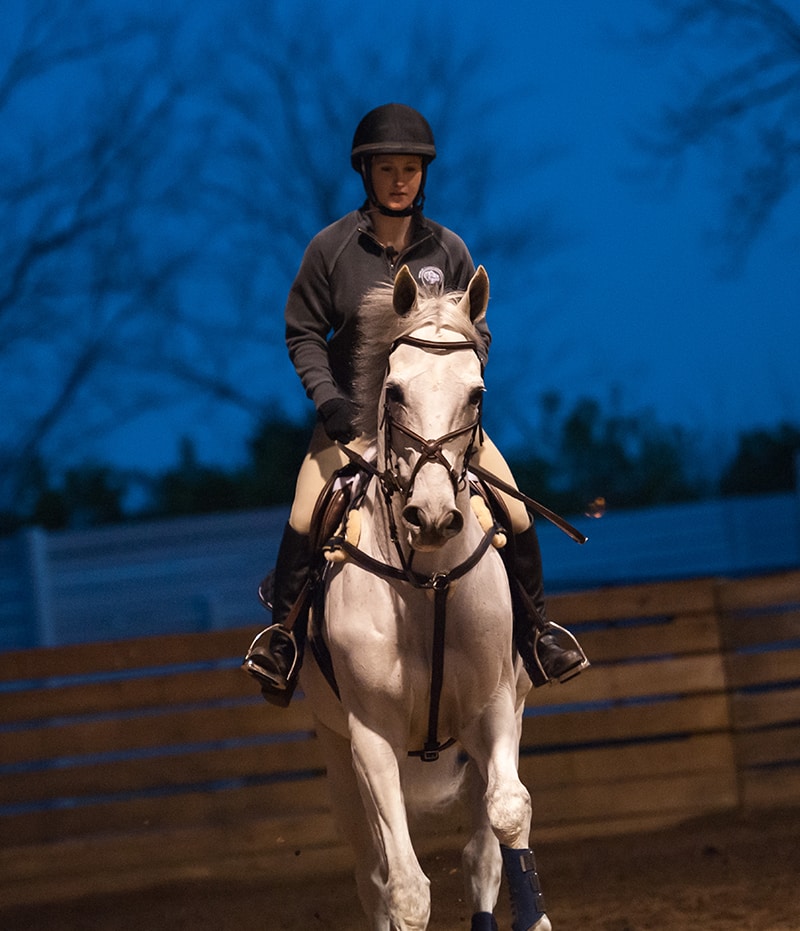 Leading jockey Rosie Napravnik and her off-track Thoroughbred, Sugar. (photo courtesy of Megan Stapley Photography)Joe started out the demo riding around in western tack while Rosie told Sugar's story. Then Rosie rode Sugar in jumping tack. The jumps were still set for Cathy and the preliminary event horse in the earlier demo and I asked Rosie if she wanted me to lower them. "Nope."
Joe said that he'd never seen Rosie this nervous as she got on to ride in front of 600 people. She practiced for this, he said. Something about jumping in front of a bunch of eventing people had her worried. I thought Rosie looked fearless.
Sugar was a neat horse: a good mover, a good jumper, full of good energy and smart. Rosie jumped everything just about perfectly with him. The two-stride vertical-to-oxer was a little tight and Sugar got a little quick to the oxer. She wanted to do better so she did it again, exactly the same. It wasn't actually bad, just a quickening of tempo. Not good enough for Rosie.
At the end of her demo I asked who we should watch in the Derby. She said there was a certain horse named Vicar's In Trouble owned by a certain couple named Ken and Sarah Ramsey being ridden by a certain girl. She said that girl really wants to win the Kentucky Derby. She said it like she really meant it. She said it like she will.
People have been asking how we will top this line up next year. We won't. We don't need to. As long as we have Thoroughbred ex-racehorses and people who adore them, Thoroughbreds For All Kentucky will be a magnificent event.
Stayed tuned for full video coverage along of the ENTIRE event by following us on Facebook or YouTube. We hope to have the videos ready by the week after the Kentucky Derby!
– Steuart Pittman
Until then, you will just have to satisfy yourself with this:
We hope to see everyone back next year!