Thoroughbred Makeover Preliminary Competition Day One Results
October 03, 2019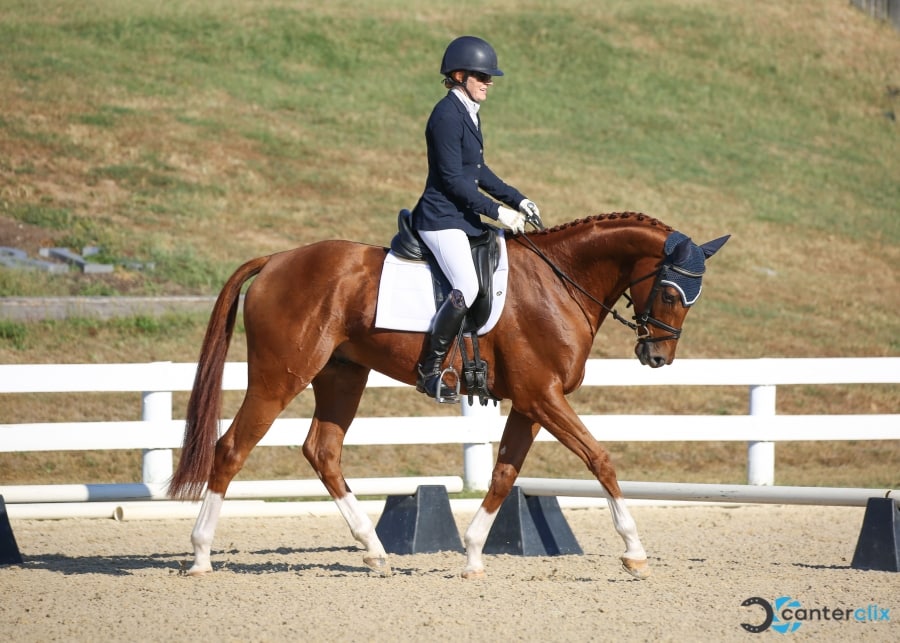 Just under 400 horses are competing in ten disciplines this week, with the five top-placed in each discipline coming back to the Finale on Saturday. Today's competition included Freestyle in its entirety, plus roughly half of the fields in Dressage, Eventing, Show Hunter and Show Jumper. Both Barrel Racing and Field Hunter completed two of their three phases, with the final phases taking place tomorrow morning. On Thursday, we'll also see Competitive Trail, Polo and Ranch Work.
Fallon Taylor and Cowboy Swagger hold the lead in the Barrel Racing after a solid horsemanship performance that placed them in second going into the evening's first barrel run. A time of 17.852 was good for another second-place finish, giving this pair the overall lead. Taylor is a professional barrel racer from Collinsville, Texas, and was the 2014 WPRA World Champion, as well as the 2018 AQHA World Champion.
Cowboy Swagger is a 2014 gelding by Grindstone out of the Baquero mare One Fast Cowgirl, bred in Oregon by Dr. And Mrs. Jack B. Root Jr. He made 16 career starts in Oregon, winning three times and earning $20,299. His last race was at Portland Meadows on January 8 of this year, where he finished fifth.
For Erin Miller, competing at the Thoroughbred Makeover was a longtime goal, and when she saw the horse O Ganador, listed by Jen Ruberto, she had a feeling she might have found the right partner. "We had a great day today," Miller describes. "He warmed up great, and I made sure I had schooled in the Rolex Arena twice yesterday. In the demo ride, I showcased the best we could do because he felt so great."
Miller is a professional from Plymouth, Michigan with experience in eventing and dressage. She's had O Ganador since November of 2018; the 2014 gelding was bred in Florida by Gerry O'Meara and is by First Dude out of the Pick Up mare Poseida. He made 20 starts with one win, and earned $12,764. He ran the majority of his career at Mountaineer. Miller and O Ganador will also compete tomorrow in Eventing. "I feel very fortunate," added Miller. "I'm looking forward to the future."
It might not yet have sunk in for Jenna Jack that she's the overnight leader in Eventing with Katano — but she reflected on her day's ride. "We were very relaxed in the Rolex Arena for dressage. He was a little 'looky' in the show jumping in the atmosphere there, but we worked through it… and cross-country is his favorite, so that was a lot of fun."
Jack is a professional from Canton, Georgia with experience in eventing and dressage. She acquired Katano in November last year. The horse that she calls "Otis" is a 2015 gelding by Justin Phillip, out of the Lycius mare Shining Prospect, bred in Kentucky by Castleton Lyons and Kilboy Estate. He ran in Florida and at Arlington Park, earning $20,731 in 11 starts with two wins.
Sara Katz is no stranger to either the field hunter division — she finished fourth last year — or training steeplechase horses for what is often their third career. This year, she's partnered with Adam Newman's Grade I-winning steeplechaser Diplomat, leading in both the under saddle and individual test phases out at the Sunken Road field.
Katz, a professional horsewoman with experience in both field and show hunters, is based in Parkton, Maryland. "Steeplechasers tend to make great field hunters," she described. "They already like to run and jump. Diplomat is still a bit green on the cross-country obstacles that we're tested over, but I was very proud that he trusted me on a particularly challenging section on today's course."
Diplomat (Kitten's Joy – Waki Affair, by Miswaki) was bred in Kentucky by Kenneth L. Ramsey and Sarah K. Ramsey. His record stands at 43 starts with nine wins and over $350,000 in earnings, including the Grade I New York Turf Writers Cup Handicap.
For Amy Bowers, the Thoroughbred Makeover is culmination of a training program focused on bonding and relationship-building with her horse Grande Warrior. The pair's delightful Freestyle routine started right out with liberty work, including lateral movements; Bowers then rode the mare without a bridle through all of the compulsory movements and concluded with a gallop lap while waving a blue flag. "It takes a lot of bonding to stay connected in that atmosphere," Bowers detailed.
Bowers and Grande Warrior crossed paths nearly by accident: "A friend of mine got the mare from Amy Paulus, then realized she really didn't have time for her; I had expressed interest in participating in the Thoroughbred Makeover so she offered her to me!" It was a fortuitous moment for Bowers, a professional from Fort Collins, Colorado, and Grande Warrior, a 2013 mare bred in Indiana by Randy Haffner. Grande Warrior is by Desert Warrior out of the Capote mare Capuchina.
While Royal Flame may be listed for sale, Gayle Cook describes herself as "in love" with her Show Hunter-leading mount. "He's awesome! He's one of the easiest Thoroughbreds I've ever sat on. I love how he gets around the course. He's a dream."
Cook is a professional with show hunter experience based in Sterrett, Alabama. Royal Flame is a 2014 gelding by Leroidesanimaux out of the Langfuhr mare La Iluminada; he made 15 starts with two wins and $34,059. He was bred in Florida by Harold Queen and ran his entire career there.
Anna Williams is an amateur Makeover trainer hailing from Wichita, Kansas, and she believes she's found her heart horse in Feeling Courageous. The pair is the overnight leader in Show Jumper. "I found him through Passport Sport Horses and bought him sight-unseen based on his description! I sent him to Rhi Rasmussen for 90 days of foundation training, and then started developing myself for eventing and jumping."
Feeling Courageous is an unraced gelding by Courageous Cat out of the Kris S mare Keep the Feeling. He was bred in Kentucky by Emily Wygod. "Riding at the Thoroughbred Makeover is a once-in-a-lifetime experience for me," Williams adds. "I tried hard to get myself ready for this competition for him, and I'm still in shock that we're leading! I have a very special horse on my hands."
Full results from the first day of preliminary competition can be found here.