The Horses of the Mega-Makeover
August 25, 2021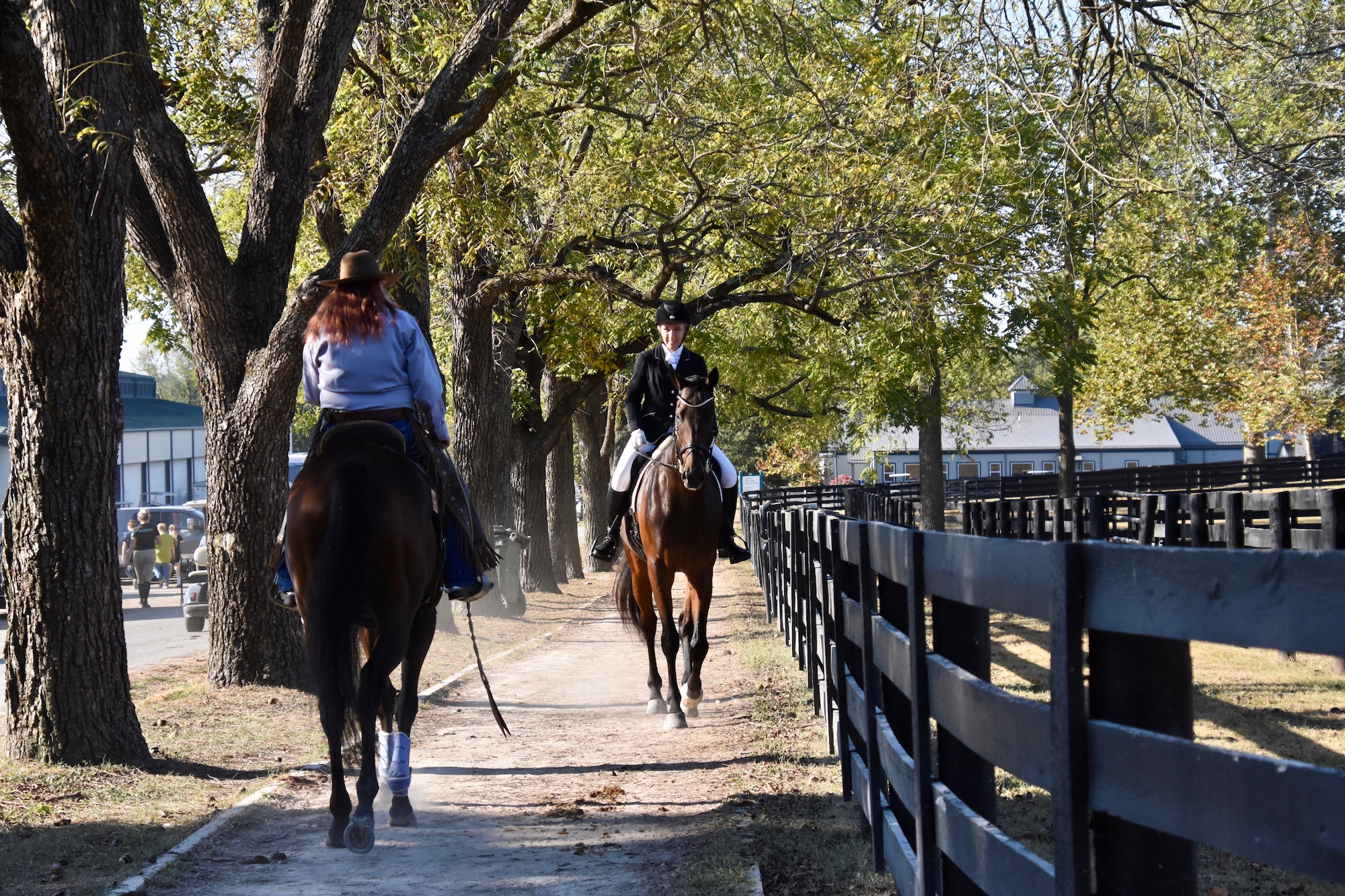 Photo by Giulia Garcia
Here's how the field of registered horses emerged over the months since the last Thoroughbred Makeover in 2019:
December 1, 2019: horses were eligible to start retraining for the 2020 Makeover and trainer applications opened

February 14, 2020: 616 entries were accepted into the 2020 Makeover

July 7, 2020: the RRP announced the postponement of the 2020 Thoroughbred Makeover and the intention to run an expanded double event in 2021; entered trainers were given the opportunity to either retain their 2020 entries or roll their entry status to the 2021 competition year

December 1, 2020: horses were eligible to start retraining for the 2021 Makeover and trainer applications opened

February 15, 2021: 480 entries were accepted to the 2021 Makeover, combining with 322 trainers from the postponed 2020 competition for a total pool of over 800 trainers for the Mega-Makeover

July 31, 2021: trainers for both competition years had through this date to register the horses they intended to compete. 573 horses were registered for the 2020 competition year, and 454 were registered for the 2021 competition year, making a total of 1,027 horses that were in training for the Makeover

August 15, 2021: at the close of Final Entry, 525 horses were entered for the final Makeover competition
Let's take a closer look at that deep field of registered horses!
Height
While the average height of horses comes right in at 16.0 hands, the measured heights of registered horses range from 15.0 hands all the way up to 18.0 hands — with one unique outlier, our 14.0 hand entry Lucky Ribot.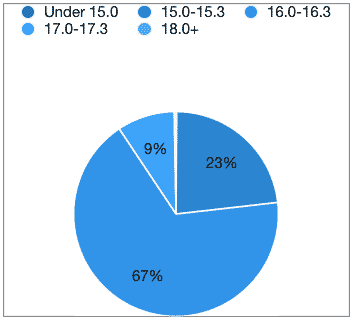 Gender
As is typical of past years, geldings make up over two-thirds of our total entries. Six horses were listed as stallions at the time of registration.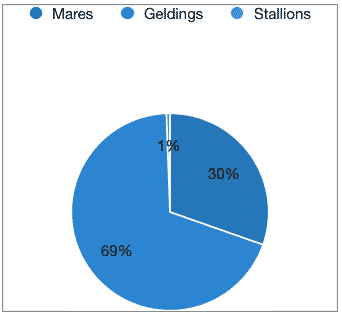 Year Foaled
The minimum age for Makeover registration is three years old. In both competition years, four- and five-year-olds were the most popular age group at the time the horses were acquired (taking into consideration that the 2020 class is another year older than when horses may have started their Makeover journey). While a large number of registered horses are in that four-to-six-year-old range, we're once again seeing a strong representation from the so-called "iron horses" that will be 10 or older by the Makeover!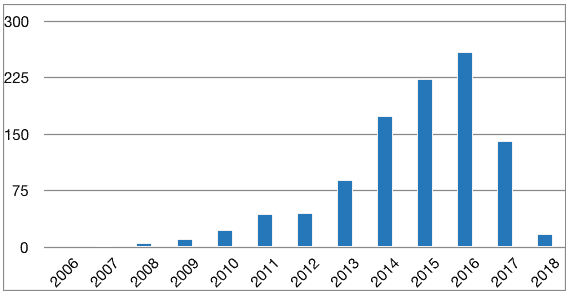 State Bred
While Kentucky once again bred over a third of our Mega-Makeover horses, New York and Florida are also well-represented with 10% or more of the class.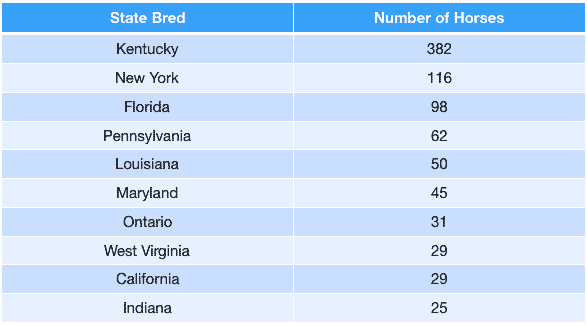 Sires and Dams
We love looking at bloodlines and which of the breed's stallions are represented: many of those we see over and over again are racing's top sires, but some lesser-known names often crop up every year which can indicate both regional popularity as well as recognition of ability of offspring in sport. Forty-seven stallions are represented by multiple registered offspring for the Mega-Makeover; we've highlighted those with five or more below.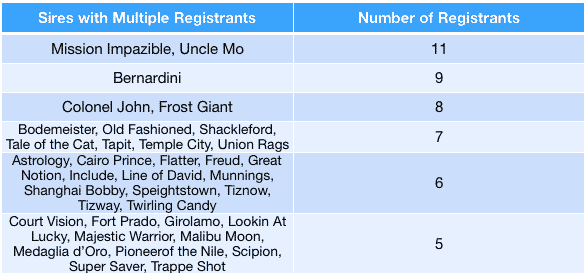 Additionally, 19 of the top 20 leading sires of 2021 are represented — only Constitution is missing.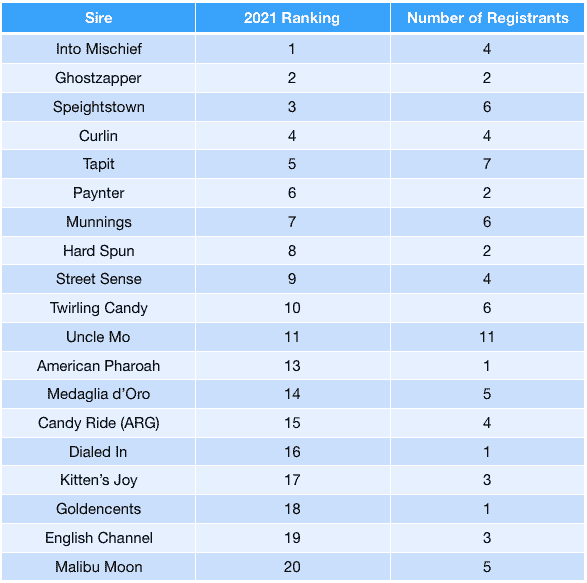 We're looking forward to the meeting of full brothers Our Paul Thomas and Good Timing Man at the Mega-Makeover; both are by Overdriven out of Gorman's Wynn. Five other dams are represented by sibling offspring this year as well.

Public Auction
North America's leading public auctions are all represented at the Mega-Makeover, and in total, both classes of horses brought over $38 million at the sales!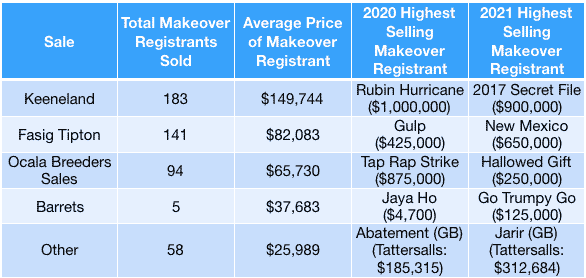 Racing History
On average, Makeover registrants made 20 starts with two wins, averaging earnings of $65,665 each. In total, registered horses made 20,081 starts, crossed the wire 2,442 times in front, and earned a whopping total of $67,438,338.
To be eligible for the Thoroughbred Makeover, a horse must have been in training to race and must have at least one published work — and for about 8% of our registered horses, that's as far as their racing careers ever went. Others, including the top 10 listed below, achieved "war horse" status, making more than 50 lifetime starts.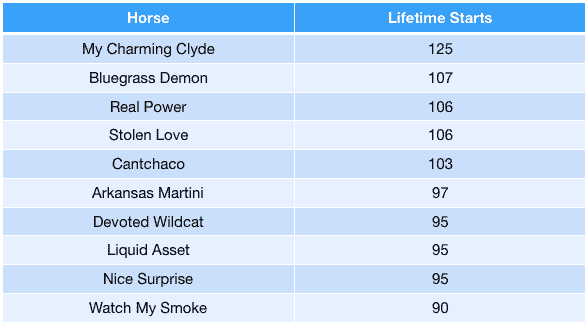 We're looking forward to seeing some of the stars of recent seasons of racing embarking on their journey to a second career. Here are the stakes horses you can expect to see in person at the Mega-Makeover: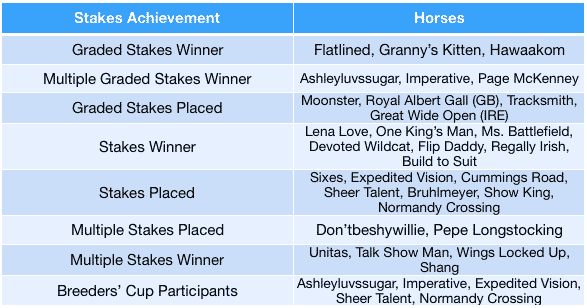 How Makeover Registrants Were Acquired
The acquiring of Makeover horses represents the crossroads between the racing and sport horse worlds, and can provide valuable information for how those worlds are interacting and working together. 
About half of the horses registered for the Mega-Makeover were acquired directly from their racing connections, and those horses on average spent about 100 days between their last start on the track and finding their post-racing home. Resellers and non-profit aftercare organizations represent two other routes that horses take after racing. Eight horses across both competition years were reported as "self-rescues" by their Makeover trainers, acquired from auctions or "kill pens" — this number is down from ten in 2019.
The overall average price paid by Makeover trainers for their horses is $2,230, which is up from $1,960 in 2019 and $1,200 in 2018.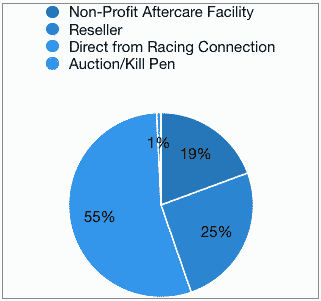 The most popular aftercare organizations: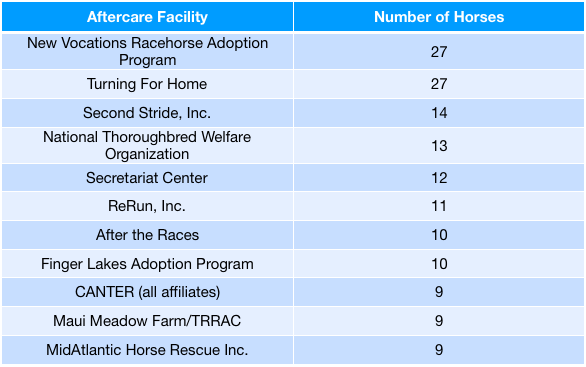 It's always interesting to see from which tracks Makeover horses retired: these trends indicate that more horses are retiring from lower-tier tracks, populated by mid- to lower-level claiming competitors. They can also indicate where rehoming programs and aftercare organizations are making an impact.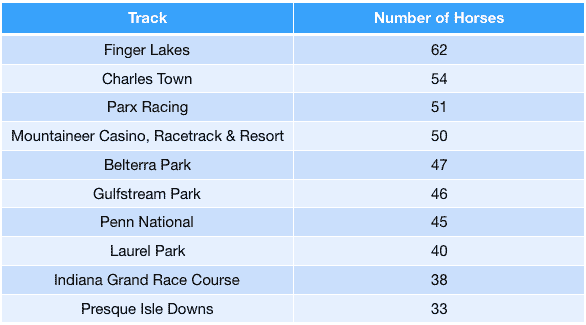 To learn more about the horses of the Mega-Makeover, browse the list for familiar names, or look at final entry, please visit tbmakeover.org/entries-mega. The Thoroughbred Makeover and National Symposium, presented by Thoroughbred Charities of America, takes place October 12-17, 2021 at the Kentucky Horse Park in Lexington.