New Jersey equestrians prepare for 2016 Kentucky Thoroughbred Challenge
May 25, 2016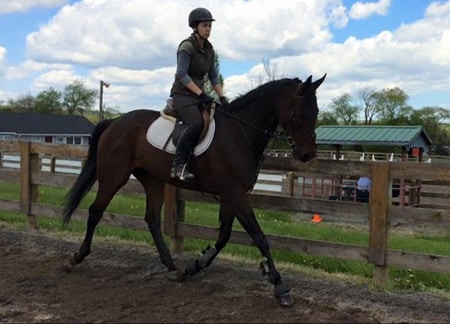 Kendra Richardson aboard Tigre. The New Jersey pair will be competing in the 2016 Thoroughbred Makeover Challenge at the Kentucky Horse Park this October. | Green Apple Stables Nicole and Michelle (Team New Beginnings) and Kendra and Samantha (Team Green Apple) have also agreed to participate in a local barn mini-challenge to compare progress notes throughout the spring and summer leading up to a "Show Off Your Horse" meet prior the main Thoroughbred Makeover event in October.
Team New Beginnings reported in today (Tuesday, May 24) that they have been referring to themselves jokingly as 'Team Turtle.' The team is taking things slowly at the beginning to create a firm foundation. Nicole will be taking two horses to the Makeover in October and Michelle has one entry.
Team New Beginnings gave Examiner an update of what has been going on behind the scenes with the trainers and their newly acquired mounts.
Trained by Michelle Horgan, Light Weight is a six-year-old bay mare with 16 starts, 1 win and 1 second. She is a big-boned girl and, according to Horgan, Light Weight has "quite the personality" and is something of a class clown. At the same time Michelle remarked that Light Weight has been quiet and brave under saddle and has had 28 training rides to date.
"It feels like you could go anywhere with her and she would take it in stride," said Michelle. "It's interesting how tuned in she is to me as her person and she follows my every move, mostly hoping that I will finally reach into that treat bag."
Michelle continued, "Light Weight has actually started to whinny at me when I go to get her from her paddock, and I am trying hard not to get too attached since she is currently available for adoption."
Light Weight has been working mostly at the walk and trot and just started cantering under saddle in mid-May. The mare is pointed to compete in Hunters and Jumpers in the Makeover. Michelle is toying with the idea of switching to Eventing since Light Weight had a lot of experience getting fit through fields and on trail rides during her racing career. "Cross country jumping could be a natural progression for her," said Michelle.
Michelle hopes to bring Light Weight to her first horse show on June 26 at East Freehold Park, New Jersey.
Cosmo Storm, a four-year-old dark bay gelding, raced 13 times with two firsts and one third place finish. The gelding is ahead of Light Weight in terms of his progress according to Team New Beginnings with 35 training rides to date. Cosmo continues to come along in his dressage training with Nicole McKinley.
January 1 is the official birthday of all registered Thoroughbreds, but Cosmo's actual fourth birthday was May 6. Even though the horse was recently gelded, Team New Beginnings reported that the horse has a nice temperament and has been calm and steady since day one. Cosmo and Nicole are grateful to have the opportunity to train with trainer Kim Herslow of Upper Creek Farm in New Jersey, who has agreed to work with the pair during their journey to the Makeover.
"I think this adoptable boy has a bright future in dressage and as someone's forever horse. Cosmo is so much fun to work with," said Nicole.
Cosmo's first horse show in the dressage suitability classes is planned for the Mid Atlantic Horse Rescue All Thoroughbred Show (part of the TASS series in Monkton, Maryland on June 4.
Team Green Apple has two horses in training for this year's Thoroughbred Makeover Challenge and has been working hard with their mounts, Tigre and Norty. On Monday, May 23 Team Green Apple reported on their progress since the last article.
Tigre, a bay gelding who was acquired by Kendra two months ago, had his last race in December. He has had 29 trainig rides to date according to Kendra. She also reported that the horse had approximately four rides on him prior to purchase. During the first five rides after purchase Kendra said she spent that time "assessing where we were with training."
Kendra explained lightheartedly, "After tripping on every pole and hitting/falling over/plowing through every jump and moving like he had no idea which leg was going in which direction, we went back to basics — with a cross-rail thrown in here and there."
Kendra gave a breakdown of her training regime with Tigre:
Click here to continue reading the entire article at Examiner.com