T.I.P. Announces Expanded Championships at Thoroughbred Makeover
January 11, 2022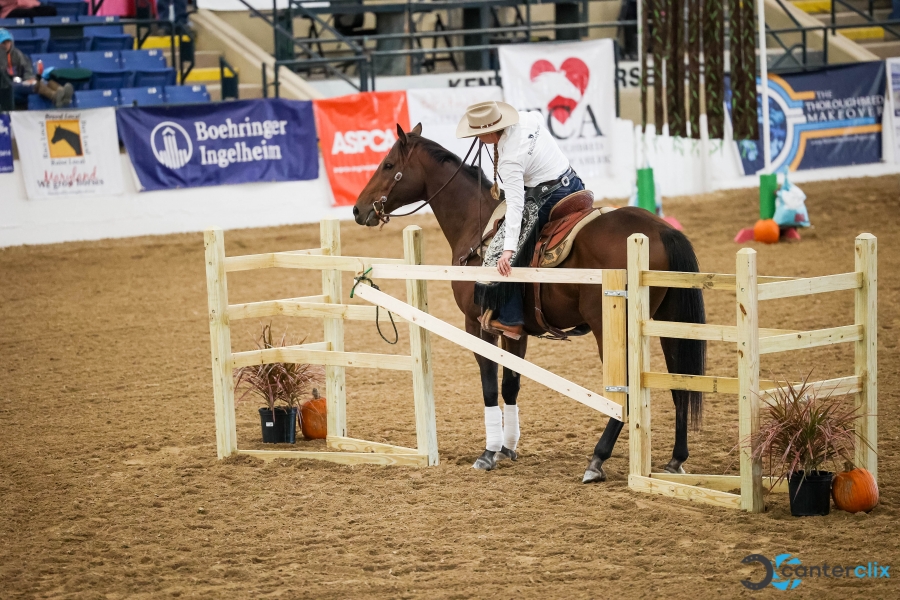 2021 Competitive Trail champions Super Terrific and Abbey Blair. Photo by CanterClix
The Jockey Club Thoroughbred Incentive Program (T.I.P.) today announced that it has approved more than 7,000 awards and classes at more than 1,400 shows in 46 states and six Canadian provinces in 2022.
Awards are available for multiple disciplines, including eventing, dressage, Western and English pleasure, hunter/jumper, endurance, barrel racing, and polocrosse. A full calendar of shows offering awards is available at tjctip.com/CalendarOfEvents and will be updated as show dates are confirmed.
In addition, T.I.P. will be splitting its T.I.P. Championships horse show into multiple events in 2022 and is announcing the dates and locations of two of the events at this time. After a successful Barrel Racing Championships in 2021, T.I.P. and the Retired Racehorse Project (RRP) are partnering to offer an expanded Western Championships and a Central Region Dressage Championships during the 2022 Thoroughbred Makeover and National Symposium, presented by Thoroughbred Charities of America, which will be held October 12-15, 2022, at the Kentucky Horse Park in Lexington, Ky. The Western Championships will include divisions in barrel racing, Western pleasure, Western halter, ranch riding, Western dressage, and competitive trail. Dressage Championships will be offered in levels from Introductory through FEI Test of Choice. 
The championships' being held with the RRP Thoroughbred Makeover is being announced to assist those considering an application for the Makeover by the January 21, 2022, deadline. Additional dates and locations for the T.I.P. Championships will be announced later this month, and prize lists will be made available for the events in the spring.
"Following the positive reception of the T.I.P. Barrel Racing Championships at the Thoroughbred Makeover, we're thrilled to further our working relationship with T.I.P. in 2022," said Kirsten Green, interim executive director of the Retired Racehorse Project. "Participating in T.I.P. shows and classes is a great complement to Makeover preparation and a natural progression for Makeover graduates, so we're looking forward to hosting the expanded division offerings at the 2022 Thoroughbred Makeover and bringing more Thoroughbred lovers together for an amazing week."
In addition, T.I.P. will be offering year-end or championship awards in association with the American Endurance Ride Conference, American Polocrosse Association, Equine Trail Sports, Interscholastic Equestrian Association, United States Eventing Association, United States Pony Club, and United States Dressage Federation. 
"The popularity of and enthusiasm for T.I.P. has enabled us to expand to be larger than ever this year," said Kristin Werner, senior counsel for The Jockey Club and administrator of T.I.P. "T.I.P.'s growth demonstrates the popularity and demand for Thoroughbreds across the country for careers in a variety of disciplines."
T.I.P. is also announcing its youth ambassadors for the 2022 T.I.P. Youth Ambassador Program. The 13 ambassadors come from nine states and cover multiple disciplines. The following are the 2022 T.I.P. youth ambassadors:
Julia Buytenhuys – Virginia

Lottie Crawford (Returning) – Virginia

Karlie Dennis – Pennsylvania

Brooke Galvin – Florida

Emma Hill – South Carolina

Rylee Koll – Michigan

Savannah Lacey – Maryland

Bella Anne Park – Arkansas

Ashlynn Riley – Iowa

Madeline Rutledge – Virginia

Connor Stegeman – Louisiana

Emilie Stevens – Louisiana

Anna Szefc – Virginia
Additional information about the Youth Ambassador Program is available at tjctip.com/About/TBYPAM.
Created and announced in October 2011, T.I.P. recognizes and rewards the versatility of the Thoroughbred through sponsorship of Thoroughbred classes and high point awards at sanctioned horse shows, performance awards, and non-competition awards. In addition to the complete schedule of T.I.P.-sponsored shows, other information about the program is available on the T.I.P. website, tjctip.com. Those interested in T.I.P. can follow the program at facebook.com/tjctip.
The Jockey Club, founded in 1894 and dedicated to the improvement of Thoroughbred breeding and racing, is the breed registry for North American Thoroughbreds. In fulfillment of its mission, The Jockey Club, directly or through subsidiaries, provides support and leadership on a wide range of important industry initiatives, and it serves the information and technology needs of owners, breeders, media, fans and farms. It founded America's Best Racing (americasbestracing.net), the broad-based fan development initiative for Thoroughbred racing, and in partnership with the Thoroughbred Owners and Breeders Association, operates OwnerView (ownerview.com), the ownership resource. Additional information is available at jockeyclub.com.
The Retired Racehorse Project (RRP) is a 501(c)3 charitable organization working to increase demand for off-track Thoroughbreds in the equestrian world. In addition to producing the Thoroughbred Makeover and National Symposium, the world's largest and most lucrative retraining competition for recently-retired racehorses, the organization also publishes Off-Track Thoroughbred Magazine, produces the Master Class retraining clinic series, and presents programming at major horse expos and events around the country. The RRP maintains an educational library of content to empower more equestrians to ride a Thoroughbred.