Syndicating Your Makeover Horse
November 19, 2016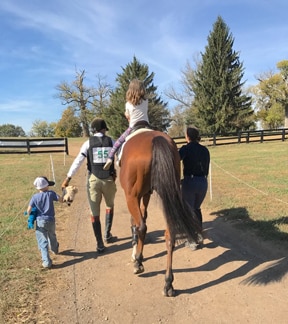 Tom on Makeover horse David L and Clare on his girlfriend Talipan.
Lots of tears, both happy and sad. Lots of hats, both big and, well, mostly just big. People join syndicates for the love of the sport, but also for the love of the horse, so why not apply the same practices off the track?
The origination of racehorse partnerships is credited to "Cot" Campbell. In 1969 he gathered a group of friends to form Dogwood Stable as a way to decrease the financial risk and increase the entertainment of horse racing. The concept caught on and is now a very regular part of racing. While there are as many ways to create a syndicate as one can imagine, I had the pleasure of speaking with John Stuart, former president of the Thoroughbred Retirement Foundation and president of Bluegrass Thoroughbred Services to get a feel for how the most successful ones work.
There are three main variables that they consider: the number of partners, the number of horses, and the age of the horse being purchased (which would impact the cost.) The best partnerships seem to consist of four like-minded individuals. One partner manages the money, and that is no small task. Typically there is a one-time fee paid, and the manager must regulate this throughout the training and career of the horse, including factoring in retirement, caring for the horse in the event of an injury, and finding a new home for the horse if necessary. There are also many successful cases where partners buy in, and then are invoiced monthly for expenses. Winnings are divided according to percentage ownership, and the same goes for the sale or claiming of the horse. Any money not used at the dissolution of the partnership can be returned or thrown back into another horse.
So how how does this translate this into your own Makeover experience? It can be done and, I believe,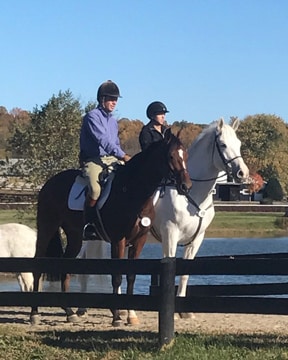 The Mansmann family at the 2016 Thoroughbred Makeover.
greatly and positively impact the off the track Thoroughbred we all love so much, and owe so much to. Sean and Anne Clancy of Riverdee Stable have been involved in just about every aspect of racing, managing horses from their first races, through rest and rehabilitation, into successful second and even third careers, all the way through retirement, and even to a dignified crossing into that special place in Heaven designated for these animals. Needless to say, in one phone call, I was properly schooled in how to make this work.
The Business End of the Horse
All the nitty gritty legalities of a syndicate can seem overwhelming, but once you take the proper steps, or at least weigh your options it will help you significantly along the way. Some major points to consider:
Form an LLC.
Have a simple, but legal, contract drawn up.
Insure your horse – mortality and major medical.
Decide on the number of shares.
Decide how the syndicate comes to an end (i.e. Sale of the horse or the end of the Makeover)
Implementing these steps protects you and also gives confidence to potential members, making them more likely to join your syndicate.
It ain't all about the money … but it is a factor.
In order to form the contract you first need to value what you're offering. Form a business plan leading up to the Makeover. Factor in all expenses, including the purchase of the horse, vet and farrier expenses, lessons, transportation, competitions, training and board. Don't underestimate your costs or feel that because you have the horse in your own barn and you yourself are the trainer that you don't need to be compensated for board or training. These are very much a part of the horse's expenses. From there, you can accurately determine the cost of shares and fees.
Return on Investment
Though the initial investment is financial, after that, what you're really sharing is the experience. While many horses have a Facebook page so others can follow their progress, syndicate members should have a much more in-depth look. Think exclusive, weekly or bi-monthly newsletters (services like MailChimp are a great and inexpensive [to free] way to facilitate this), invitations to shows and training sessions, stable tours, maybe a trip to the races, and absolutely taking the time to ensure each member has a special invitation to the Makeover competition and all related functions. Help organize travel and lodging, plan get togethers, and make sure they have tickets to any parties or demonstrations. If they own or represent a business, be sure to promote the heck out of it.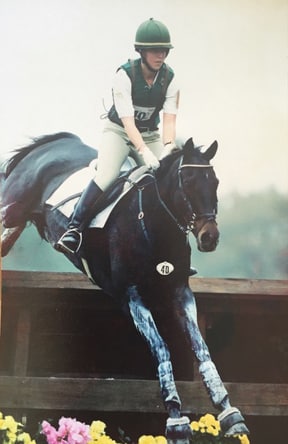 Clare Mansmann on Sunday's Thrill circa 2001.
Unicorns
So how does one find these seemingly mystical people who want to shell out money for the thrill of watching their horse go from an oval to an arena? It's not as magical as you may think. They can be anyone from your family to your farrier, the owner of your favorite tack shop to your hair dresser. Use common sense and discretion as you create a list of potential members, but have confidence in what you are offering. Don't underestimate the power of the RRP and their media. Be informed and share the website and newsletters.
Food for Thought
There is one more very important group of people to consider. Racehorse owners. As previously stated, syndicate money is managed until the end of the life of the horse, or until the horse is re-homed. If partners could be convinced to stay together through the Makeover, it would be a real game changer. This simply falls to the enlightenment of the owners. While the RRP works tirelessly in their promotion and education, bringing it in front of the owners largely depends on racehorse trainers. If a trainer is willing to promote the idea of caring for the horse through the Makeover competition, we have an opportunity to make an even greater impact.
An awkward but important final note…
Retired Racehorse Project is the charity, not you. Don't go putting up a GoFundMe page and call it a syndicate. It is not the same thing. Remember to focus your vision on why we are all doing this competition, or horses in general. Lord knows, it's not for the money. Or pride. Or fame. Or mental health. Well, mental health is subjective but there's not an equestrian around who should claim to know much about that subject. I digress…
The point is that racehorses have the ability to instill this fervor of emotion in us all, even as mere spectators, and there's no reason this incredible sense of enthusiasm and camaraderie has to cross the finish line for the final time with the culmination of your horse's first career. Syndication can be a wonderful way to bring people together and involve them in your horse's journey. Racehorses have been a big part of my life and my family, and there is nothing more inspirational than to see the Sport of Kings and the kings of sport honored in the ways of the Retired Racehorse Project. Now is the opportunity for us all to be a little royal.
About Clare Mansmann
Clare and her husband Tom operate Pacific Farms in Middleburg, Virginia where they train, teach, sell, and board. Both have evented throught the advanced level, foxhunt, and teach in multiple disciplines. Clare galloped racehorses for fitness and money during her upper level eventing career and proudly brags that every school horse on their farm is a retired racehorse. The whole Mansmann family attended the 2016 Thoroughbred Makeover with Tom's horse David L and will return in 2017 with two horses. For more information about the Mansmann's business visit http://www.pacificfarmsinc.com.