Second Annual Thoroughbred Aftercare Summit to be Offered Virtually
September 29, 2020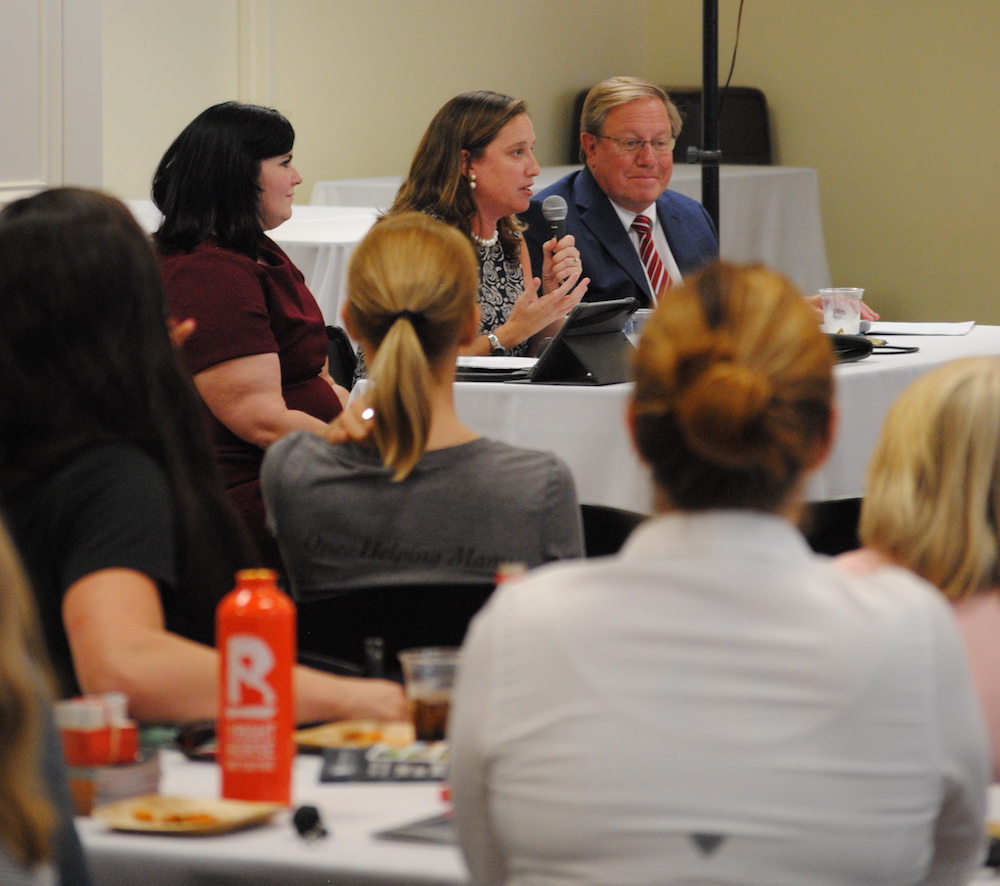 Panelists at the 2019 Thoroughbred Aftercare Summit
Offering three sessions of panel discussions, the Thoroughbred Aftercare Summit is geared towards individuals and organizations with a professional interest in the retraining and rehoming of Thoroughbreds after racing. The Summit is a free event but pre-registration is required; sessions will be accessible via Zoom.
"When the decision was made to postpone this year's Thoroughbred Makeover, we wanted to ensure that we still supported our aftercare partners in any way that we could," said Jen Roytz, executive director of the RRP. "The Thoroughbred Aftercare Summit not only covers topics pertinent to those working in Thoroughbred aftercare, but also provides a unique networking opportunity for participants."
The Summit will offer the following three sessions:
Do More, Spend Less: Monday, October 5 at 7:00 PM ET. Sponsored by Godolphin Lifetime Care and moderated by Stephanie Church of The Horse Media Group (also streamed on Facebook as part of the RRP's Virtual Makeover Webinar Series)
Fundraising in Challenging Times: Tuesday, October 6 at 2:00 PM ET
Accounting 101: Tips for Preparing Financials for Grant Requests: Tuesday, October 6 at 3:30 PM ET
This year's panel discussions reflect some of the unique challenges facing aftercare organizations as well as for-profit resellers during the global COVID-19 pandemic, with the goal of helping Summit attendees create innovative solutions for everything from fundraising to herd management. Learn more about topics and panelists at the Thoroughbred Makeover website.
"In this especially challenging year, we wanted the focus of the Aftercare Summit to be on fundraising strategies for aftercare organizations," said Erin Crady, executive director of TCA. "With the cancellation of live events, many organizations have had to revise their fundraising plans to place a larger emphasis on digital fundraising and grant writing."
The Thoroughbred Aftercare Summit was first held in 2019 at the Kentucky Horse Park the day before the start of the Retired Racehorse Project's Thoroughbred Makeover and National Symposium, presented by Thoroughbred Charities of America. The Thoroughbred Makeover is already the largest gathering of individuals and organizations dedicated to the rehoming and retraining of off-track Thoroughbreds, making it the logical setting for this educational and networking opportunity. The 2020 Summit takes place as part of the RRP's Virtual Makeover Week, which includes other educational opportunities for Thoroughbred lovers.
"In these strange and difficult times, networking and sharing best practices is so important for all of us," said Stacie Clark, TAA operations consultant. "The TAA is happy to be part of the Thoroughbred Aftercare Summit alongside the RRP and the TCA."
Pre-register now for the Thoroughbred Aftercare Summit at https://www.eventbrite.com/e/2020-thoroughbred-aftercare-summit-tickets-122427306369.
About the Retired Racehorse Project: The Retired Racehorse Project (RRP) is a 501(c)3 charitable organization working to increase demand for off-track Thoroughbreds in the equestrian world. In addition to producing the Thoroughbred Makeover and National Symposium, the organization also publishes Off-Track Thoroughbred Magazine, hosts off-track Thoroughbred retraining clinics and programming at major horse expos and events around the country, and maintains the online Thoroughbred Sport Tracker (the internet's only user-driven database tracking second career talent and accomplishments of registered Thoroughbreds). Visit the RRP online at RetiredRacehorseProject.org.
About the Thoroughbred Aftercare Alliance: Based in Lexington, Ky., the Thoroughbred Aftercare Alliance is a 501(c)(3) nonprofit that accredits, inspects, and awards grants to approved aftercare organizations to retrain, rehome, and retire Thoroughbreds using industry-wide funding. Along with continued funding from its original partners Breeders' Cup, The Jockey Club, and Keeneland Association, the TAA is supported by owners, trainers, breeders, racetracks, aftercare professionals, and other industry members. Since inception in 2012, the TAA has granted more than $17.2 million to accredited aftercare organizations. Currently 74 aftercare organizations supporting approximately 160 facilities across North America hold TAA accreditation. To learn more about the TAA, visit ThoroughbredAftercare.org.
About Thoroughbred Charities of America: TCA's mission is to provide a better life for Thoroughbreds, both during and after their racing careers, by supporting qualified repurposing and retirement organizations and by helping the people who care for them. TCA distributes grants to several categories of Thoroughbred-related nonprofits including rehabilitation, retraining, rehoming and retirement organizations; backstretch and farm employee programs; equine-assisted therapy programs; and research organizations.  Since its inception in 1990, TCA has granted over $24 million to more than 200 charities. TCA is the charitable arm of the Thoroughbred Owners and Breeders Association (TOBA).