RRTP Releases First National Study of Thoroughbred Placement
January 09, 2014
34% percent of these horses were acquired directly from racing owners.
31% were acquired from non-racing private owners.
13.5% were acquired from non-profit placement or rescue organizations, although that share increased from 11% to 19% over the last ten years.
9% were acquired from professional training or sales businesses.
2.3% of horses came through auctions.
The survey also revealed that prices for horses increased with training, but are still far below what it costs to transition racehorses to new careers.
The average adoption fee at nonprofit placement organizations was $1001 (22% were free). These organizations were most likely to have horse protection terms in contracts.
Horses acquired through racing owners were purchased for an average price of $1,265 (30% were given away).
Horses sold through private non-racing owners had an average price of $2,618 not including the 19% that were free.
Horses sold through professional training or sales businesses had an average sale price of $4,646, not including the 4% given away.
The average price at public auction was $839.
The survey respondents identified the sport of eventing as their primary riding discipline most often (37%). Hunter/jumper was second at 27%, dressage third at 13%, and then trails and recreation (English) at 9%.
The following conclusions are taken from the full survey report:
Racehorses are placed in second careers with long-term owners through a marketplace that lacks networks and forums through which the sellers, trainers, and buyers can find one another.
Prices and adoption fees are depressed to a level that makes subsidies for those providing transition services essential until demand rises significantly.
The financial incentive to retire horses sound from racing does not exist until increased demand raises prices for retiring horses.
Retired Racehorse Training Project (RRTP) will respond to the results of this study with a major expansion of its work in 2014, including:
A second Thoroughbred Makeover and National Symposium at Pimlico Racecourse on October 4 and 5 that will include more horses, more trainers, and more racing stables;
Contracts for professional services that will re-launch its heavily trafficked web site, develop partnerships with racing and riding institutions, explore the feasibility of a publishing venture; and
Compile, print, and distribute the first state-by-state resource directory for Thoroughbred placement..
A full copy of Exploring the Bridge to Second Careers is available through RRTP and found below.
Media Contact:
Heather Benson
Retired Racehorse Training Project
Phone: 605-660-6599
Email: heather@backfortymarketing.com
Additional photos or interviews may be granted upon request.
Click on the image below for a PDF version of the full survey report.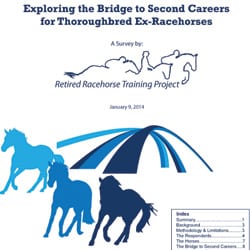 The Retired Racehorse Training Project (RRTP) is a 501(c)3 charitable organization working to increase demand for retired Thoroughbred race horses as pleasure and sport horses through public events, clinics, training publications, videos and internet tools. Our mission is to facilitate the placement of retired Thoroughbred racehorses in second careers by educating the public about the history, distinctive characteristics, versatility of use, and appropriate care and training of the iconic American Thoroughbred. More information may be found at www.retiredracehorsetraining.org .