Roytz Named Executive Director of Retired Racehorse Project
February 22, 2018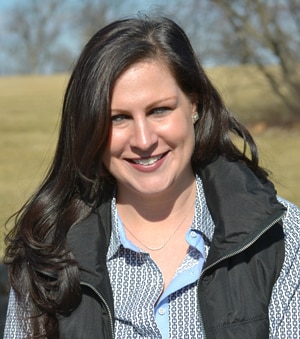 Roytz is co-owner of the Lexington, KY-based marketing agency Topline Communications and a writer, regularly covering topics related to Thoroughbred aftercare and equine health for publications such as the Paulick Report, Thoroughbred Daily News and Practical Horseman, among others.
She previously served as marketing director at Three Chimneys Farm and, prior to that, director of public relations for Cornett Integrated Marketing Solutions (now Team Cornett). She holds board affiliations with the Thoroughbred Aftercare Alliance and Make a Wish Foundation and is a member of the Public Relations Society of America, U. S. Equestrian Federation, Kentucky Hunter/Jumper Association, Locus Trace Agriscience Center advisory committee, Saddle Up Safely advisory committee and the newly-formed Thoroughbred Women's Network.
"Nobody in the horse industry is better positioned than Jen Roytz to take what RRP is today, grow it, and present it to a national audience," said Pittman. "Jen has served the organization as a board member and she understands the potential it has, not only to secure the futures of thousands of horses every year, but also to grow the fan base for Thoroughbreds both inside and outside racing. Jen's passion and her professionalism are admired throughout the horse industry, and it is a thrill to have her on board."
As executive director, Roytz will be responsible for representing the organization in an external-facing leadership role with a particular focus on industry relations, institutional partnerships, strategic planning and fundraising. She will also be involved with the Thoroughbred Makeover, RRP's flagship event, as well as many of the demonstrations and seminars RRP puts on at equine expos throughout the country, promoting the versatility, trainability and appeal of retired racing Thoroughbreds to a broad-based equestrian audience.
"Through his vision and tireless efforts, Steuart has created not just a meaningful organization, but an entire movement with the Retired Racehorse Project and its various initiatives," said Roytz. "He's played a major role in changing the conversation surrounding aftercare and the numbers demonstrate that. Independent research has shown that the cost of horses being purchased from the racetrack has steadily increased over the past three to five years, and we have seen that the average price of horses being sold after competing in the Thoroughbred Makeover has steadily risen as well.
"In 2012, Steuart set out on a simple mission – to increase the value of and demand for Thoroughbreds after racing—and he has done that on a national level. We are all in his debt."
Meanwhile, Pittman is moving into the world of politics and is running for the position of county executive in Anne Arundel County, MD, where his family has lived and farmed for eight generations. Pittman still lives on the family's 550-acre Dodon Farm, where he oversees an eventing-focused training business. He's running on a platform of smart growth in this part-suburban/part-rural county adjacent to both Washington, DC, and Baltimore, MD.
Addition to RRP Board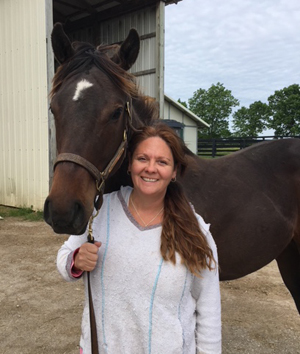 RRP also announced the addition of Carrie Brogden to their board of directors. Brogden, who owns and operates Machmer Hall with her husband, Craig, and is a partner in Select Sales, grew up in Virginia riding hunter/jumpers. She is heavily involved with aftercare, regularly rehoming horses for her clients and fostering/rehabilitating horses for MidAtlantic Horse Rescue, Caribbean Thoroughbred Aftercare and others.
"Carrie is such a strong addition to our board. She knows the sport horse world but makes her living in the Thoroughbred business and has been a passionate supporter of helping Thoroughbreds transition into second careers her entire life," Roytz said of Brogden.
Read about RRP's board of directors here.
Staff Additions and Updates
Kirsten Green, who has been on staff with RRP since Feb. 2015, was promoted to director of operations in early 2017, overseeing the implementation and management of the Thoroughbred Makeover, as well as several of RRP's other initiatives and programs. She previously held the title of administrator for the organization.
Julia Oughton came on board with RRP in early 2017 as the organization's program developer. Her responsibilities include sponsorship recruitment, advertising sales for RRP's Off-Track Thoroughbred Magazine and membership development and retention. She's a native of Great Britain who spent 17 years working around the Mid-Atlantic racing scene, galloping and training racehorses.
Leah Bryce joined the RRP staff in late 2017 and serves as program administrator. She comes from a background in marketing and social media, and is responsible for sponsor servicing and project planning.
"RRP has an incredible staff that is not only committed to the organization's mission, but goes above and beyond what their jobs entail to introduce the off-track Thoroughbred to the masses," said Roytz. "Many people know this organization for the $100,000 Thoroughbred Makeover racehorse retraining competition, but that's just one part of what we do. The RRP publishes Off-Track Thoroughbred Magazine, a beautiful quarterly publication that's on par with the best magazines in the equine industry; it hosts the industry's only user-driven Thoroughbred sport horse pedigree database, searchable by various attributes that are indicators of recreational or competitive potential; and it is a meaningful membership organization for anyone with an affinity for Thoroughbreds both on and off of the racetrack. All of this is accomplished by a small but mighty staff who work tirelessly on behalf of Thoroughbreds and the people who are passionate about them… and consume large quantities of caffeine."
Read more about the RRP staff.
About RRP
The staff and leadership changes have better positioned RRP to continue to grow its programs to further its mission of increasing demand for off-track Thoroughbreds. The Thoroughbred Makeover, which is in its fourth year in its current incarnation and will be held Oct. 4-7, 2018, at the Kentucky Horse Park in Lexington, KY. A record 794 trainers were accepted for this year's competition, a 37 percent increase over 2017.
As a membership-based organization, RRP works to create value for its members through a variety of initiatives. In addition to putting on the Thoroughbred Makeover and publishing Off-Track Thoroughbred Magazine, RRP maintains their popular Bloodline Brag, the internet's only database tracking second career talent and accomplishments of registered Thoroughbreds; hosts a Thoroughbred-only online classified section to promote both newly retired and seasoned off-track Thoroughbreds for sale; and partners with a variety of brands and organizations to offer exclusive discounts to its members.
To become a member of RRP, go to www.retiredracehorseproject.org/join.
---
Retired Racehorse Project (RRP) works to facilitate placement of Thoroughbred ex-racehorses in second careers by increasing demand for them in the marketplace and inspiring equestrians to provide the training that secures their futures. RRP offers online directories, educational resources, and publishes Off-Track Thoroughbred Magazine. http://www.retiredracehorseproject.org
###