Retired Racehorse Project Partners With Ride iQ App
July 19, 2022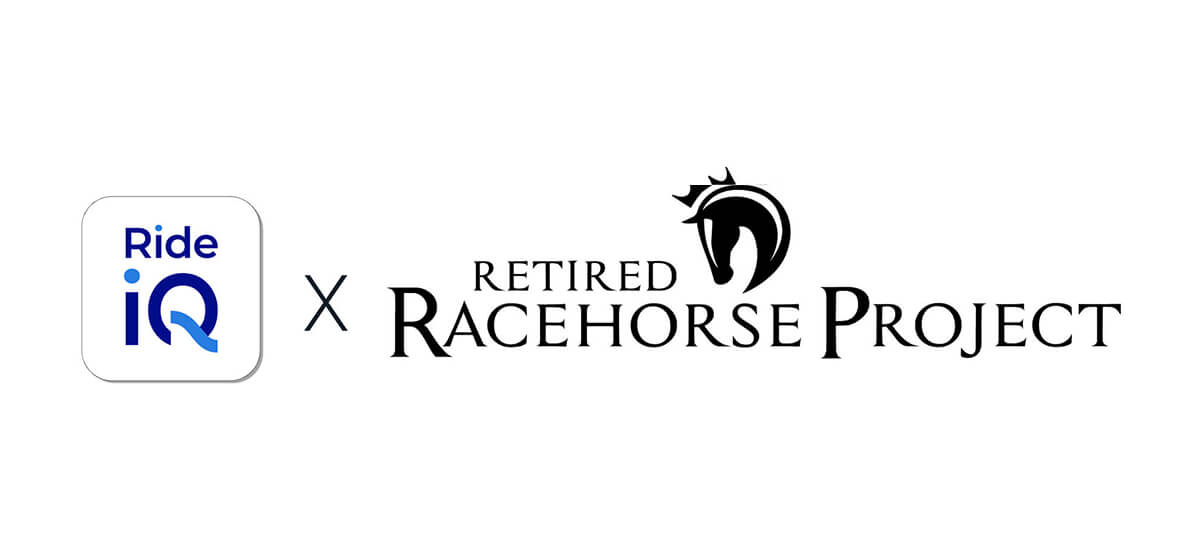 The Retired Racehorse Project (RRP) announces today that is has partnered with Ride iQ, the innovative app that gives its members access to hundreds of on-demand audio lessons taught by world-class equestrians. Ride iQ has developed a series of lessons called "Thoroughbred Fundamentals Presented by the RRP" designed specifically for riders of off-track Thoroughbreds, targeting early training sessions in the horse's transition from racing to riding sports. More lessons specific to OTTBs are in production now.
Education is a major tenet of the Retired Racehorse Project's mission, and the organization seeks to empower more equestrians and encourage them to choose Thoroughbreds for recreational riding and competition. The partnership with Ride iQ helps to provide a critical service to equestrians starting out with their own Thoroughbreds who may not have ready access to coaches or trainers at home.
"We're proud to partner with Ride iQ to bring Thoroughbred-centric content to its users," said RRP executive director Kirsten Green. "We know that the right amount of education is essential for riders in creating successful and positive working relationships with their Thoroughbreds, and we're pleased to deliver another resource in support of that. Particularly in economic climates like we're currently experiencing, traveling for lessons and training is likely to be an early sacrifice for riders needing to trim their budgets. Ride iQ offers an innovative solution for riders in that situation and beyond."
Ride iQ lessons are designed to be listened to while riding or working with the horse, offering instruction and guidance in real time from top equestrians in a range of disciplines. New lessons are added weekly, and Ride iQ is continuing to expand its offerings to new disciplines and new coaches. The on-demand format is intended to make quality instruction affordable and accessible to all riders. Ride iQ subscribers get additional access to educational materials, including weekly Office Hours conversations with coaches, available to download as podcast episodes.
"Ride iQ's mission is to increase access to correct and compassionate instruction to make horses' and humans' experiences together as enjoyable and productive as possible," said Ride iQ co-founder Jessa Lux. "OTTBs are such special horses, and they deserve a specific training approach to help them transition from the track to their next riding discipline. RRP has connected us with incredible coaches who have extensive experience training OTTBs—these coaches are sharing their training programs on Ride iQ through a series of audio lessons. One of my early event horses was an OTTB mare, and I have a big place in my heart for the breed. I'm so thrilled that Ride iQ can provide added support for people on their own journeys with OTTBs."
To learn more about Ride iQ's Thoroughbred content presented by the Retired Racehorse Project, please visit ride-iq.com/2022/07/19/ride-iq-rrp-partnership/.
The Retired Racehorse Project (RRP) is a 501(c)3 charitable organization working to increase demand for off-track Thoroughbreds in the equestrian world. In addition to producing the Thoroughbred Makeover and National Symposium  the world's largest and most lucrative retraining competition for recently-retired racehorses, the organization also publishes Off-Track Thoroughbred Magazine, produces the Master Class retraining clinic series, and presents programming at major horse expos and events around the country. The RRP maintains an educational library of content to empower more equestrians to ride a Thoroughbred.
Ride iQ is the first audio-focused training platform for equestrians and offers something completely new: the opportunity to get on-demand, listen-while-you-ride instruction. The private Ride iQ mobile app features 300+ lessons with options suitable for equestrians at every level. Ride iQ has 20+ coaches across hunter/jumper, eventing, and dressage disciplines including Leslie Law (British eventer, individual gold medalist), Lauren Sprieser (Grand Prix dressage rider), Doug Payne (Olympic eventer, Grand Prix jumper), and several others. The app also has sports psychology sessions, rider fitness videos, natural horsemanship groundwork lessons, exclusive podcasts, and more. Membership is $29.99/month or $249/year, and every membership includes a 2-week free trial. Use code RRP15 for $15 off the first membership payment, valid through August 2022. Search "Ride iQ" in the iPhone or Android app store or visit Ride-iQ.com for more information.