Retired Racehorse Project Elects New Board Members and Officers
January 25, 2022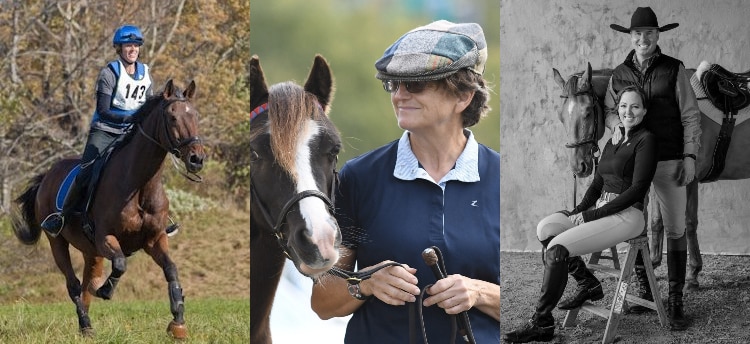 Newly-elected members may serve two consecutive three-year terms.
Former vice chair, Sue Smith, has stepped into the leadership role to take the place of outgoing chair, Dr. Carolyn Karlson. Sue, also the executive director of CANTER Pennsylvania, has served on the RRP board since 2015 and brings substantial institutional knowledge to the table in combination with her extensive experience in aftercare and equestrian sport.
Richard Lamb has taken over the role of vice chair, having joined the board in January of 2020 after several years officiating at the Thoroughbred Makeover and National Symposium. A popular coach and clinician, Richard holds certifications with the British Horse Society and the United Stated Eventing Association's Instructor Certification and Young Event Horse Trainer programs and has also served as coach for the US Pony Club Team at USEF National Pony Jumper Championships and members of the 2012 US Olympic Modern Pentathlon.
"It is an honor to be nominated to the position of board chair, as the RRP's mission is crucial to the continued success of Thoroughbred aftercare. I am proud that we have developed a versatile, engaged board bridging both the racing and sport industries," said Sue. "Like all of our board members, I bring a unique perspective with fourteen years' experience in aftercare. I've worked alongside trainers on the backside of tracks who have felt the direct impact of the RRP both in increasing demand for ex-racehorses and adding value to horses directly off the track. This shift is palpable and gives me great hope for the future of the industry and the breed. I look forward to another exciting year with the organization and hope to carry on in the spirit of my predecessors."
A founding RRP board member that served through 2015, Malinda Lawrence continued to actively volunteer for the organization and has returned to the board to serve again; she has  also been voted into the role of secretary. An attorney for the federal government, Malinda can be credited with establishing the RRP's nonprofit status and laying a strong administrative foundation for the organization in its earliest years. A Pony Club graduate and eventing enthusiast, Malinda has owned two OTTBs over the last two decades, both of whom participated in some of the RRP's first clinics and demonstrations over 10 years ago. She also serves on the United States Eventing Association's Legal Committee.
JudithAnn Hartman is a long-standing supporter of the RRP who sponsors the Top Maryland-Bred special award at the Thoroughbred Makeover under the name of her racing and breeding operation, Copper Beech Stables. Judy is also a breeder of Welsh Mountain Ponies and actively competes them in combined driving. Judy earned her doctorate in chemistry from Harvard University and, prior to going full-time in her racing and breeding endeavors, worked in research and development as well as serving as a professor of chemistry at the United States Naval Academy. 
Clare and Tom Mansmann, who operate Pacific Farms in Hume, Virginia, have competed in the Thoroughbred Makeover since 2016, regularly attending with multiple horses and engaging their clients and students in the process. They have been advocates for and promotors of the RRP, organizing demonstrations, cultivating community amongst trainers, and crediting their involvement with the organization for reigniting their passion for training horses. They are a dynamic pair, with riding backgrounds spanning from exercise riding and upper level eventing to foxhunting and cutting.
"We're excited to welcome Malinda, Judy, and the Mansmanns to our board," said RRP interim executive director Kirsten Green. "Although they are new to their board positions, they are not strangers to the RRP and we're grateful for the diverse experience and perspective they bring to the table."
The board also voted to extend member emeritus status to outgoing board chair, Dr. Carolyn Karlson. A board member since 2012, Carolyn moved into the role of board chair following Steuart Pittman's step-down in 2018. Carolyn was a catalyst for the bringing the Thoroughbred Makeover into existence, conceiving of the format for the first Makeover in 2013 and being the RRP's biggest benefactor since. With over 25 years of experience in higher education, Carolyn now spends her time offering college admissions counseling through Starting Gate College Consulting as well as breeding and racing under her own Sisu Racing Stables.
"I'm so honored to have more than ten years of memories with the RRP, from our first Makeover at Pimlico Race Course with 26 retired racehorses, to the Mega-Makeover of 2021 at the Kentucky Horse Park", said Carolyn. "Never could I have imagined the thousands of horses and trainers the RRP would go on to help and serve since its inception. It's my greatest honor to have played a part in that progression and I can't wait to see what the next ten years hold for the RRP."