Press Release: "Real Riders" Test Their Mettle in This Weekend's Real Rider Cup
September 18, 2018
Teams of Thoroughbred owners, trainers, exercise riders and racing analysts will compete against each other and the clock as they navigate a course of jumps, each aboard a retired racehorse and many competing in a jumping competition for the first time in their lives, to determine who the "real riders" are. Each rider will be raising donations via pledges leading up to the event with proceeds benefitting the Retired Racehorse Project and Plantation Field International Horse Trials, both 501(c)(3) non-profit organizations.
Last year it was the Trainers team, consisting of Joe Sharp, Sanna Neilson, Chucky Lawrence, Tim Keefe and Leigh Delacour, that took top prize. Just as they did last year, each rider in this year's competition will compete over a course of approximately 12 stadium jumps set at 2 ½ feet high.
"The inaugural Real Rider Cup went amazingly well," said Anita Motion, who coordinates the charity event along with her husband, trainer Graham Motion, Olympic rider Phillip Dutton and his wife, Evie, and Amy Borun. "This year will be super competitive. We are expecting some great performances by riders who are in it to win it."
Each rider is raising money for the event's beneficiaries via pledges. To make a pledge for any of this year's riders, go to https://www.plantationfieldinternational.com/index.php/real-rider-cup-2018.
The 2018 Real Rider Cup teams are:
Exercise Riders
Lorna Chavez (riding Prince Felix)
Sharon Dominguez (riding Baggage)
Jodi Murphy (riding War Fleet)
Paddy Young (riding Prince Felix)
Owners
Michael Balaz (riding Harmony Bay)
Clifford Barry (riding Embarrassed)
Megan Jones (riding Unrivaled)
Katelyn Jackson (riding Santa's Playboy)
Racing Analysts
Gabby Gaudet (riding Eighttofasttocatch)
Penelope Miller (riding Disco Elvis)
Maggie Morley (riding Yeager)
Tim Tullock (riding Wye)
Trainers
Jena Antonucci (riding Nineteenth Hole)
Jack Fisher (riding Quite A Journey)
Lacey Gaudet (riding USMC Semper Fi)
Tom Morley (riding Target Sighted)
The Real Rider Cup is one of the featured events at this year's Plantation Field International Horse Trials. Known as one of the most prestigious competitions in three-day eventing, the event will feature several riders from the U.S. and Canadian eventing teams fresh from the World Equestrian Games.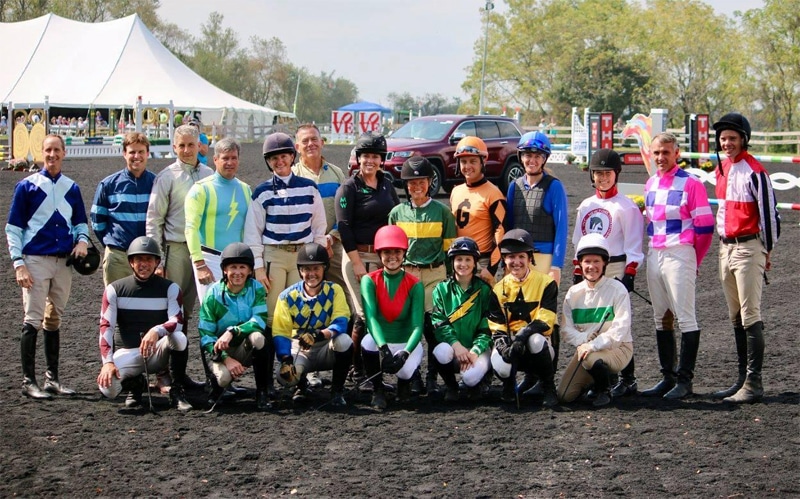 The 2017 Real Rider Cup competitors.
Anita Motion
(301) 943-6803
Anita@herringswellstables.com