Pittman, de Sousa Among Winners at US Equestrian Annual Meeting
January 14, 2019
Steuart Pittman Receives EQUUS Foundation Humanitarian Award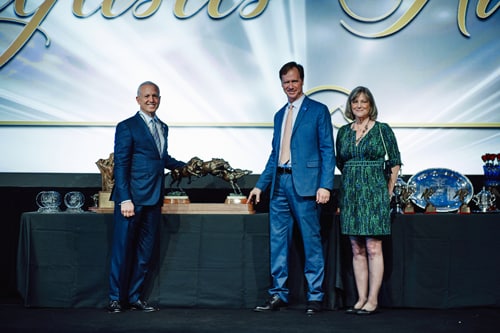 Photo by Adam Brennan -ww.picturesbyab.com
Established in 2009 by the EQUUS Foundation and the United States Equestrian Federation, the Humanitarian Award honors an individual in the equestrian world who has devoted considerable personal time to improving the quality of life for equines.
As the eighth generation of his family to operate Dodon Farm in Maryland, Pittman, as a breeder, trainer and eventing competitor, saw firsthand how the athletic Thoroughbred was falling out of favor in the sporthorse world — and decided to do something about it. With friends, he founded the Retired Racehorse Project in 2010. Unique from traditional aftercare placement or adoption services for ex-racehorses, the RRP sought to increase the demand for off-track Thoroughbreds and provide educational resources for owners and trainers to help those horses transition successfully.
Thanks in part to the Retired Racehorse Project and the increasingly-popular Thoroughbred Makeover, demand for off-track Thoroughbreds is rising and their value is increasing.
"Receiving the EQUUS/USEF Humanitarian Award is a huge honor because I have so much respect for the institutions making the award," Pittman describes. "The EQUUS Foundation keeps a close watch on all of the good work being done to benefit horses, and USEF represents all equestrian sport. I have always believed that horse welfare is good business, and the magic of Retired Racehorse Project has been that it engages professional and amateur trainers in the essential work of rehoming racehorses. By recognizing this work the horse industry is buying into this vision. We can, and must, work together as an industry to help our horses move safely from one job to the next."

Photo by Adam Brennan -ww.picturesbyab.com
Isabela de Sousa named 2018 USEF Junior Equestrian of the Year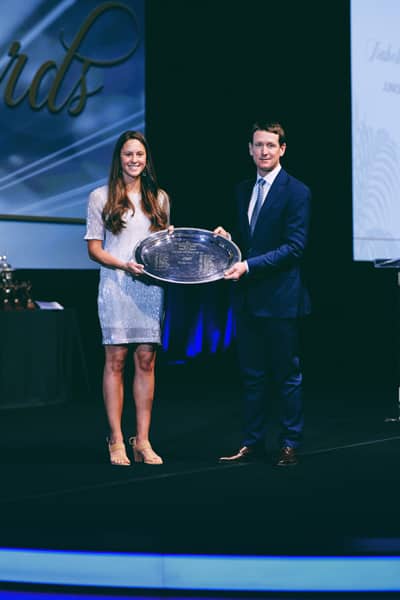 Photo by Adam Brennan -ww.picturesbyab.com
Isabela de Sousa has been a four-time competitor — and three-time discipline winner! — at the Retired Racehorse Project's Thoroughbred Makeover, and has been an outspoken ambassador for ex-racehorses as well as a competitive junior rider. Her chronicling of the second career process with her 2018 mount Cozmic One, the first offspring of the famous racing mare Zenyatta, helped bring the Makeover and the importance of aftercare to a brand-new audience of Thoroughbred fans. de Sousa and "Coz" finished fifth in the show jumping division at the 2018 Makeover.
Outside of the Makeover arena in 2018, de Sousa competed in her first equitation finals in the USHJA 3'3" Jumping Seat Medal Final, the Dover Saddlery/USEF Hunter Seat Medal Final, and the ASPCA Maclay National Championship. All of de Sousa's achievements combined with her role as an ambassador for Thoroughbreds and horses-first training earned her the title of Junior Equestrian of the Year.
"I'm extremely honored to be chosen for this award when there are so many juniors who work hard because of their passion for horses," shares de Sousa. "The RRP experience has taught me to be patient and take each horse as an individual and recognize that certain tactics may work with one horse, but you may need to change your approach for another."