Off-Track Thoroughbred Clinches General Excellence Win in Equine Media Awards
June 14, 2019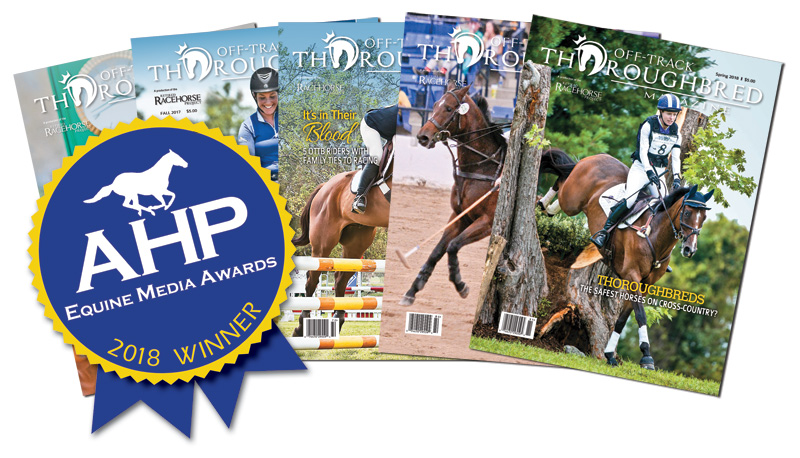 The AHP association general excellence category is judged 40% effectiveness of editorial content, 35% design, and 25% meeting its mission statement.
"Packed with interesting, helpful, informative stories and great photographs, this magazine just keeps delivering from front to back," the judges wrote in their critique. "Every aspect of retired racehorse endeavors is covered in fine fashion. So much information and feature material in every issue — the amount of planning and execution is daunting, and yet it comes together every time. This magazine stands above the rest in its category. You should be proud."
Held since 1974, AHP's annual awards recognize and celebrate excellence in equine media. This year's competition for material published in 2018 drew 711 entries from 119 members.
"The competition was deep, not only in our category but throughout all of the AHP's award nominees, so to receive this award is a tremendous honor for our organization," said Jen Roytz, RRP executive director.
"Great things can happen when your professional focus is also one of your personal passions," added Roytz. "The team at The Horse (Media Group), as well as the various other contributors to Off-Track Thoroughbred, put their hearts and souls into this publication, and we at RRP are profoundly grateful to their vision and tireless enthusiasm for showcasing Thoroughbreds."
The Horse Media Group provides concept-to-completion services for magazines, digital media, books and other formats. Its acclaimed team of editorial, design, and marketing professionals help clients build stronger, longer-lasting, and more profitable relationships with their customers and has worked with notable equine industry powerhouses such as AAEP, Merck, and RRP.
"Off-Track Thoroughbred is all about celebrating the incomparable retired racehorse and supporting the RRP in its mission of increasing the demand for these athletes as pleasure and sport horses," said Stephanie L. Church, The Horse Media Group's editor-in-chief. "We are thrilled to have received this award, and I'm proud of our team, the RRP with whom we get to work closely, and all the other writers and photographers who make this magazine so very special."
You can receive Off-Track Thoroughbred by becoming a subscribing member of RRP. Click here to join!
About The Horse Media Group
The Horse is an all-breed, all discipline media group that distributes the most up-to-date, reliable information on the health, care, management, and welfare of horses and other equids. TheHorse.com is an essential resource for hands-on participants in the horse industry, garnering more than a million site visits a month. The monthly magazine The Horse: Your Guide to Equine Health Care features premium content on equine health care reviewed by a board of American Association of Equine Practitioners member veterinarians.