Montville resident helps OTTB race to save retired thoroughbreds
May 25, 2016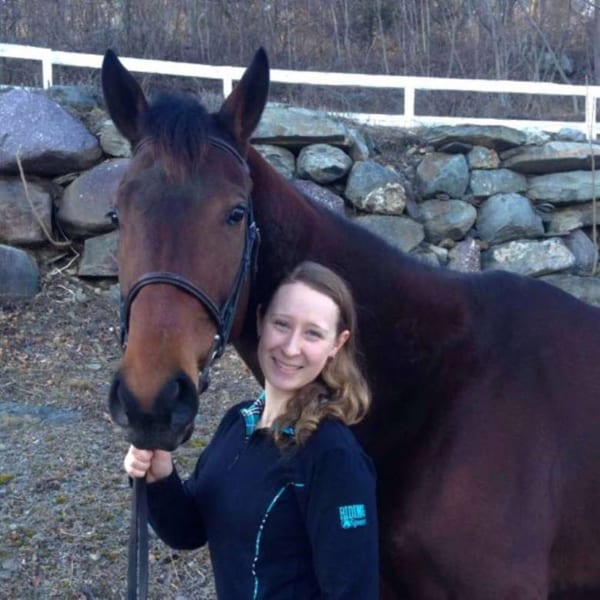 Bluff the retired racehorse, with Chelsea Crozier. | PHOTO COURTESY OF CHELSEA CROZIER Crozier and Bluff came together in January, four months after the horse's retirement. The pair are now preparing for the RRP Thoroughbred Makeover and Symposium to be held this October at the Kentucky Horse Park in Lexington. The event is sponsored by the Retired Racehorse Project, an organization aiming to shed light on the plight of retired thoroughbred racehorses and the aftercare they require.
Working against thoroughbreds is their undeserved negative reputation. Crozier, in an email, stated, "In the Equestrian community thoroughbreds, especially ones that retire from the track, are labeled high strung, spooky (scare easy) and hard keepers. Much like Pit Bulls, retired racing thoroughbreds, or OTTB's (Off The Track Thoroughbreds) are given a bad rap due to some bad experiences and rumors. Part of the reason I decided to partake in the RRP Thoroughbred Makeover is because I have had the fortune of riding many different OTTB's throughout my riding career and see them for the incredibly loyal athletes with more heart then any other breed that I have worked with."
Crozier, who has been passionate about horses her entire life and is the proud owner of a 16 year-old retired thoroughbred racehorse, was inspired to take on the task of trainer and partake in the competition after following the activities of the 2015 Makeover. The event brings in thousands of spectators to watch as hundreds of trainer/horse pairs compete in 10 disciplines, seeking the ultimate prize, America's Most Wanted Thoroughbred.
"The goal of the competition," explained Crozier, "was to have riders of all disciplines and age ranges acquire a retired thoroughbred racehorse and retrain them for the Makeover competition. One of the highlights after the competition is that many of the horses competing are available to purchase, this allows spectators to view the horses in a high energy environment and meet them at the competition. This competition alone has helped rehome hundreds of retired thoroughbreds into happy new homes and careers."
Crozier started riding horses when she was about 6 years old and started going to horse shows and competing at around 8. She was a member of her university's Intercollegiate Horse Show Association's Equestrian team. Since graduating from college in 2011, Crozier has been competing as an amateur rider in local competitions.
"I have worked with many different local trainers throughout the years and have had the opportunity to help many of them with the training of different horses with all kinds of backgrounds," wrote Crozier. "Bluff will be the first horse that I will be training by myself, which is very nerve wracking, but I am really enjoying the journey and would not be able to do this without the great training that I had growing up. All of the hay throwing, bucket scrubbing, stall cleaning and hours of endless chores that my trainers gave me to do has given me the knowledge I need to care and retrain a horse off the track but more importantly I wouldn't be who I am today without those life lessons."
Crozier boards her horses at a small facility in West Milford. After deciding to apply to be in this year's makeover event, she encouraged several friends at the boarding barn to do likewise and all were accepted.
Bluff came to Crozier through a friend's contact. The horse was a "bottom-of-the-barrel claiming racehorse who won little money," according to Crozier. Bluff had to be put on a refeeding program to get her healthy. Over the past four months, Bluff has grown two inches and has gained muscle tone.
"Now that she is getting the care and good nutrition, thanks to the amazing barn manager Bailey Nyren at Usual Dream Farm (West Milford) the boarding facility I keep Bluff at, her body is making up for lost time and growing like a weed," wrote Crozier.
At first, Bluff was shy and very withdrawn. She was fearful of doing the wrong thing and therefore would get nervous if someone moved too quickly around her, not understanding what was being asked of her. After three months in the care of the family from which Crozier purchased Bluff, coupled with the time Crozier has given her, Bluff's "personality has really blossomed," noted Crozier.
"She is incredibly sweet with a silly side. She always knows how to make us laugh," wrote Crozier. "She is also just so personable, it's amazing. She wants to be everyone's friend regardless if you are a person, horse, or any other furry animal."
Crozier offered other retired thoroughbred stories from the boarding barn. Tribute, who was listed on a local Thoroughbred Rehoming/Rescue site, initially looked "ragged" and was in need of consistent exercise. Tribute had been starved and despite having been a competitive racehorse in his younger years, began to slowdown at age 7 and experienced some racing injuries. Now, at 8, he is "blossoming into an amazing riding horse."
Click here to continue reading the full article at NorthJersey.com