Meet the Horses of the Thoroughbred Makeover Class of 2023
August 29, 2023
The final entry list for the 2023 Thoroughbred Makeover and National Symposium, presented by Thoroughbred Charities of America, is complete! You can view individual entries and explore the list using filtered search features at TheRRP.org/entries. We've taken a look at trends and statistics for the entire class here.
The Retired Racehorse Project (RRP) is uniquely positioned as the only organization in aftercare that works across all facets of the industry, including both accredited and unaccredited adoption organizations, listing agents, and for-profit trainers and resellers. The data we capture through the Thoroughbred Makeover offers a closer look at how horses are moving into second careers and may provide the most comprehensive picture of the state of Thoroughbred aftercare available. While data only comes from the 551 horses who were registered for this year's competition, it still provides valuable insight into Thoroughbred aftercare as an industry.
404 horses made final entry, but the event impacted a total of 551 that were registered and are considered part of this year's Makeover. Let's take a closer look at the class of 2023!
Sales & Acquisition
The Thoroughbred Makeover gives us a cross-section of the aftercare industry and shows the routes by which retiring racehorses are finding their ways into their next careers. One of our key metrics of success is the value of horses retiring from racing: as this figure increases, we hope more connections will realize that their horses have value in retiring sound, and that their second career is as worthy of celebration as the first.
One of the RRP's key metrics for assessing the success of its programs is the average price of horses moving into second careers — a figure which has been steadily on the rise since the organization started tracking data in 2015. This year, Makeover trainers spent on average $3,050 on the acquisition of their horses, including direct purchases and adoption. That said, 26% of horses were acquired in transactions where no cash or a nominal sum was exchanged to memorialize the transfer of ownership.
The length of time elapsed from the date of last work or race to the date of acquisition for the Thoroughbred Makeover has shifted slightly in the past year. On average, horses are spending 84 days between last race and purchase for those moving directly from connections (up from 70 days in 2022); horses moving through resellers (defined as any owner between the track connections and the Makeover trainer) spent 175 days between last race and purchase (up from 124 in 2022). Interestingly, horses in non-profit aftercare facilities had been on an increasingly longer trend of time elapsed in past years, but this year are spending on average 152 days, down slightly from 168 days in 2022. Note that this data does not include the 26 mares in the former broodmare division, whose elapsed time since last race in most cases is far longer.
How Horses Are Acquired
In keeping with trends over the years of the Thoroughbred Makeover, over half of this year's entrants were sourced directly from their racing connections. This can include both working directly with contacts on the track, as well as using a listing agent (some CANTER branches work this way, as well as a handful of for-profit agents). About five percent of this year's entrants are still owned by their track connections as well!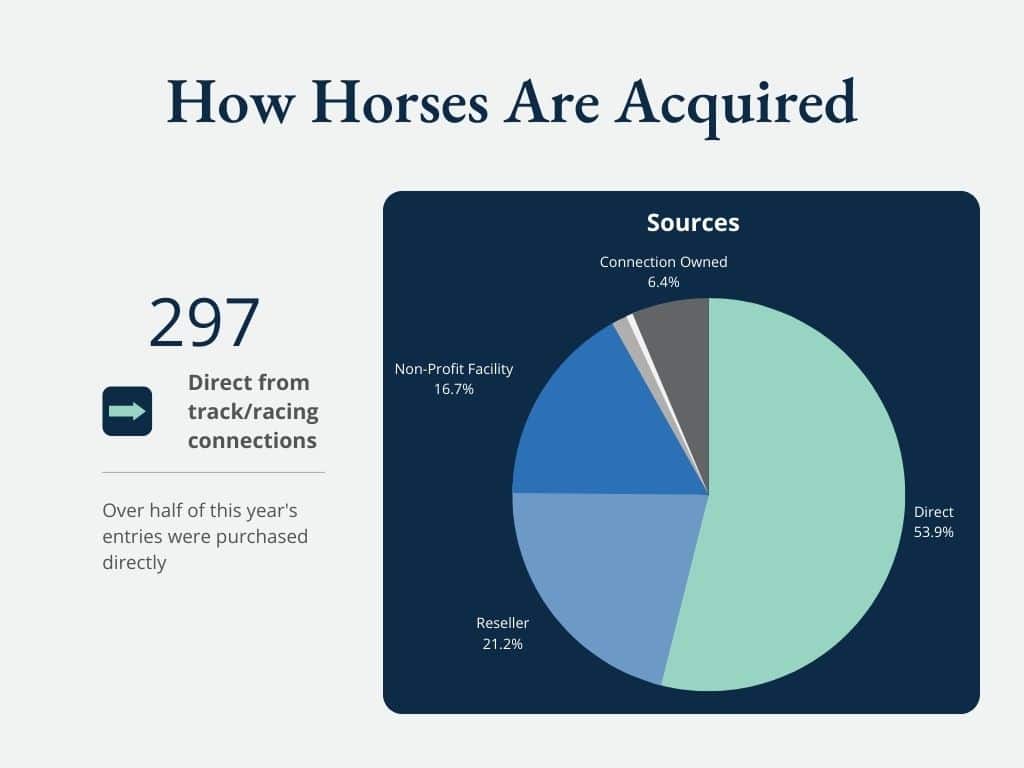 Top Sources
Let's examine closer the horses who are moving through established aftercare channels, including non-profit organizations, listing agents, and resellers: which sources are the most popular within their branch of aftercare?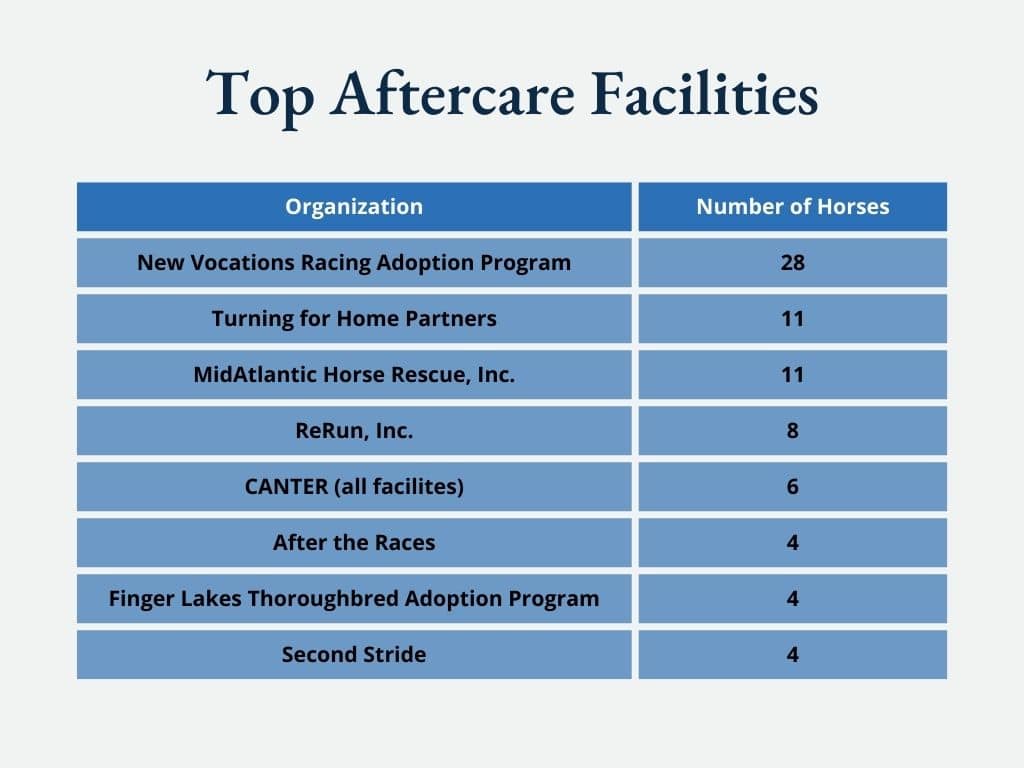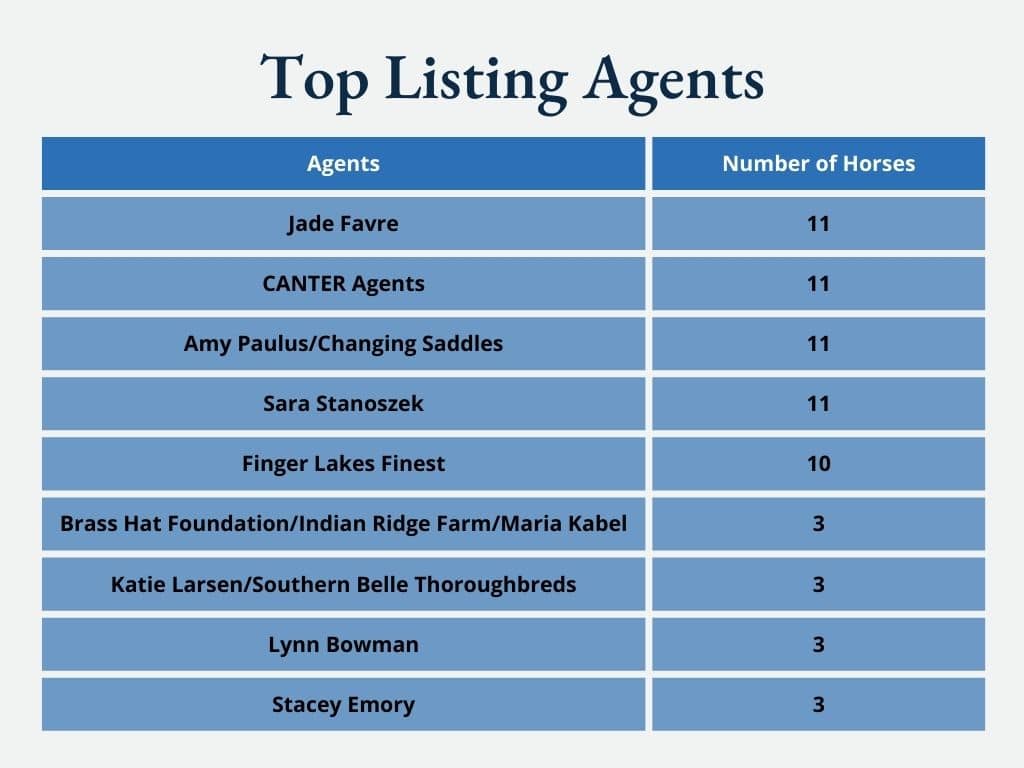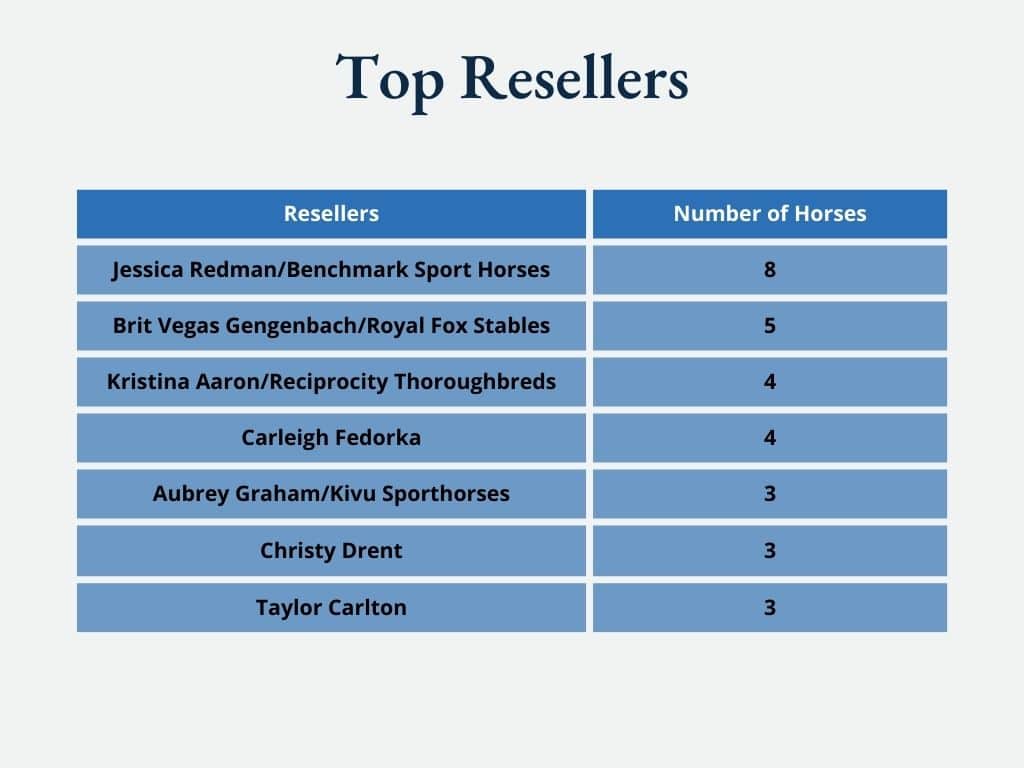 Last Track
Taking a look at the tracks at which horses made their last start or published work can give us insight into the tier of track where horses are ending their careers, where connections are making the decision to retire a horse, or where established track and retirement programs may be assisting connections in the transition. Here are the top 10 tracks from which this year's class retired. The top last tracks are listed below.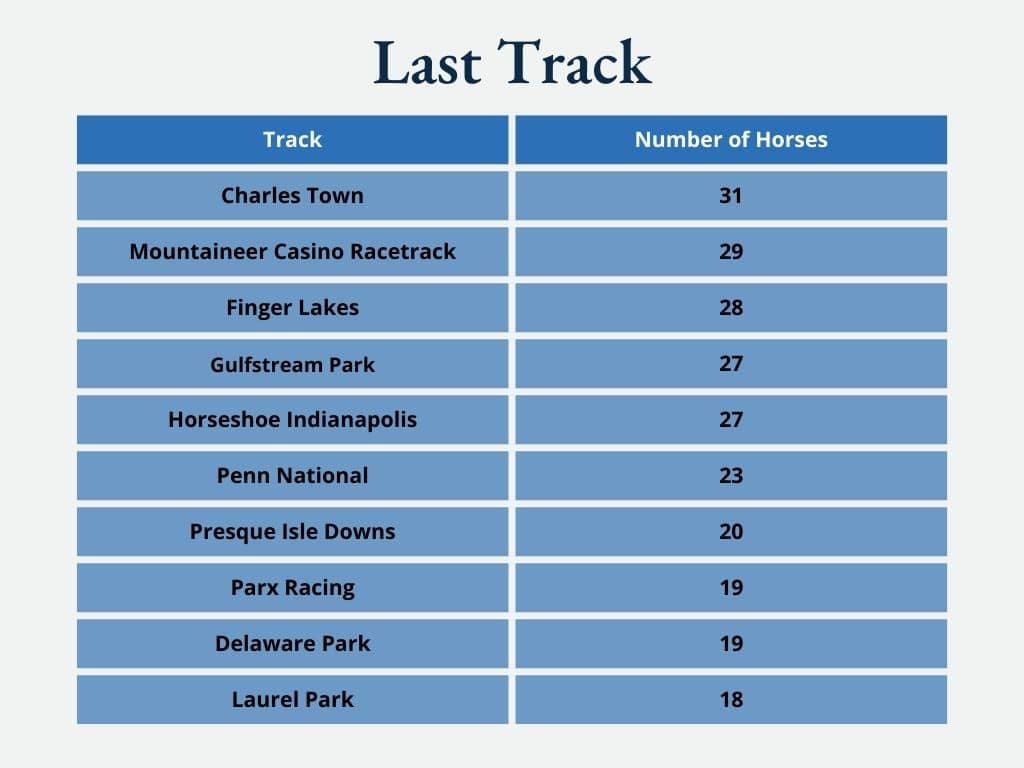 Racing Careers
The total and average number of starts continues to decline somewhat since 2021, which may support the conclusion that more racing connections are recognizing the value in retiring their horses earlier. On average, our 2023 Makeover entries made about 17 starts (down from about 18 in 2022) with about three wins (up from about two wins in 2022). They earned an average of $70,277.
In total, the class of 2023 made 8,876 starts, went to the winner's circle 1,144 times, and earned a whopping total of $37,106,256 in their careers. Our highest earner is the accomplished Arklow, three-time Breeders' Cup Turf runner and multiple graded stakes winner, who retired with just over $3 million in earnings.
War Horses
To be eligible for the 2023 Thoroughbred Makeover retiring racehorse division, horses need to have either raced or posted a timed workout on or after July 1, 2021. We've been holding steady at about 8% of our entrants making a timed work but never making a start, and that trend continues this year. That said, we like to honor and celebrate the war horses, defined as those horses who made 50 or more starts over their careers. This hard-knocking population of horses are often sought after for their experience and general soundness. Here are our top 10 warhorses with the highest starts.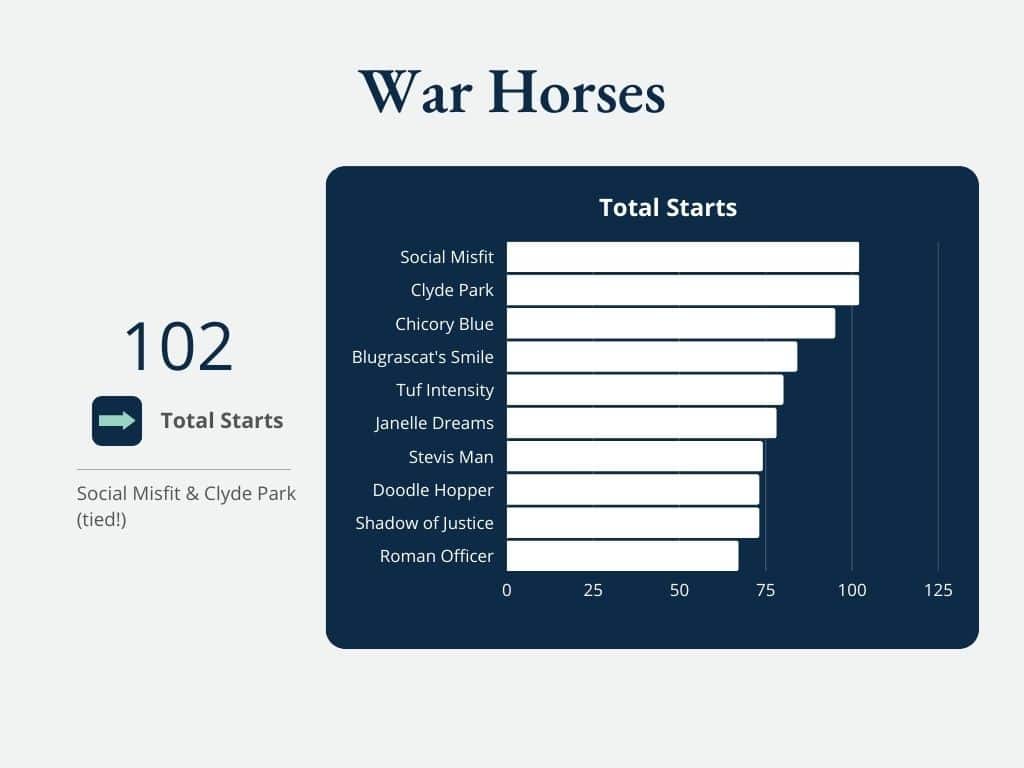 Stakes Horses
Equally exciting is our population of former stakes horses who enter the Makeover. Aftercare is for all horses, after all! Here are the stakes horses whose names you might already recognize that you can plan to see in person at the 2023 Thoroughbred Makeover.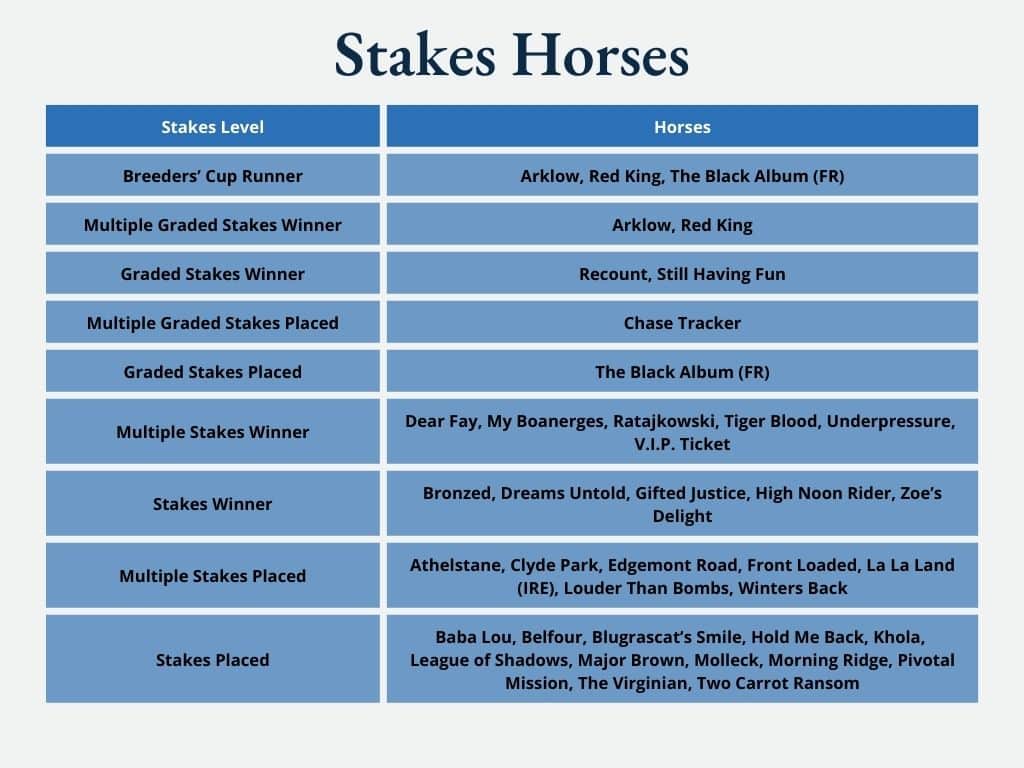 Breeding
While Thoroughbreds at the Makeover were bred first to race, the decisions made by breeders today are in some way shaping the future of the Thoroughbred in sport tomorrow. Here's a closer look at how breeding industry trends will shape the Thoroughbred in its second career.
States Bred
While Kentucky continues to lead the way for most horses represented as one would expect, breeding over a third of this year's Makeover class, New York and Florida command 10% or more each. (How can the state in which a Thoroughbred is bred affect his second career? Here's our take on how regional differences in breeding affect conformation, running style, and more — and how that translates to a sport career after racing.)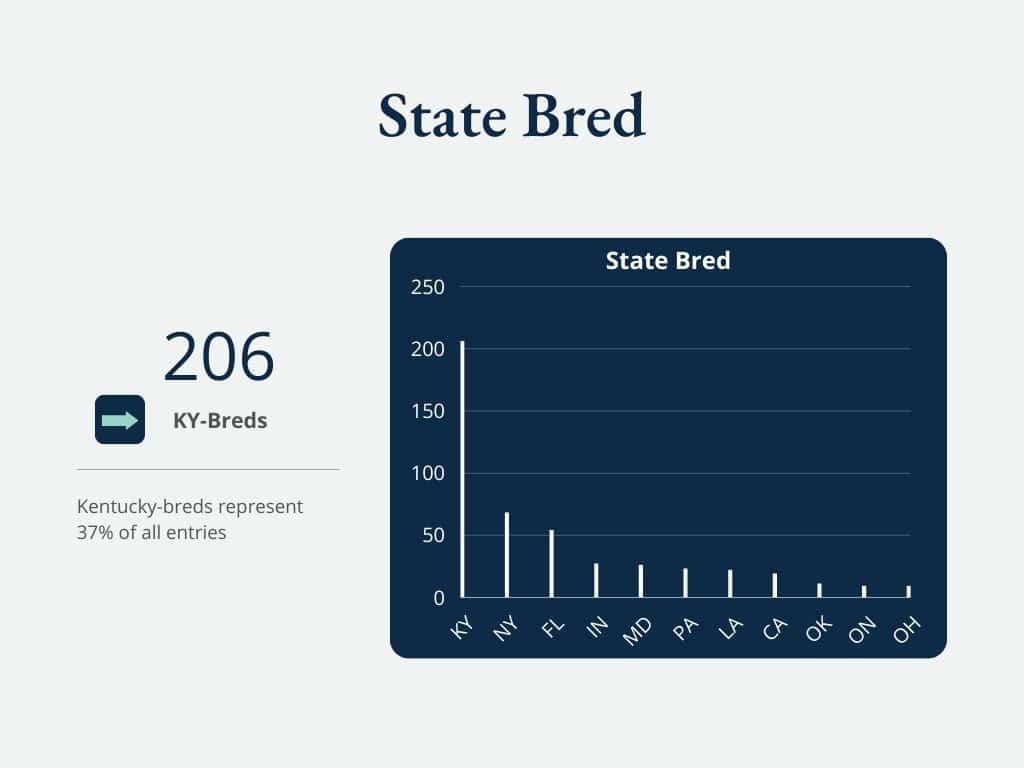 Sires Represented
We always enjoy seeing which of the breed's stallions are represented, and notice that they run a range of sires enjoying regional success as well as industry leaders.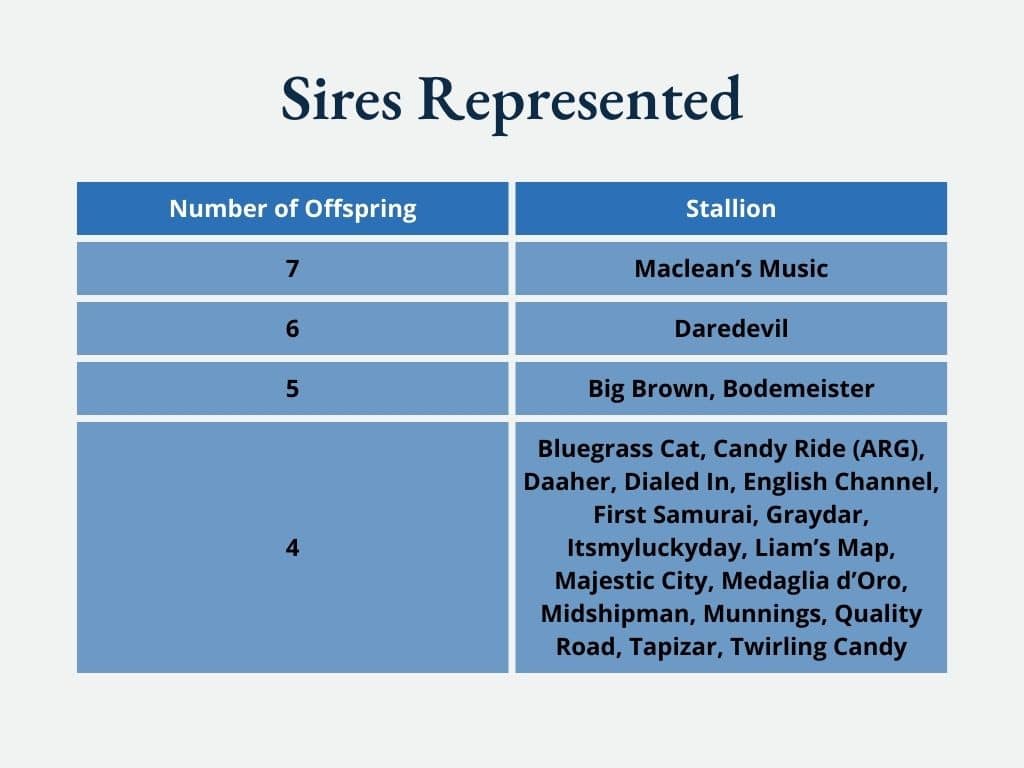 Top 10 Sire Representation
Our Makeover trainers enjoy riding horses sired by the best in the industry, and we equally enjoy seeing which leading stallions are represented each year (as reported by Bloodhorse as of press time). The only stallion on the top 10 list who is not represented at the Makeover is Not This Time.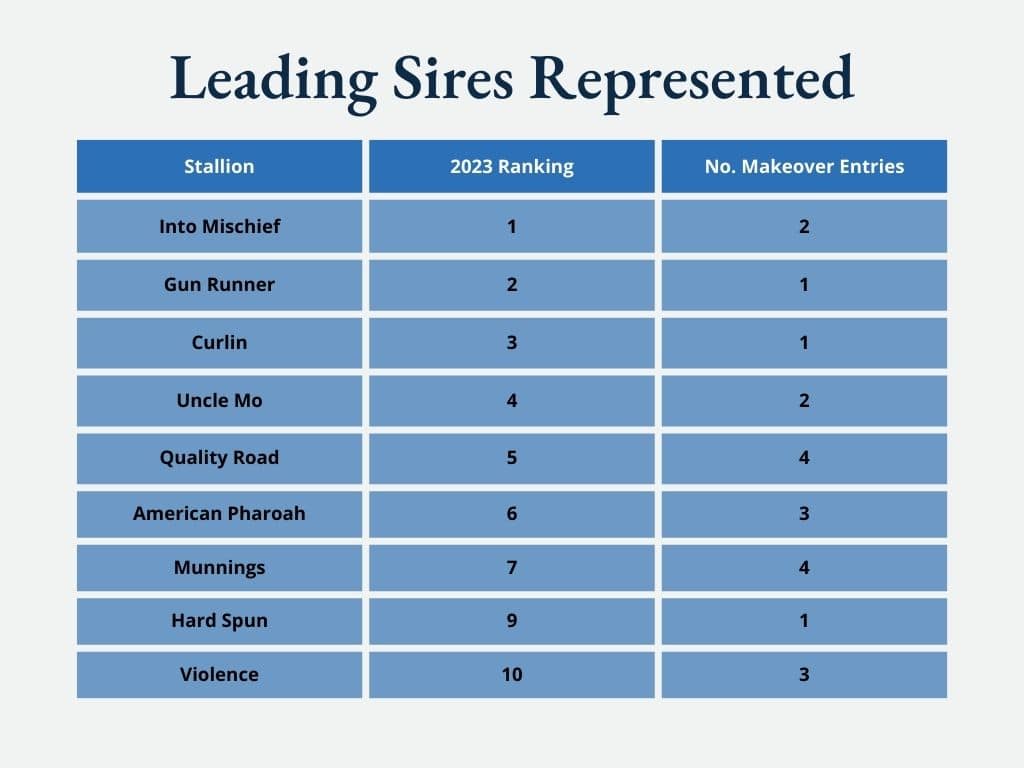 Siblings & Families
We won't see any full siblings competing this year, but we do have half siblings coming to the Makeover: Soulful Song (2019, by Songandaprayer) and Fast Livin (2020, by Bucchero) are both out of Living Light!
Fun fact: one of last year's sets of half siblings, Spots Appeal and Maria Rose, are now represented by their dam Mariastheboss, who will be competing in the inaugural Former Broodmare division under the same trainer, Karyn Wittek!
Sale History
A total of 200 horses — that's 36% of the class — have gone through a Thoroughbred sales ring, 81 of them more than once. Here are the sales figures representing this year's Makeover class.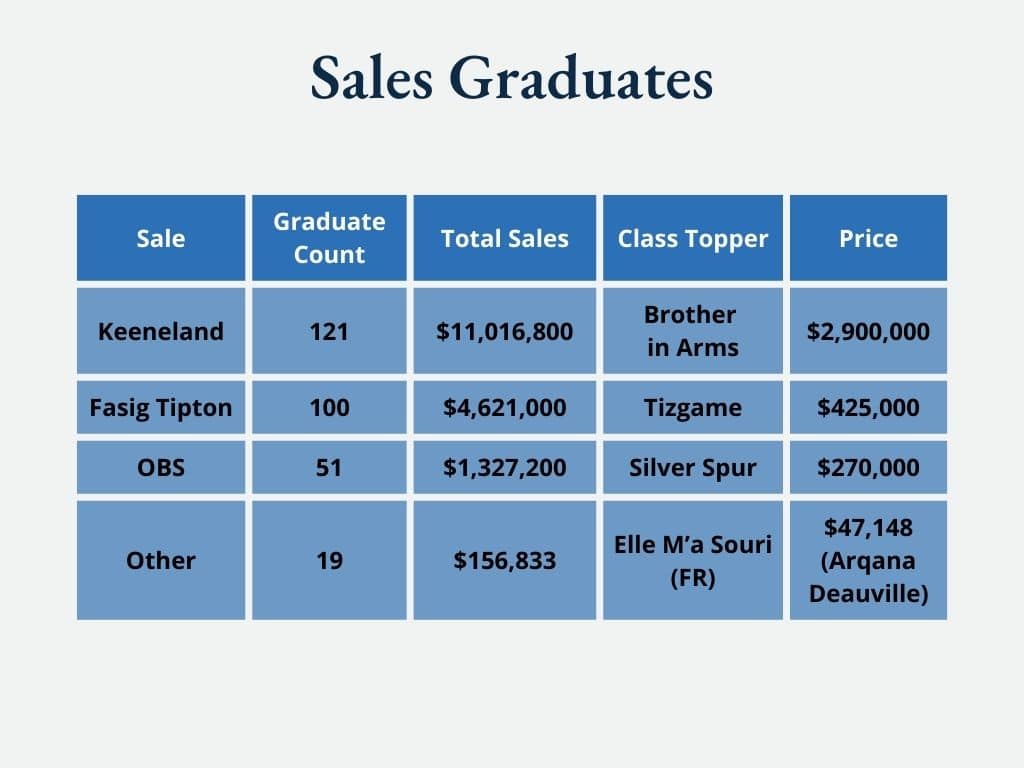 Demographics
Year Foaled
As is typical, the bulk of our entries are in the 3-5 years old range, but there are enough older horses to skew the average age up to 6.
Looking at just our inaugural former broodmare division of 26 horses, the average age is 12, with the majority of mares retired due to reproductive issues rather than advanced age or commercial performance of offspring.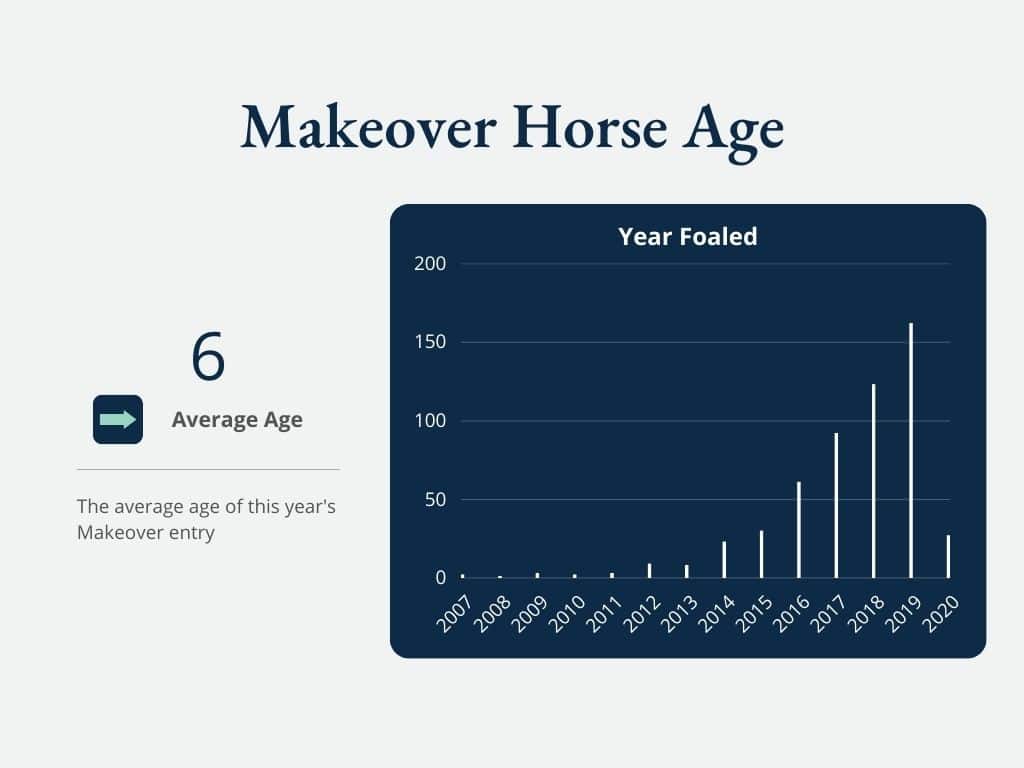 Height
We run the gamut this year from a couple of 14.3 hand "honies" to an 18.1 hand tall drink of water.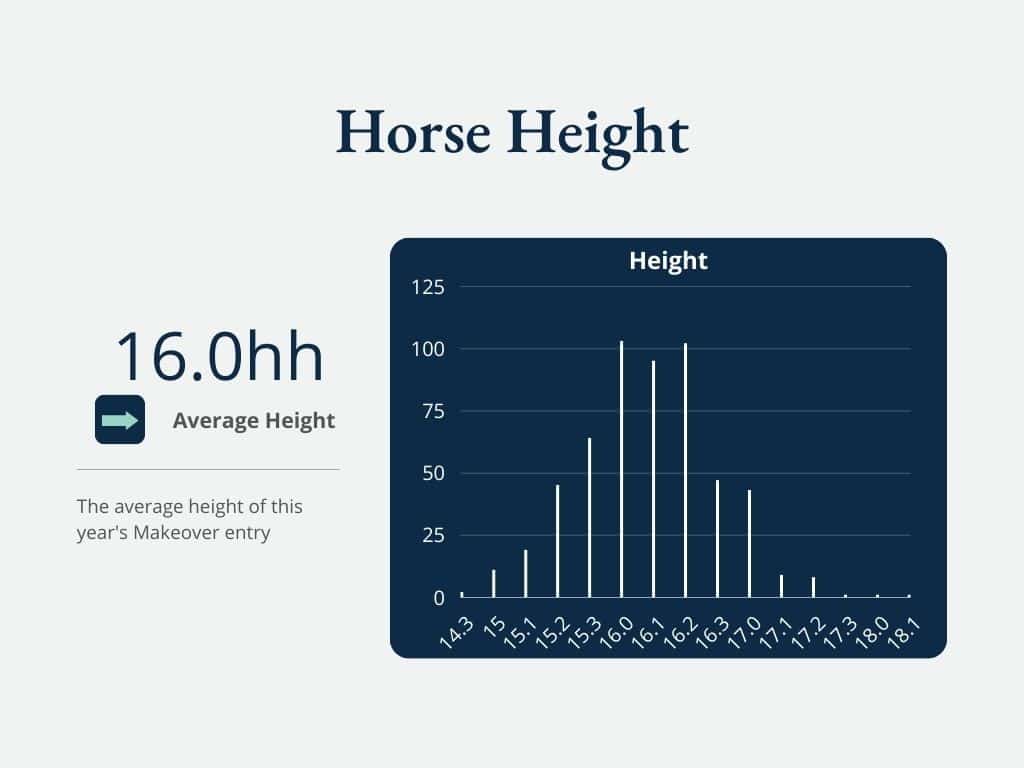 Gender
Our number of mares overall is on the rise, aided in part by the new former broodmare division. Note that the five stallions were stallions as of time of registration, and may have been gelded by the Makeover.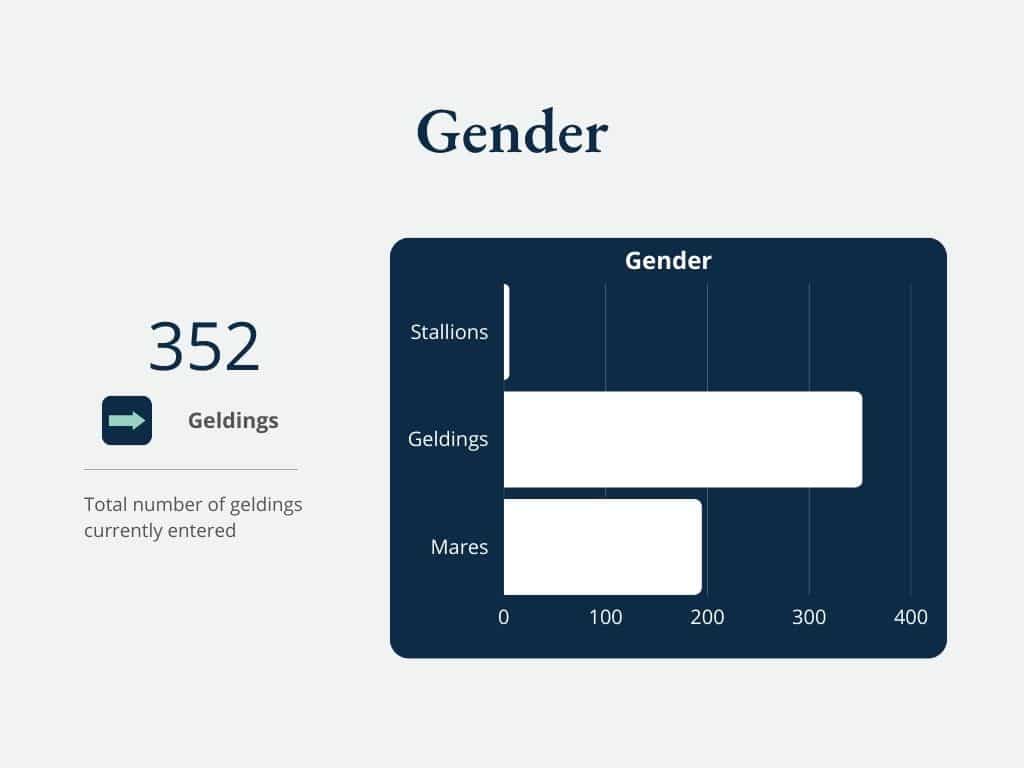 Coat Color
While the majority of our entrants this year will be either bay or dark bay/brown, keep an eye out for four rare white Thoroughbreds at the Makeover!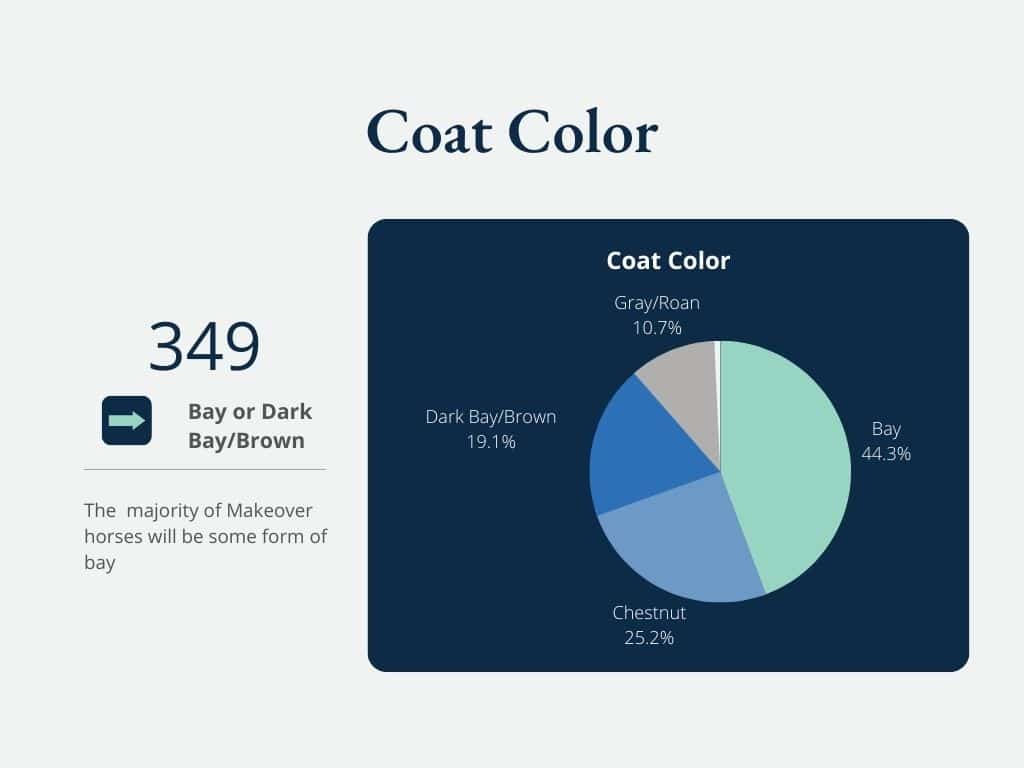 Take a look at the full entry list here. We look forward to seeing you at the 2023 Thoroughbred Makeover and National Symposium, presented by Thoroughbred Charities of America, October 11-14 at the Kentucky Horse Park!