Kentucky Derby-Oaks Ticket Auction to Benefit Retired Racehorse Project
April 07, 2016
The auction is now live on Starquine, and all proceeds from the auction will be donated to the Retired Racehorse Project, a 501(c)3 charity that "exists to facilitate placement of Thoroughbred ex-racehorses in second careers by increasing demand for them in equestrian sports and serving the farms, trainers, and organizations that transition them."
"The Retired Racehorse Project is a great reminder that without this magnificent animal – the Thoroughbred – the Kentucky Derby and Churchill Downs wouldn't be the focus of the world's attention each year on the first Saturday in May," Paulick Report Publisher Ray Paulick said. "We're excited to partner with TwinSpires in support of the RRP's mission."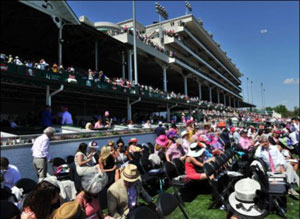 Clubhouse courtyard seat package includes a buffet and open bar.The auction is for a pair of Oaks and Derby tickets on May 6-7 at Churchill Downs in the courtyard section, which is directly in front of the owners' boxes in sections 118-119. Access to the courtyard area includes covered access to a buffet, open bar, and restrooms private to that area. Food and beverages are included with the tickets.
"Whether racing in the Kentucky Derby or never-have-raced, every Thoroughbred has his or her place in our world, and the Retired Racehorse Project helps them find it," said TwinSpires Director of Communications Ed DeRosa. "This industry exists because of the Thoroughbred, so it's important for those in it to make sure to give back to his magnificent animal."
"On behalf of the 500 recently retired racehorses that are training for this fall's Thoroughbred Makeover, a grand nicker of gratitude to our friends at TwinSpires and Paulick Report, said RRP president Steuart Pittman. "The funds raised through your aggressive bidding on these tickets will not only help to secure the futures of this year's Makeover horses, but also support Retired Racehorse Project in its ongoing work to increase demand for Thoroughbred ex-racehorses and build the bridges to second careers."
The auction closes at 7 p.m. EDT on April 15, 2016
TwinSpires.com is the official wagering site of the Kentucky Derby, Breeders' Cup, and the Churchill Downs Inc. family of tracks. To open an account, visit TwinSpires.com, call 1-877-SPIRES-1 (1-877-774-7371), or download our app from the Apple/iTunes Store.
PaulickReport.com is a multimedia news organization based in Lexington covering the international Thoroughbred racing and breeding industries. Founded in 2008 by former Blood-Horse magazine editor Ray Paulick, PaulickReport.com has grown to be a leading source for racing and breeding news and analysis, horse care information and has been a staunch advocate for Thoroughbred aftercare.