In Review: The 2019 Thoroughbred Makeover & National Symposium
October 24, 2019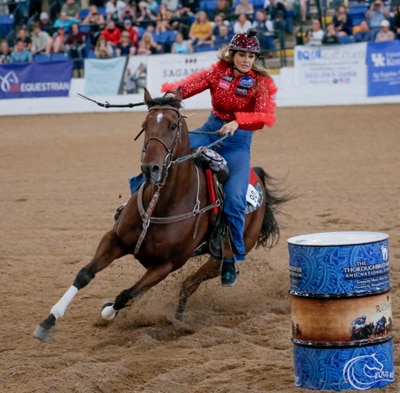 The Thoroughbred Makeover is the banner event of the Retired Racehorse Project (RRP), a 501(c)(3) organization dedicated to increasing the demand for retired racehorses in second careers. This year marked the Makeover's fifth year in its current format and location at the iconic Kentucky Horse Park.
The Competition
For these hundreds of horses and their trainers, the Thoroughbred Makeover was the crowning achievement of up to ten months of retraining for a second career after racing. To be considered eligible to compete at the 2019 Thoroughbred Makeover, horses had to have raced or published a workout after July 1, 2017, and could not have started retraining for a second career before December 1, 2018 other than a maximum allowance of 15 rides. (Tack walking as part of a veterinary-prescribed injury rehabilitation plan was allowed with a letter from the vet.)
Trainers applied to compete over a one-month period starting in December of 2018, with trainer acceptance announced on February 1. Horses could be registered for the Thoroughbred Makeover as soon as they were acquired, with a registration cutoff of July 30, 2019. Final entry took place from August 1 through August 15, 2019, with trainers selecting one or two disciplines out of the Makeover's offerings of ten: barrel racing, competitive trail, dressage, eventing, field hunter, freestyle, polo, ranch work, show hunter and show jumper. Each Makeover discipline was judged to assess a horse's foundation of training and potential to succeed in that equestrian sport.
Preliminary competition took place over two days in multiple venues around the Kentucky Horse Park. The five top-placed horses in each discipline returned to compete in the Finale on Saturday, with modified competition formats in the TCA Covered Arena. Saturday's Finale was also live-streamed by the USEF Network.
Finale competition determined the final placings among the top five in each discipline; discipline winners returned to the arena at the end of the day while spectators at the show and watching at home voted for the horse that inspired them the most and deserved to be titled Thoroughbred Makeover Champion, sponsored by Nationwide: Cowboy Swagger, trained in barrel racing by Fallon Taylor.
Cowboy Swagger is a 2014 bay gelding by Grindstone out of the Baquero mare One Fast Cowgirl. Bred in Oregon by Dr. and Mrs. Jack B. Root, Jr., Cowboy Swagger made 16 career starts with total earnings of $20,299. He last raced in January of this year, and was sourced directly from his racing connections for Taylor to retrain. Taylor, of Collinsville, TX, is a professional barrel racer and seven-time qualifier for the National Finals Rodeo, which she won in 2014. She was also the 2018 American Quarter Horse Association World Champion in barrel racing.
Cowboy Swagger and Taylor were honored on Sunday, October 6 in the winner's circle at Keeneland across town, and will be recognized between races in a special presentation at this year's Breeders' Cup World Thoroughbred Championships.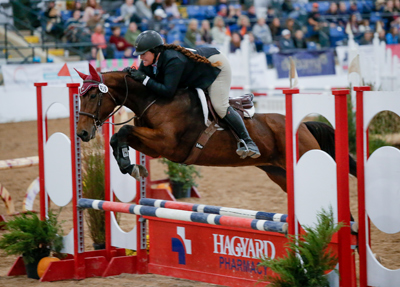 Also in contention for Thoroughbred Makeover Champion were the following discipline winners:
Competitive Trail, sponsored by FL TRAC: Belfast Cowboy, trained by Toni Harmon
Dressage, sponsored by Fasig-Tipton: Fifth Ace, trained by Alison O'Dwyer
Eventing, sponsored by Tipperary Equestrian: Sanimo, trained by Rosie Napravnik
Field Hunter, sponsored by Masters of Foxhounds Association: Grade I steeplechase winner Diplomat, trained by Sara Katz
Freestyle, sponsored by New Start: Grande Warrior, trained by Amy Bowers
Polo, sponsored by US Polo Association: Great Reward, trained by Buck Schott
Ranch Work, sponsored by MidAtlantic Horse Rescue: Silence Is Awesome, trained by Amber Jacobson
Show Hunter, sponsored by Beyond the Wire: Furaha, trained by Susan Deal
Show Jumper, sponsored by Excel Equine: Tenpin Sugar, trained by Katherine Deichmann
Full scoring and results can be found here. This year's competition also offered a full roster of special awards, sponsored by various state and aftercare organizations to recognize a variety of horses: find special award winners listed here.
The Arrival Exam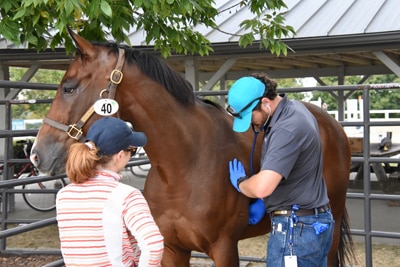 Before they could compete, however, every horse underwent a new Arrival Exam protocol, which was developed by the RRP this year to set a higher standard for horsemanship and equine welfare.
Trainers first checked their horses in and presented their horse's health certificate and vaccination record to ensure that they were in compliance with national and Kentucky state requirements. They then returned to the check-in area at a scheduled inspection time with their horse.
Horses were first scanned for a microchip, which the RRP required of all horses competing (and is now standard procedure for all horses registered with the Jockey Club since 2018). Every horse had its vital signs (heart rate, respiration rate and temperature) measured for any abnormalities, and were examined briefly for blemishes or swelling. Each horse's body condition was assessed with the Henneke Body Condition Score, which assigns a numerical value based on the amount of fat on an animal. Horses needed to score a 4.0 or higher to be cleared to compete. All horses were then assessed for soundness at the walk.
To help trainers prepare their horses for the arrival exam, the RRP provided plenty of educational resources and opportunities throughout the year leading up to the Makeover, including webinars on feeding and nutrition, online articles and information specifically geared towards retired racehorses including gastric health and hoof care, and a video walking viewers through the arrival exam process.
Arrival exams were performed by a team of veterinarians from Hagyard Equine Medical Institute and were overseen by RRP's consulting veterinarian and former Makeover competitor, Dr. Shannon Reed, DVM, a surgeon at The Ohio State University College of Veterinary Medicine.
"This year's Makeover class was incredibly visually impressive," shared Jen Roytz, executive director of the RRP. "Horses were in good weight, their coats were sleek and shiny, and they presented an overall picture of good health — I heard numerous people say this was the best-conditioned group of horses we've ever had at the Makeover."
The ASPCA Makeover Marketplace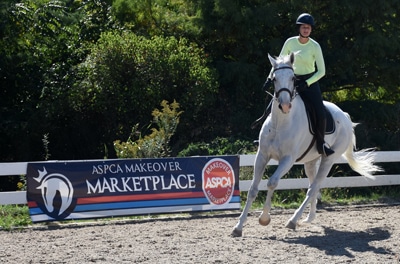 Many of the horses that compete in the Thoroughbred Makeover each year are offered for sale or adoption, and in recent years the event has become a go-to horse shopping destination for both professional and amateur equestrians looking for their next mount. To support these efforts, RRP created the Makeover Marketplace to offer a larger platform upon which to showcase these Thoroughbreds and the foundation of care and training that has been invested in them in preparation for the competition. The 2019 Marketplace was generously sponsored by the ASPCA.
The Marketplace is not an auction, but a marketing service offered by the RRP to help promote competing horses listed for adoption or sale, with a unique venue for horse shoppers to watch and try a wide variety of horses in one location in one weekend. Vets were on call from Hagyard Equine Medical Institute to perform pre-purchase exams.
Roughly 120 horses were offered for sale who competed at the 2019 Makeover, but five of those horses sold before making it to Kentucky. An additional five sold at the Makeover itself, and many more are reporting as sold after returning home. The RRP promoted the ASPCA Makeover Marketplace as a sale itself through mailers, press releases and social media, plus individual promotion on social media of all horses listed in the catalog. The RRP will continue to promote over the winter any listed horses who have not yet been adopted or sold.
"This was my first year doing the Makeover Marketplace," shared Jennifer Reisenbichler, whose horse sold before the Makeover. "The RRP does such a great job helping us advertise and giving us a structure to promote our sale horses! My buyer found [Any Given Royal] via Facebook where we had shared his Makeover link. She is the perfect forever home and is just so excited to have found him."
Average sales prices of Makeover graduates have been on a steady rise in recent years. While sales data for 2019 is not yet complete, the average price for a 2018 was $8,800.
Education and More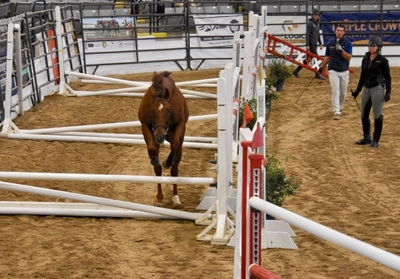 Educational opportunities at the Thoroughbred Makeover and National Symposium included the TERF Makeover Master Class, sponsored by Thoroughbred Education and Research Foundation (TERF), and a slate of seminars presented by Horse Media Group. The innovative Master Class is loosely inspired by colt-starting competitions and allows experienced trainers to demonstrate their individual processes when approaching the first ride on a horse recently retired from the track.
For the 2019 edition of the Master Class, horses were provided by Florida Thoroughbred Retirement and Adoptive Care (FL TRAC), Maker's Mark Secretariat Center, and Second Stride. The Master Class began with representatives from each aftercare organization introducing the horses they brought and what they knew about each horse based on its race career and any initial retraining the horse may have had.
The participating trainers included Grand Prix dressage rider Emily Brollier Curtis, third generation Thoroughbred horseman Douglas Nunn, and five-star event rider Elisa Wallace. With guidance and commentary from world class sport horse trainer Martin Douzant, an advocate for and clinician of free jumping, these three trainers put each of the participating horses through a jump chute to analyze their natural ability. Through a random draw, each of the trainers was paired with one of the horses and broke out into individual round pens to demonstrate and narrate their individual process for approaching the first ride. Additional commentary was provided by Thoroughbred advocate and trainer Sergio de Sousa and Walmac Farm manager and equestrian Laura Hansen.
Seminar offerings, presented by Horse Media Group, were geared towards off-track Thoroughbred owners and enthusiasts:
Preventing Injury and Disease in Your OTTB, sponsored by Godolphin, featuring panelists Dr. Larkspur Carroll of CORE Therapies; Dr. Cage Cruise of Bluegrass Equine Podiatry; Kirsten Johnson of KESMARC LLC; and Dr. Ernie Martinez of Hagyard Equine Medical Institute
Feeding Your OTTB, sponsored by Triple Crown Nutrition, featuring panelists Dr. Kenneth Kopp of Kemin; Dr. Laurie Lawrence of University of Kentucky; and Dr. Fernanda Carmargo of University of Kentucky
Prepurchase Exams, sponsored by University of Kentucky Ag Equine Programs, featuring panelists Dr. Emma Adam of University of Kentucky; Dr. Liz Barrett of Hagyard Equine Medical Institute; and Dr. Shannon Reed of The Ohio State University
In addition to educational opportunities, the Makeover offered social activities as well to celebrate the spirit of cooperation, friendship and teamwork that the competition has come to stand for. The Stall Decorating Contest sponsored by Magna Wave PEMF on Thursday evening brought out trainers' creative sides, with entertaining and often interactive stall displays inviting trainers and spectators to visit the barns and say hello. Many stall designs paid homage to Makeover horses' Jockey Club names or racing connections. Magna Wave PEMF awarded a Magna Wave Sol machine as a top prize.
The Makeover Celebration Party on Friday evening took place at nearby Ashwood Training Center, offering trainers and their friends and family an opportunity to kick back and relax in the bluegrass with a catered barbecue dinner, live music and cash bar. The Celebration Party was made possible thanks to the generous contributions of Walmac Farm, Ann Banks, Pat Chapman and Valerie Callcott-Stevens.