Hoedown at Hagyard
March 15, 2017
Buy Tickets Join RRP Retrieve RRP Member Coupon Code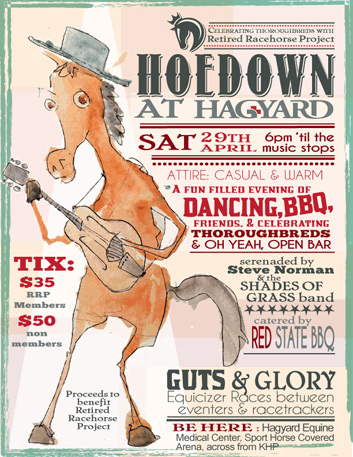 In its second year, this party has proven to be the place to celebrate a big day of cross-country at the Rolex Kentucky Three Day Event. All proceeds will support the Thoroughbred Makeover and National Symposium, a $100,000 training competition on the last weekend of October at Kentucky Horse Park featuring over 500 Thoroughbreds beginning second careers in ten riding sports.
The Hoedown will feature live music by celebrated farrier Steve Norman's Shades of Grass Band with catering by central Kentucky's award-winning Red State Barbecue, and an open bar with bourbon sponsored by Bourbon Lane Stables.
Tickets are $50 for adults with a $15 discount for Retired Racehorse Project members ($45 annual dues includes free Makeover tickets and quarterly Off-Track Thoroughbred magazine). This party sold out last year, so get tickets now!
DATE: Saturday, April 29th
TIME: 6pm
LOCATION: Hagyard Equine Medical Institute
Sport Horse Coverd Arena
4250 Iron Works Parkway, Lexington, KY
(across from the Kentucky Horse Park main entrance)
DRESS: Casual and Warm
Buy Tickets Join RRP Retrieve RRP Member Coupon Code
Equicizer Races are on at the Hoedown!
North American Racing Academy will be coaching the party-goers on Equicizers, and a new sport called Equicizer Racing will match Rolex riders against jockeys and exercise riders.
Train like a Jockey, race your friends, win prizes and support RRP!
EQUICIZER ADD-BACK RACE – UNTIL 9PM
Buy a $10 ticket to ride at the check-in table or the betting cart.
Get coached by North American Racing Academy.
Race for 60 seconds. Your strides will be counted on the brow band pedometer!
Half of the entry money supports RRP programs. The other half is paid out as follows:
1st place 40%
2nd place 25%
3rd place 15%
4th place 12%
5th place 8%
EQUICIZER CELEBRITY RACE – 8PM
Buy your tickets at the betting cart until 8pm:
$2 per ticket or $20 for fifteen tickets.
Put your ticket(s) into the bucket(s) representing the rider(s) you think will win.
A winning ticket will be drawn after the race from the bucket of the winning rider.
The owner of the winning ticket receives 50% of the total ticket revenue.
The remaining 50% supports RRP programs.
The winning rider receives a $100 RRP store credit