#GivingTuesdayNow for the Retired Racehorse Project
May 04, 2020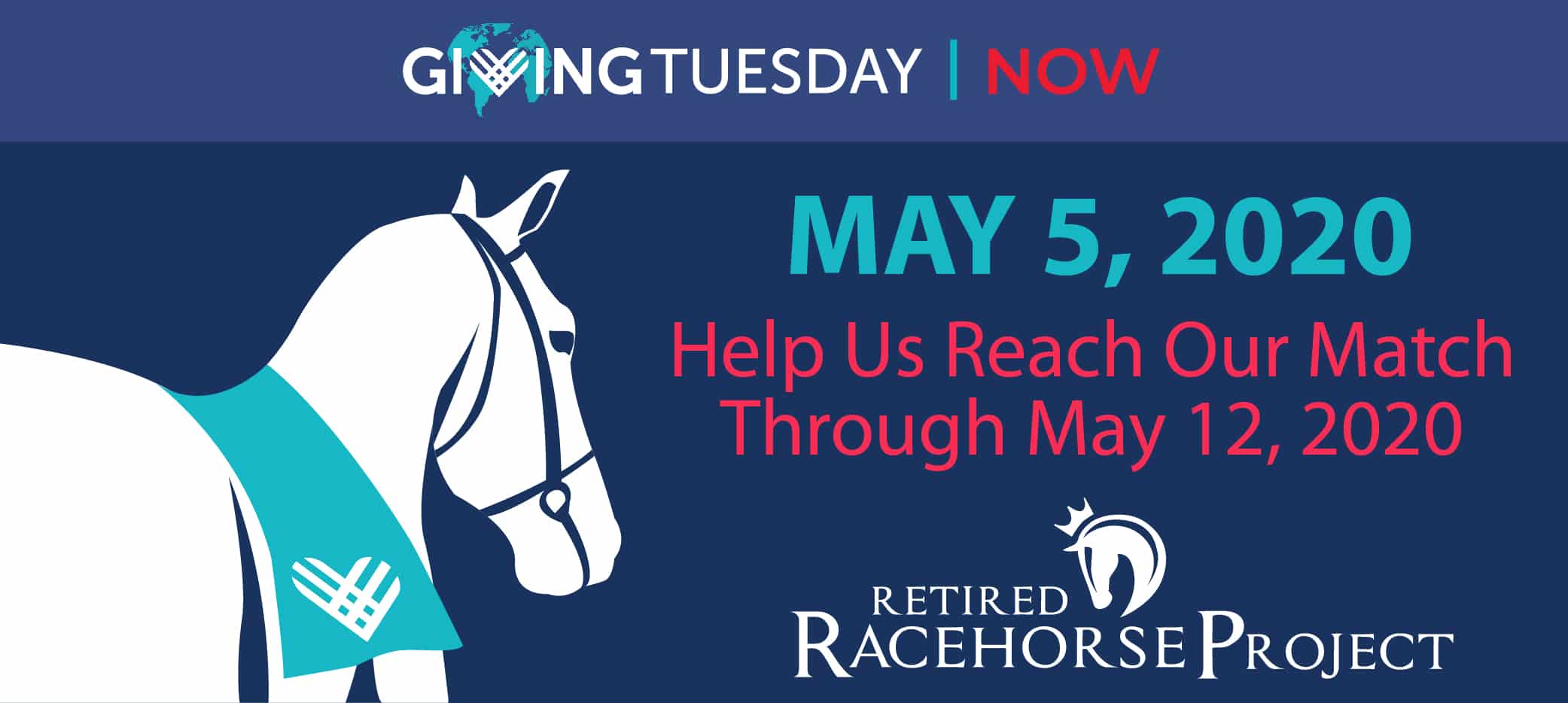 Nonprofits have been hit hard by the economic downturn brought on by the COVID-19 pandemic. That's why today, May 5th, the Retired Racehorse Project and other nonprofits throughout the world are celebrating #GivingTuesdayNow, a global effort encouraging the public to support charities and causes in the wake of the COVID-19 pandemic.
The RRP has set up a charitable GoFundMe for this campaign that can be shared across all platforms. Plus, thanks to the generosity of Pat Chapman (owner of Kentucky Derby Champion Smarty Jones), Linda Heaning (who races under ELR Corp), and an anonymous donor, every dollar YOU donate to the RRP during our #GivingTuesdayNow campaign will be doubled up to $7,500!
So on this international day of giving, if you are in the position to do so, please consider supporting the RRP and the other causes that mean the most to you with a charitable donation. Or see below for a list of other ways you can support us! Regardless of if or how you choose to show your support, thank you for all you're doing to help each other as we navigate this unprecedented time. We are stronger together, and we will get through this.
Other ways you can support the RRP:
Seek out our Facebook posts: The way Facebook algorithms work, you see more of the types of posts you like or comment on, so if you start looking for RRP posts and interact with them (like, comment on, or share them), you'll see more of them pop up in your feed. It's also a great way to keep abreast of what we're doing. Follow us on Facebook.
Make a tax-deductible donation: Whether it's $10, $100, $1,000 or more, donations made to the RRP help to increase demand for Thoroughbreds after racing by supporting initiatives like the Thoroughbred Makeover, OTTB retraining clinics, OTTB Magazine and more. This year there are additional tax breaks and incentives for those who support nonprofits, so by helping the RRP you'll also be helping yourself come tax season! Donate via PayPal.
Shop RRP: From sun shirts and belts to saddle pads (English AND Western!), drink ware, graphic tees and more, you'll find endless options to show your OTTB pride! Shop now.
Advertise inOff-Track Thoroughbred Magazineand reach a national audience of people dedicated to Thoroughbreds in sport. Learn more about our magazine.
Host a Facebook Fundraiser for the RRP: Fundraising is easy on Facebook! Just create a post (a compelling photo helps!) about why you support the RRP, tag the RRP in that post and click the option to make it a fundraiser.
Become a Sponsor: We've got sponsorship opportunities available for every budget and type of business. Learn more about sponsorship.
Shop on AmazonSmile: If you're shopping on Amazon, click over to smile.amazon.com and select the Retired Racehorse Project as your charity of choice. A small percentage of every purchase you make will be donated to the RRP!
Help us thank our supporters: Our sponsors and donors are the backbone of our organization. You can write thank you notes to our sponsors and supporters to tell them how much their support of the RRP means to you. Just email our office to learn more.
Post about the RRP: Whether you post on social media about why our mission matters to you or you share what we post, endorsing and advocating for what we do helps introduce us to new followers and friends!