Fill Out Your #SireMadness Bracket!
February 25, 2020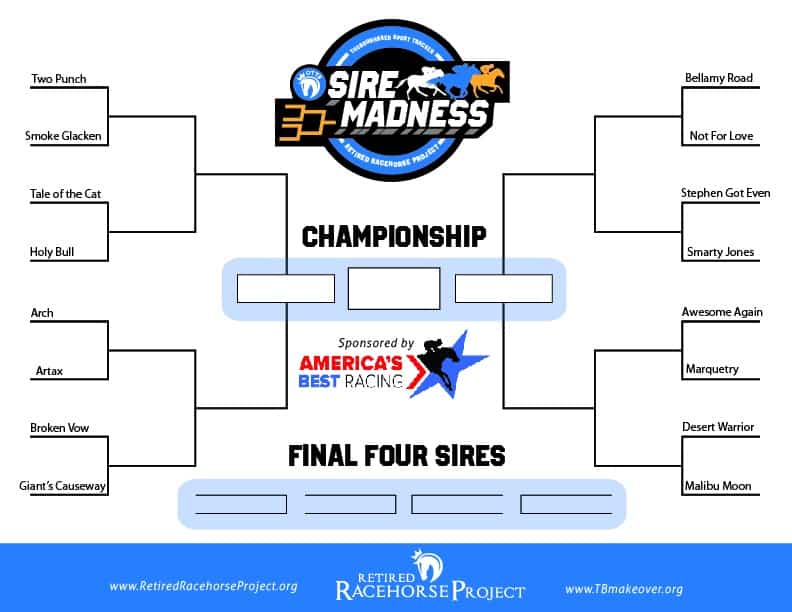 #SireMadness is BACK for 2020, once again presented by America's Best Racing​! We took the 16 most popular Thoroughbred stallions represented by offspring entered into our Thoroughbred Sport Tracker (https://www.retiredracehorseproject.org/link-to-bloodline-brag) and put them in a bracket in the style of March Madness, and we'll let our fans decide via Facebook vote pick their favorites in a sport horse context… and this year, YOU get to fill out your brackets for a chance to win RRP store credit!
We've mapped out the initial pairings that we'll be exploring over the next few weeks: take a look at the match-ups below and predict who YOU think will progress to be voted the most popular sport horse sire of 2020!
How to enter:
1. Save this bracket to your computer, then fill out with a basic image app (Microsoft Paint or Apple Preview). OR, print a bracket, fill out your picks by hand, and take a photo of your finished bracket.
2. Post your bracket (either a photo or an image file) on our Facebook thread by midnight, February 29. That's it!
Stay tuned through the month of March to vote for your favorite Thoroughbred stallions as sport horse sires!