Connections of Kentucky Oaks Hopeful Chocolate Martini to Donate Percentage of Purse Earnings to RRP
May 01, 2018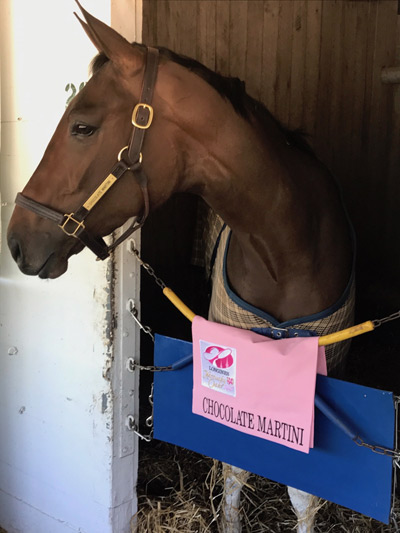 "We are incredibly excited about partnering with Double Doors Racing," executive director of the Retired Racehorse Project Jen Roytz said. "Chocolate Martini's story is so relatable and inspirational. Just like so many of the horses that compete in our signature event, the Thoroughbred Makeover, or those that are owned by our members, she came from the claiming ranks. Now, she's poised to perform on racing's biggest stage and we are so thankful to Double Doors Racing for taking the thousands of Retired Racehorse Project members and supporters along for the ride."
By Broken Vow, Chocolate Martini was born and raised in Lexington, Kentucky at Millennium Farms before selling for $65,000 at the Keeneland September Sale as part of the inaugural yearling consignment of Buckland Sales Agency. After finishing last and second-to-last in her first two starts at the maiden special weight level, she was moved down into maiden claiming company and won just one race later.
She was claimed in her next start by Tom Amoss and Double Doors Racing, LLC for $25,000 and has continued to improve ever since, winning an allowance/optional claiming race in her next outing before moving up into graded stakes company. Chocolate Martini won the Twinspires.com Fair Grounds Oaks (G2) with determination by a head and earned a berth in the starting gate for the $1,000,000 Kentucky Oaks.
"Our love of horse racing stems from our love for the horses," co-owner for Double Doors Racing Amanda DaBruzzo said. "As such, we recognize and appreciate that the real stars in horse racing are these tremendous athletes. Double Doors Racing is committed to ensuring that all horses, not just the champions, have a bright future after their time on the track. We hope that our commitment to the Retired Racehorse Project will further their mission and this cause."
The Retired Racehorse Project works to further their mission of increasing the value and demand for ex-racehorses through a variety of ways, including their annual event, the $100,000 Thoroughbred Makeover and National Symposium; their quarterly magazine, Off-Track Thoroughbred; by organizing clinics, demonstrations and seminars at equine events throughout the country, and their robust social media presence with more than 160,000 followers. The organization recently announced a record 794 trainers were approved to compete in this October's Thoroughbred Makeover, a 37 percent increase from 2017 when nearly 600 trainer applications were accepted.
"This is going to be such a fun way for our members, followers and really off-track enthusiasts everywhere to have a vested interest in this year's Kentucky Oaks," said Roytz. "Even more importantly, the funds that Chocolate Martini could generate for the Retired Racehorse Project could have a very meaningful impact on the work we do, which will help recently retired racehorses and soon-to-be retired Thoroughbreds across the country."