Celebrate the Season of Gratitude With the RRP!
November 25, 2020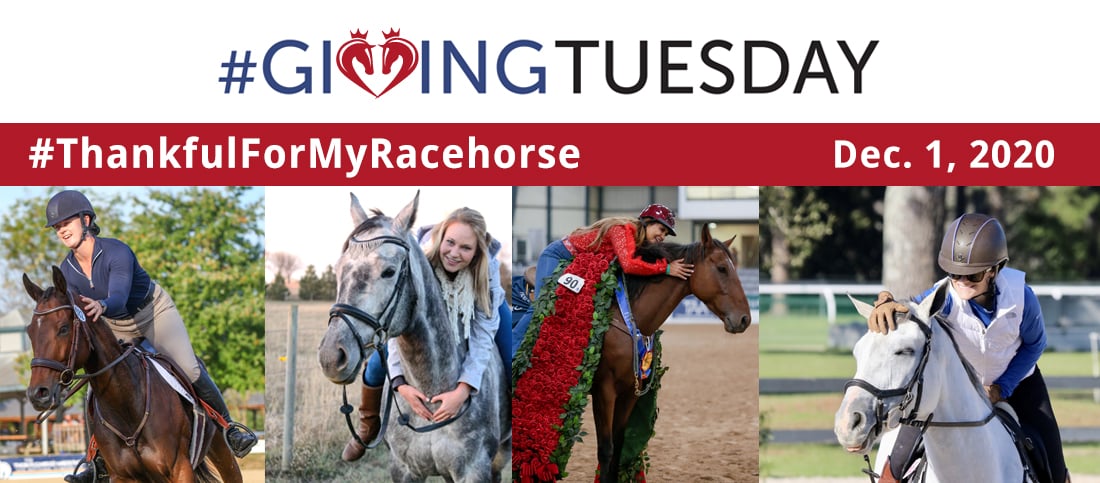 Whether they're an OTTB in your barn, an active racehorse in your racing stable, your favorite champion who won a big race this year, or a beloved Thoroughbred from yesteryear that you remember now, we're inviting all of our fans and followers to share why they're #ThankfulForMyRacehorse on social media to raise funds for the RRP — and earn some one-of-a-kind RRP swag in the process!
From now through Friday, December 4, share your #ThankfulForMyRacehorse story on Facebook with a fundraiser for the RRP as part of your post. We'll be sharing our staff and contractor stories over the next week and a half too.
We're thrilled to have teamed up again with
to award a membership and 1% share in X Marks The Spot, a 2018 filly by Bahamian Squall in training in Kentucky with Jason Barkley! Through its member club ownership model, Wasabi Ventures Stables allows many participants to share in owning a racehorse and experience the thrills and joys of racing without the investment of full ownership.
PLUS: Every $100 you raise via your Facebook fundraiser will earn you $10 in RRP store credit. ALL participants and donors through the end of the year who raise a minimum of $200 will receive a custom RRP water bottle.
We are kicking off our year-end fundraising campaign with
#ThankfulForMyRacehorse
, which gets us off to a strong start for 2021 as we prepare for the 2021 mega-Makeover and more! All funds raised during this campaign will be generously matched up to $20,000 by contributions from Nine Thirty Racing, Carolyn Karlson, Copper Beech Stables and Brownstead Farm.
Many employers will offer a matched donation to their employee's charity of choice, which would effectively triple your donation — just ask! Please consider the RRP in your charitable giving plans this season as we strive to meet our goal of $40,000.
Thank you for your support!