Your Story: A Star Turn
March 24, 2014
Trolley's Boy had a short and uninspired racing career, bowing a tendon as a two-year-old, but he was a natural in front of the camera. After his selection, he went to Rusty Hendrickson in Montana—horse wrangler for movies such as Seabiscuit and The Horse Whisperer. Hendrickson trained him and then kept him after his star turn ended.
That's when Kerri Kent found him. Kent is the creative force and founder of Kerrits Equestrian Apparel, and has retrained many OTTBs. Horses that come to Kent's Hood River, Oregon ranch have many jobs, including working cattle, hosting trail rides for buyers from retail companies such as Dover Saddlery and SmartPak, and, of course, modeling for Kerrits' apparel catalogs and serving as product testers. OTTBs with movie experience have some major advantages, Kent says, especially during photo shoots requiring a lot of alien-looking equipment and long hours.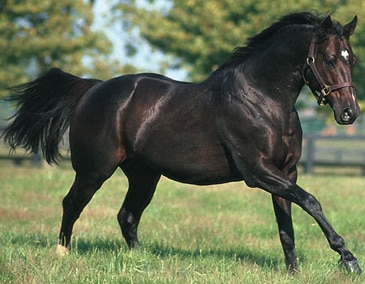 Big Red's grandsire, Gone West, who himself is a grandson of Secretariat.
"Big Red's unflappable when the big saucers come out for the lighting. That made him a perfect candidate," she said.
Both Big Red and Texaco—her other TB, have a natural ability to look good in front of the camera. Like people, Kent says, some horses are just naturally photogenic, and both of them love all the attention they get as models.
Big Red came to Kent after another OTTB model, Joe Dillon, who also came from Hendrickson, moved on to a young eventer who had fallen in love with him. Kent contacted Hendrickson looking for another good model horse, and Big Red came to the ranch. Although not as quiet as Joe Dillon, Big Red has a bit more stage presence, she says.
"I bought him as a gelded seven year old. He didn't have the same training as Joe Dillon. There was no riding him in a halter in the living room. But he's perfect under saddle."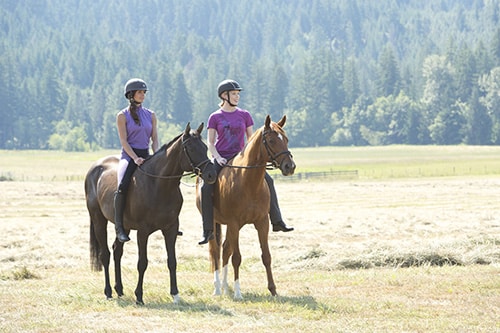 Big Red and his friend TexacoIn fact, Kent's early days with Big Red required patience—and saddle time. At one point she called Hendrickson and asked him what to do about the sometimes unruly horse. The laconic Hendrickson said only, "Wet saddle pads." So Kent set about riding the horse hard every day, and found that he eventually settled into his job.
In addition to his modeling duties, Big Red has been present at grand openings, has helped raise money for the local community college, and has appeared in countless Kerrits advertisements and catalogs. Kent says that although Texaco is also a good model, chestnuts photograph much better than dark bays because they contrast better with the background.
Now Big Red and Texaco are best friends. They travel together and are similar sizes, so they can wear the same tack. Their experience at the track, Kent says, has helped them transition into their lives as models—the commotion prepared them well for a life behind the lens of a camera.
Kent says both horses came to her "very confident and easy to transition." These days, she's content to let someone else do the initial off-the-track training of OTTBs, as Kent is focused on the business and her family. She spends most of her riding time on the trails in Oregon and Montana. "Having them live in my backyard gives me a chance to do product testing, too." The highlight of Big Red's life? Going on a photo shoot. The horse is a performer, through and through.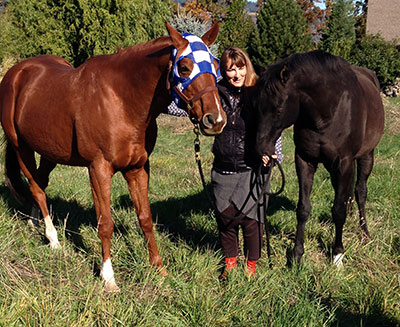 Kerri Kent with Big Red and Texaco