Best Off-Track Thoroughbred Polo Pony Award for 2014
March 05, 2015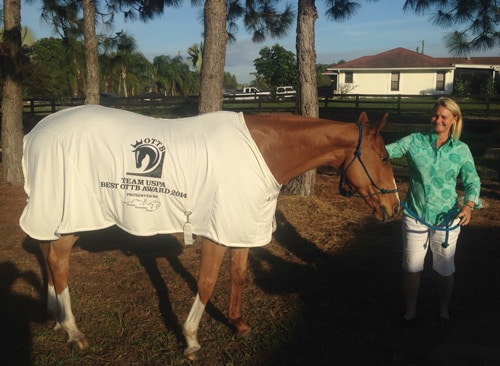 The donation string features multiple OTTB's, but one stands out above all the rest, Strudel, a 12 year old Chestnut Mare was donated to the Team USPA program in the spring of 2013. Strudel (Jockey Club registered name: Netty's Fool) is an Illinois bred who started 10 times in her racing career; earning a whopping $1,420. Netty's Fool never broke her maiden, her "best friend" and while her performance was less than spectacular on the track, off the track is a different story. She competed at the highest levels in the sport of polo under former 9-goaler, Hector Galindo. Hector purchased Netty's Fool through a third party agent as a 4 year old and retrained her for polo.
Hector is a living legend in the sport of polo. He started playing at the age of 12 in Midland, TX and quickly reached the pinnacle of the sport both as a player and horse trainer, including playing for HRH Prince Charles in England. He has won some of the most prestigious polo tournaments and has played overseas in Europe, Africa, and South America. In 2010 his mare Khaki was inducted into the Polo Museum and Hall of Fame as a Horse to Remember. He has served a mentor/coach of Team USPA since its inception. Strudel is only one example of the continuous giveback Galindo provides to the program.
In the barn Strudel and the Team USPA string is managed by Team USPA member Kylie Sheehan. According to Sheehan, Strudel is "Quiet enough for a beginner to play, but also has the motor for advanced players. We are very lucky to have Strudel in our string." Sheehan, a devout supporter of the Retired Racehorse Project and native of Baltimore Maryland, has recently started training her own retired racehorse, Little Ruby Red, for polo. "Ruby", a 5 year old West Virginia-Bred Mare who raced her entire career at Mountaineer Race Track, all of 6 starts.
The USPA Polo Development LLC applauds the Retired Racehorse Project and their efforts to increase demand for retired Thoroughbred race horses as pleasure and sport horses. The American Thoroughbred has played a pivotal role in the history of the sport of polo in the US and the polo community looks forward to continuing to give these wonderful athletes a second career.
For more information about the sport of polo and the opportunities for thoroughbreds to enjoy a second career, please contact Justin Powers: (330) 692-0062 or jpowers@uspolo.org.