A T'bred Tapped Twice on the Withers by Fate
April 08, 2016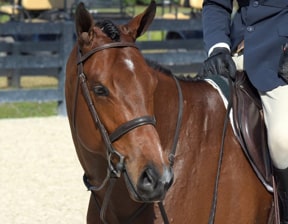 The un-raced Thoroughbred was purchased by Michael Dignelli of Heritage Farm, a premiere hunter/jumper facility.
Bold Charger, a bay gelding who sold as a 2-year-old for nearly $300,000, and who trained with Hall of Famer Bill Mott at one point, has been welcomed into the rarified show barns of Heritage Farm of N.Y., a facility operated by Michael and Andre Dignelli, who were named the 2011 Show Hunter Horsemen of the Year by the Chronicle of the Horse.
"In my mind, fate tapped him on the withers a couple of times," says Michael Dignelli, who co-owns the hunter/jumper facility with his brother Andre, a Pan American Games bronze medalist and luminary of the sport. "Because of his pedigree and conformation, he was trained by Hall of Famer Bill Mott. And then he found his way to Heritage Farm, and is now being trained with one of the top hunter/jumper trainers."
Though the brothers now work with high-level Warmbloods and sport horses, they grew up riding Thoroughbreds. And it was Michael Dignelli's fond memories, combined with his growing awareness of efforts to promote the breed, that inspired him to take a leap of faith last July and purchase Bold Charger.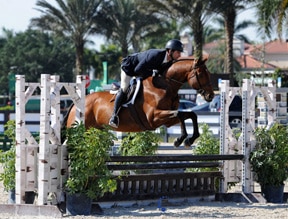 Bold Charger proved to be uncomplicated to train, and at home as a rare Thoroughbred at WEF hunter/jumpers recently. Photo by Anne Gittins
"I became interested in Thoroughbreds again after I started seeing the work being done by the Retired Racehorse Project," which promotes the OTTB through horse shows, education, and trainer challenges, "and last year, when they held their show at the Kentucky Horse Park, I started to look for a horse," he says. "I didn't go to the track, but I looked online and through friends."
At one point, he says, his brother turned to him and asked, "Why are you doing this again?" And his ready response was, "You know, it reminds me of our past as kids. So please just humor me."
But nobody was laughing when Bold Charger, whose show name is Boscobel, ribboned against Warmbloods in Wellington!
Debuting at the Winter Equestrian Festival (WEF) in Wellington, Fla., the 5-year-old gelding showed in the baby green and low hunter divisions, and then transitioned to 2'6" and 2'9," says Dignelli, who notes that he was brave to the jumps and earned low ribbons over the jumps.
Click here to link to the full article at OffTrackThoroughbreds.com