480 Trainers Accepted to 2021 Class of Thoroughbred Makeover
February 15, 2021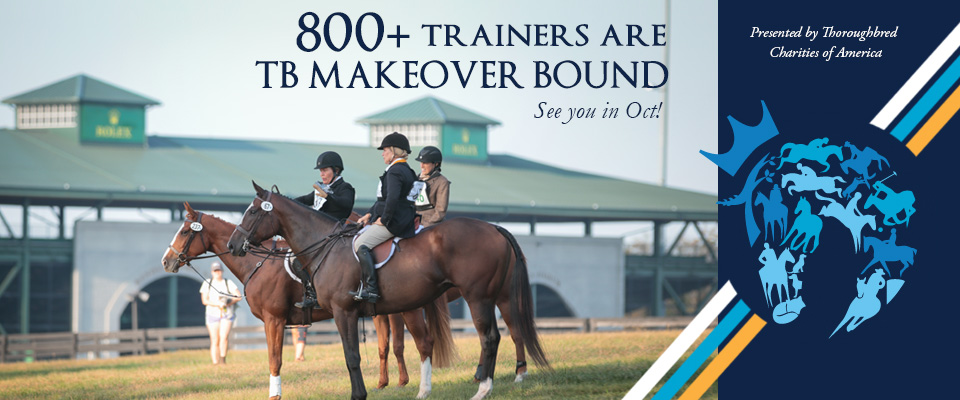 The Thoroughbred Makeover is the world's largest and most lucrative retraining competition for ex-racehorses, and the 2021 class combined with 322 trainers from the postponed 2020 competition year will make this the biggest Makeover yet.
The Thoroughbred Makeover is a retraining competition open to professionals, junior, amateurs and teams, competing side-by-side. Ten disciplines of competition are offered, including barrel racing, competitive trail, dressage, eventing, field hunter, polo, ranch work, show hunter, show jumper, and freestyle (a free-form discipline to demonstrate skills of the trainer's choice). Horses can compete in one or two of those disciplines.
Horses from each competition year will compete in separate preliminary rounds, and the five top-placed horses in each discipline after preliminary competition will return for the Finale where they will compete once more to determine final placings. New for this year (intended to be part of the 2020 Makeover), a panel consisting of all the judges from the ten disciplines will determine the overall Thoroughbred Makeover Champion in each competition year, selecting the best-trained horse from the ten discipline winners. A popular vote placed by spectators watching both in-person and online via live stream will determine a People's Choice winner in each competition year, who wins the right to direct a donation to an equine charity of their choosing.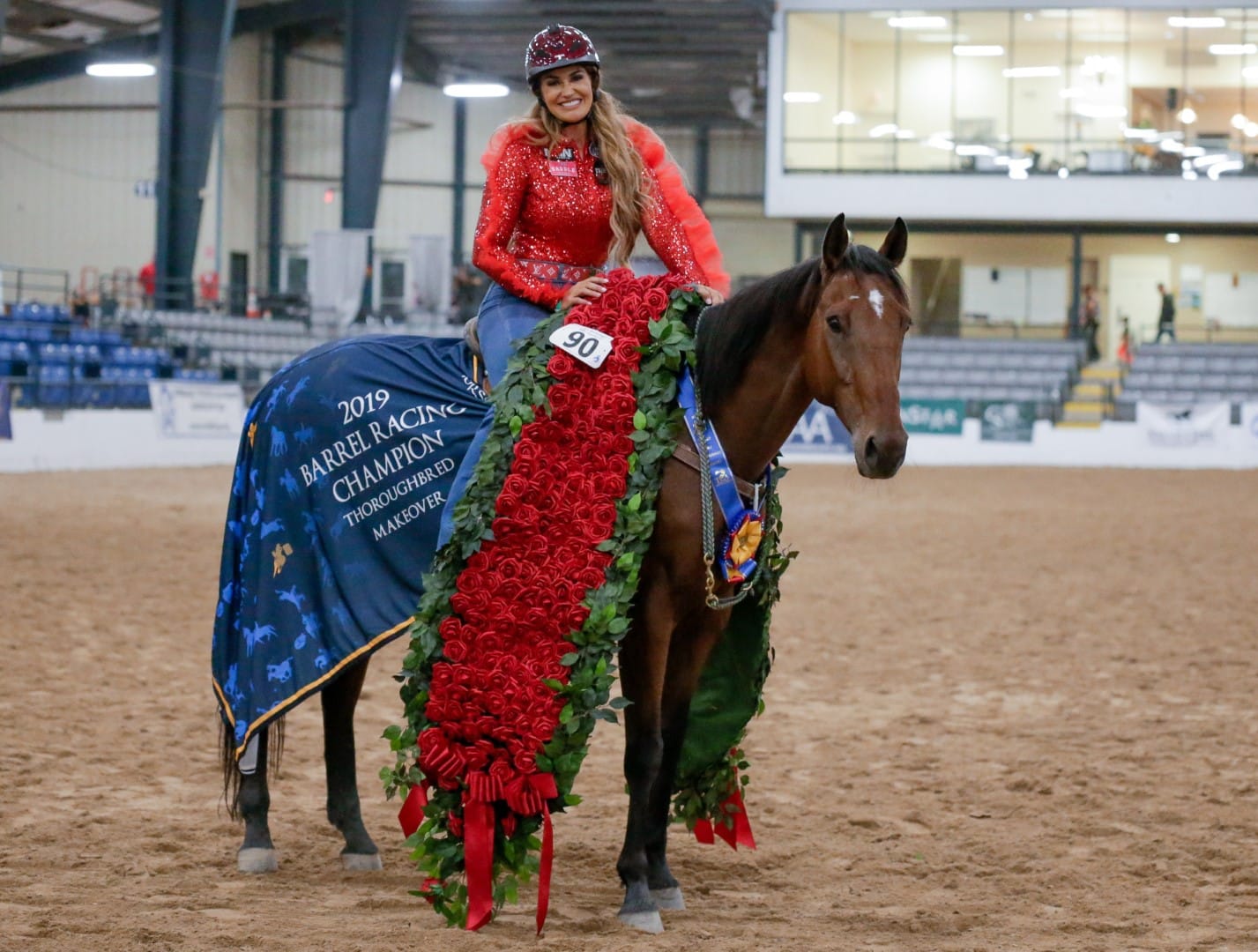 2019 Thoroughbred Makeover Champion Cowboy Swagger, trained by Fallon Taylor. Photo by CanterClix
"After the pandemic forced the cancelation of the 2020 Thoroughbred Makeover, it was important to us to preserve the opportunity for our 2020 class to compete, and thanks to so many loyal sponsors and donors from the racing, breeding and sport horse worlds, we are going to be putting on the largest retraining competition in history," said RRP executive director Jen Roytz. 

Accepted trainers are encouraged to register their horses at TBMakeover.org as soon as they acquire them. Horse registration closes on July 31, but registration upon acquisition allows the RRP to better gather data on horses undergoing the Makeover process.
The application process for the 2021 Thoroughbred Makeover required trainers to demonstrate their skills and expertise through competition results, videos and references, as well as a letter from a vet stating that that the applicant has the necessary skills and knowledge to appropriately care for a horse transitioning off the track. The RRP's selection committee took into consideration both candidates' ability to effectively retrain an off-track Thoroughbred and candidates' commitment to the RRP's mission of promoting off-track Thoroughbreds in second careers.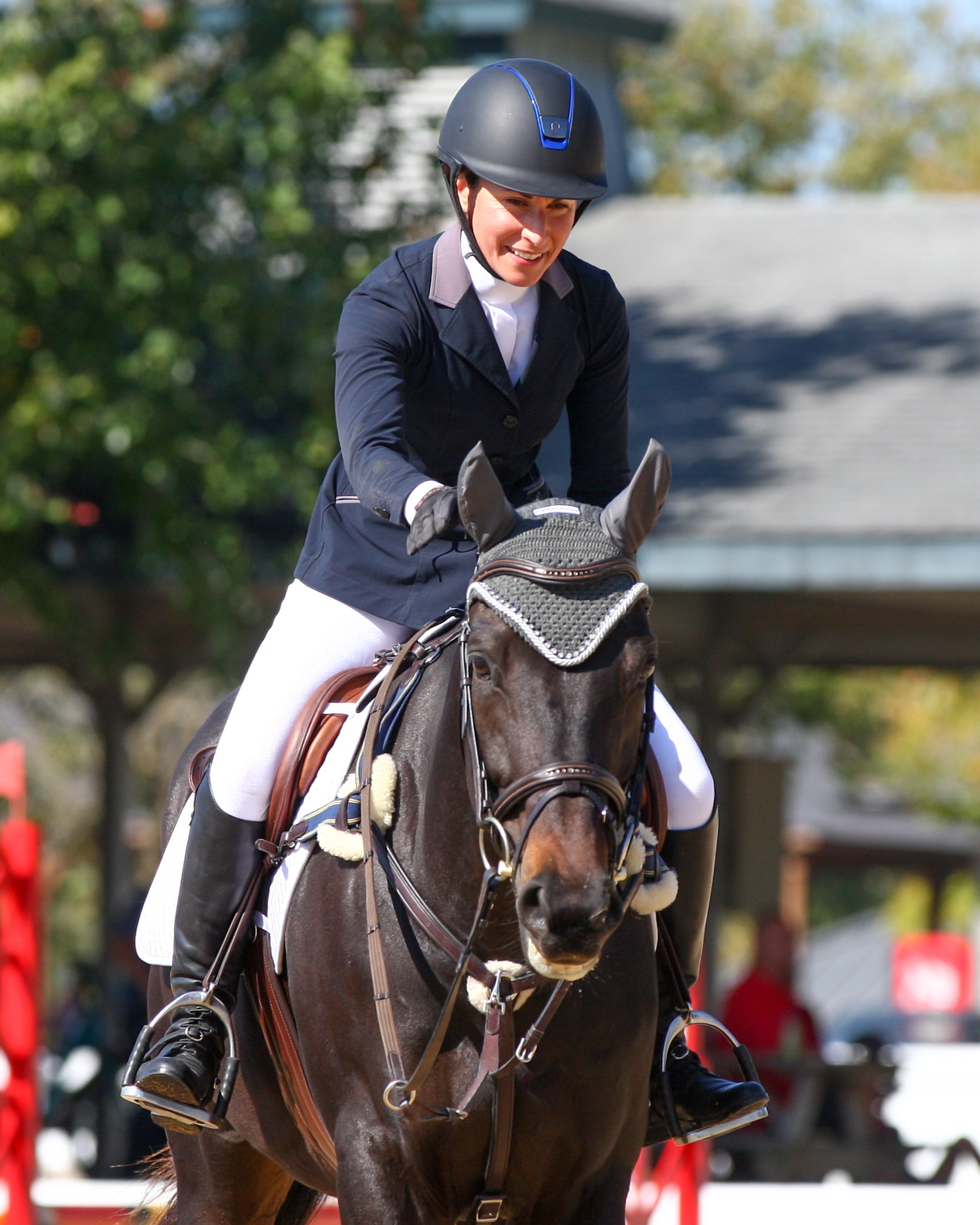 2019 competitor Little Cristian, trained by Angelique Pienschke. Photo by CanterClix
"We're always humbled by the interest we receive from applicants each year, but with hundreds of 2020 entries still in play and known logistical challenges — move-in, daylight hours, running two Finales, and more — the application committee had the tough task of narrowing down the 2021 entry pool to meet our schedule capacity," said RRP managing director Kirsten Green. "The primary goal of the Makeover is to showcase Thoroughbreds at their very best, so this means we're looking for trainers whose application demonstrates that they're equipped to meet that goal on the timeline provided." 
The Makeover has historically attracted a broad cross-section of the horse industry, represented by junior, amateur and professional equestrians, as well as teams. The great equalizer at the Makeover are the horses: eligible Thoroughbreds competing in 2021 will all come from similar backgrounds, with no more than 10 months of retraining for a second career and all having raced or trained to race within the past two years. 
This format allows trainers in all categories to compete side-by-side on equal footing. Juniors and amateurs routinely enjoy great success at the Makeover and have earned many top-five finishes; the 2017 Thoroughbred Makeover Champion Old Tavern was trained by junior Charlie Caldwell.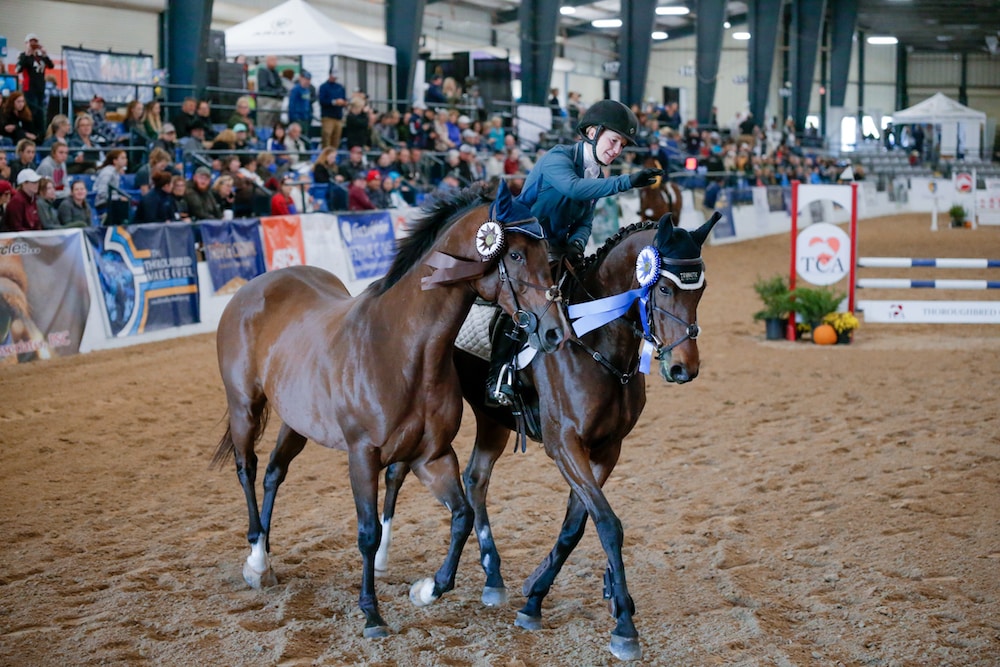 2019 eventing winner Sanimo with Bethel Wildcat, both trained by Rosie Napravnik. Photo by CanterClix
"Driving demand for Thoroughbreds after racing is a critical aspect of aftercare, and the Retired Racehorse Project's Thoroughbred Makeover is central to that mission," says Erin Crady, executive director of TCA. "We believe in the importance of that mission and are thrilled to support the RRP as it prepares for the biggest Makeover in its history."
Accepted trainers for 2021 include Becky Huestis, assistant rider and manager for John Madden Sales; Darby Mazzarisi, champion hunter trainer; and Natalie (Voss) Nevills, two-time Eclipse Award-winning turf writer for Paulick Report. They join a diverse class of trainers hailing from 46 states and four Canadian provinces. Trainers range in age from 11 (will be 12 at the time of the Makeover as per rules) to 74.
Trainers for the 2021 class have signed up to bring a total of 521 horses. Combined with the declared horses from the 2020 competition year, a total of 953 horses will participate in the Makeover process this year. The full list of trainers accepted for the 2021 Thoroughbred Makeover can be found at the event website.
With the uncertainty of training green horses, the length of time between acceptance of trainers and Final Entry, and the fact that some horses sell before the Makeover, the RRP is once again offering a wait list. Individuals who missed the initial round of applications are welcome to apply to the wait list and can do so by contacting secretary@tbmakeover.org. The wait list does not guarantee final entry into the competition, but does widen the impact of the Makeover and helps more horses transition to second careers.
For riders seeking a well-started off-track Thoroughbred for competition or pleasure, the ASPCA Makeover Marketplace will return in 2021, offering buyers the unique opportunity to watch a horse compete, trial-ride, and complete a pre-purchase exam all in one location. Over 100 horses are expected to be entered in the Marketplace from both competition years.
In addition to a weekend of Thoroughbred competition and celebration of what makes the off-track Thoroughbred great, the Makeover also offers ample opportunity for education for both trainers and the public: educational seminars and panel discussion will take place on Friday, October 15, as well as the Makeover Master Class, a retraining clinic for recently-retired racehorses. Structured similarly to popular colt-starting competitions but without the competitive aspect, the Makeover Master Class offers spectators the opportunity to watch experienced off-track Thoroughbred trainers assess a prospect's conformation and movement, as well as demonstrate their process for initial training and first rides. A vendor fair provides plenty of shopping opportunities as well!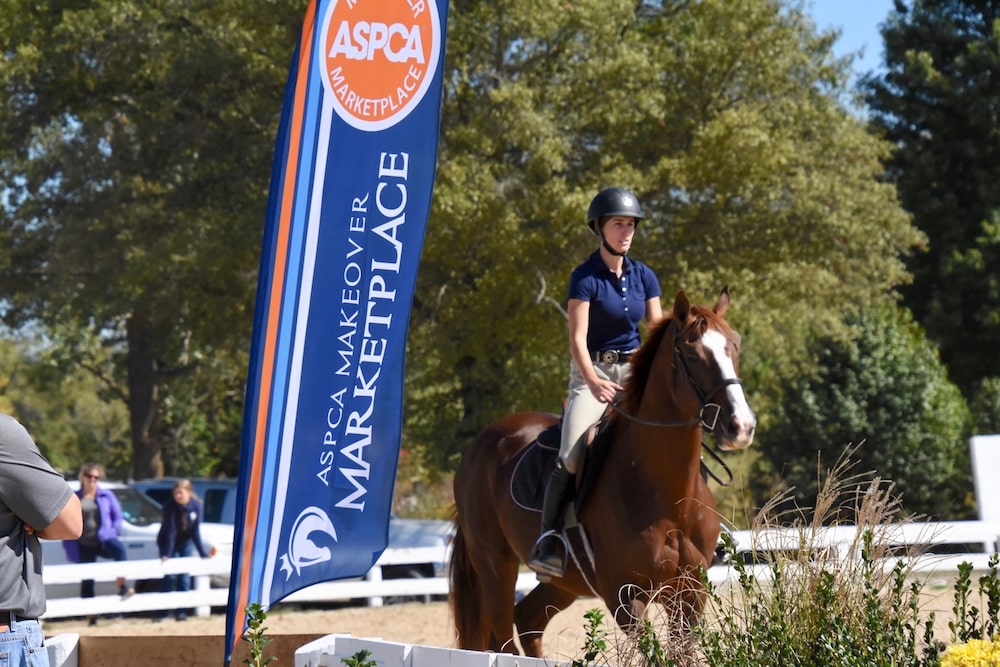 The Makeover Marketplace allows buyers to watch, try, vet and buy in one location in one weekend. Photo by Giulia Garcia
The Thoroughbred Makeover is the flagship event for the RRP, a 501(c)3 non-profit committed to increasing the demand for and value of Thoroughbreds in their careers after racing. Sponsorship opportunities are still available for the 2021 Thoroughbred Makeover.
Thoroughbred Makeover fast facts:
The 2021 competition is open to any Thoroughbred that raced or had a published work after July 1, 2019 and did not start retraining for a second career before December 1, 2020

Trainers indicate a primary (and optional secondary) discipline on their applications, but are free to change disciplines as the competition approaches and they learn their horses' strengths. A horse can compete in up to two disciplines, and a trainer can compete a maximum of two horses in a single competition year.

Trainers do not need to have obtained the horse they intend to compete at the time of their application. Some trainers have already obtained their Thoroughbred Makeover mounts, but many are still searching. Trainers may begin registering their horses today, but have through July 31 to complete horse registration

Participation in the Thoroughbred Makeover Marketplace sale is entirely voluntary, but many trainers take advantage of the extra exposure to market their prospects. All sales are private contracts between individual trainers and buyers; the RRP is not involved and receives no commissions
For editorial photos, please contact Kristen Kovatch Bentley at kbentley@therrp.org.