2023 Thoroughbred Makeover Applications Now Open for Submission
January 03, 2023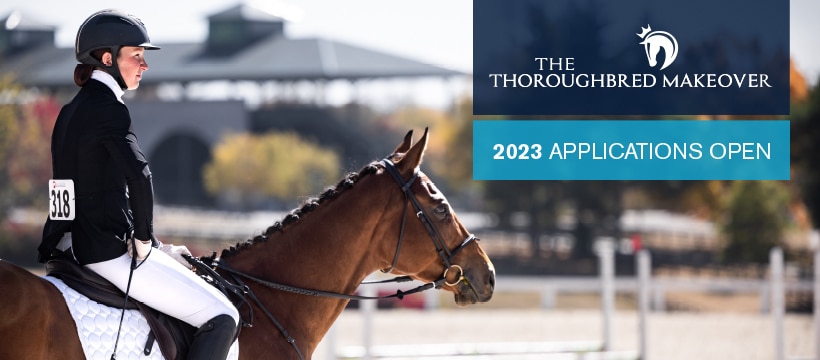 The RRP announced today that applications for the 2023 Thoroughbred Makeover and National Symposium, presented by Thoroughbred Charities of America, are now open for submission. The application period closes at 5 PM EST on January 20, 2023.
Accepted trainers will be announced no later than February 15, 2023. The 2023 Thoroughbred Makeover Rulebook outlines all rules and information relevant to the competition, with changes for 2022 marked in red and clarifying information marked in blue. Interested applicants can start the application process now by logging in TheRRP.org.
Entering its ninth year at the Kentucky Horse Park in Lexington, the Thoroughbred Makeover features competition in ten disciplines for recently-retired Thoroughbreds in their first year of retraining for a career after racing. Horses and their trainers may compete in one or two disciplines of their choice, including Barrel Racing, Competitive Trail, Dressage, Eventing, Field Hunter, Polo, Ranch Work, Show Hunter, Show Jumper, and Freestyle (a freeform discipline showcasing skills of the trainer's choosing). New for 2023, the Thoroughbred Makeover will also include a Former Broodmare division, presented by Claiborne Farm, serving as a pilot program for recently-retired broodmares exiting the bloodstock industry.
Horses and trainers will compete for more than $110,000 in total prize money, plus the coveted title of Thoroughbred Makeover Champion, at the Kentucky Horse Park on October 11-14, 2023. The Thoroughbred Makeover and National Symposium includes no only the competition, but educational seminars, a vendor fair, the Makeover Marketplace horse sale, and more. The Thoroughbred Makeover Finale will feature the top five horses in each discipline in the Retiring Racehorses division based on preliminary competition and will be live-streamed for viewers at home.
The Thoroughbred Makeover is open to professionals, amateurs, juniors (ages 12 and over), and teams. Applicants are required to provide information about this riding and competition background as well as references, including one from a veterinarians, and video that showcases their riding ability. Competitors do not need to have acquired their horse at the time of application, though they must register their horse no later than July 28, 2023.
Accepted trainers may acquire eligible Thoroughbreds through whatever source they choose, or can ride under contract from an owner. Eligible horses in the Retired Racehorse division must have raced or had a published work on or after July 1, 2021 and must not have started retraining for a second career prior to December 1, 2022 other than a maximum of 15 allowable rides, intended to allow for trial rides. Eligible horses in the Former Broodmare division must have raced or had a published work in their lifetime, and must have produced a foal or have been bred in the 2021 breeding season or after as reported by The Jockey Club; they may not have shown or competed prior. Full eligibility requirements can be found in the rulebook at TheRRP.org.
2022 Thoroughbred Makeover Fast Facts:
516 horses were registered for the competition

High-profile contenders in 2022 included 2020 Breeders' Cup Sprint winner and Eclipse Award Male Sprinter champion Whitmore and past Breeders' Cup participants Almanaar (GB) and Fast Boat. A total of 35 registered horses were graded stakes or stakes placed or winners

Over $34 million has been invested into the future of horses participating in the Makeover since its inception in 2013, including health care, training and more

A total of 2,990 unique trainers have been accepted since 2013, representing 46 states and four Canadian provinces. Many trainers attend annually with multiple horses

A total of 4,159 have been directly impacted by the Makeover since 2013