2022 Thoroughbred Makeover Vendor Fair Now Open for Application
January 31, 2022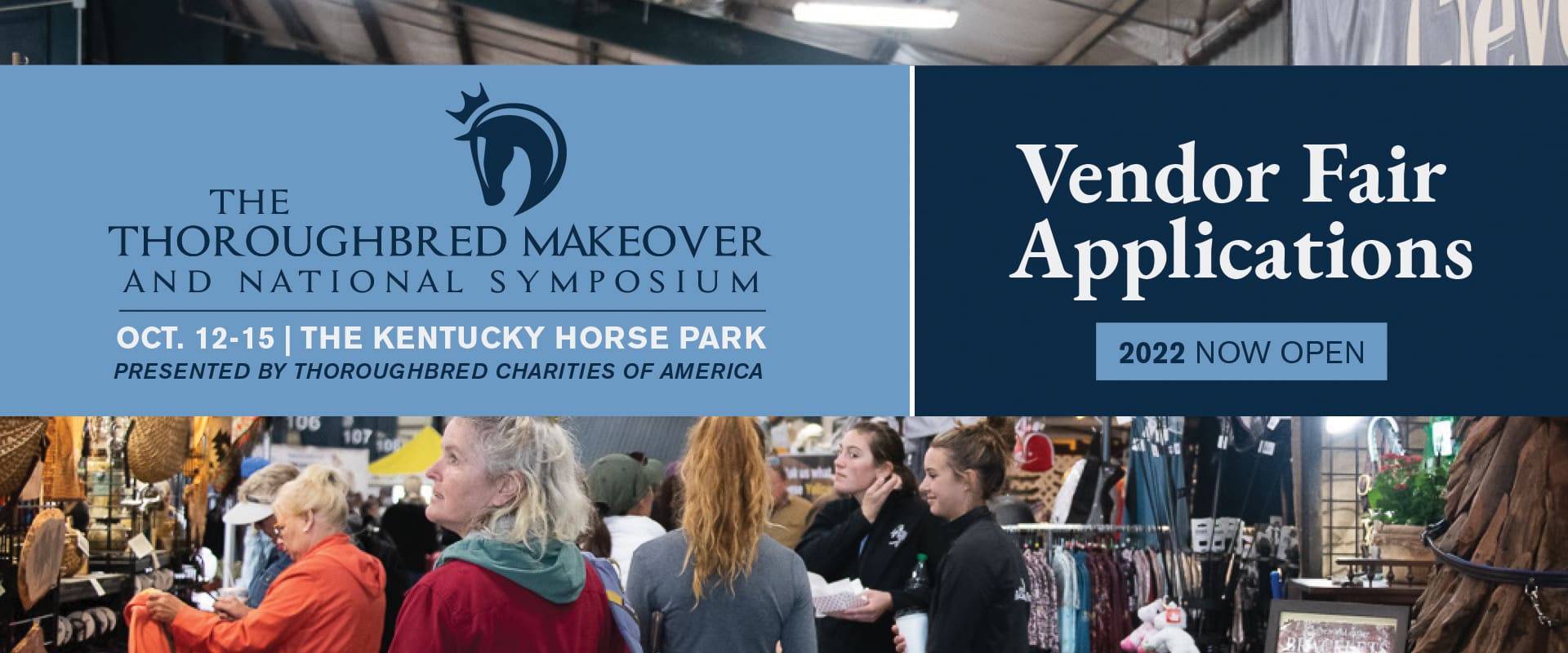 The Retired Racehorse Project (RRP) announced this week that applications are now open for the 2022 Thoroughbred Makeover Vendor Fair. The Vendor Fair runs throughout the Thoroughbred Makeover and National Symposium, presented by Thoroughbred Charities of America, October 12-15, 2022 at the Kentucky Horse Park in Lexington.
The Thoroughbred Makeover is the only national gathering of the organizations, trainers, and farms dedicated to serving Thoroughbreds when they retire from racing. The event draws a captive audience of professionals, amateurs, and families, plus spectators, representing a wide range of disciplines and equestrian interests.
The Vendor Fair is located in the TCA Covered Arena on the concourse, which is the hub of activity at the Thoroughbred Makeover all week long including with competition, demonstrations and seminars. Outdoor spaces are also available.
New for 2022, the RRP is partnering with The Jockey Club Thoroughbred Incentive Program (T.I.P.) to host an expanded T.I.P. Western Championships and a Central Region Dressage Championships during the 2022 Makeover, in addition to a repeat of the Barrel Racing Championships first hosted in 2021. This expanded show schedule is expected to increase both participant numbers and spectators. 
Returning for 2022 will be the Vendor of the Show Award, which is a popular vote by show attendees for their favorite booth. The winning vendor receives a plaque and a 25% discount on their booth reservation for the following year. The 2021 Vendor of the Show was ICT Tack of Derby, KS.
Vendor booth space can be bundled with additional on-site advertising, including arena signage, PA announcements and static or video commercials for the jumbo tron, as well as print advertising in the fall issue of Off-Track Thoroughbred Magazine, which serves as the official show program. Vendor booth space can also be part of sponsorship packages, which include naming rights to various parts of the Makeover.
New for 2022, the Makeover will offer the ASPCA Future Prospects barn, which will showcase non-profit aftercare organizations and their available horses. Participation in this barn is free, and aftercare organizations will be able to reserve a space even if they do not intend to bring horses. More information about the Future Prospects barn will be forthcoming; interested aftercare organizations can contact info@therrp.org to receive notification.
Interested vendors are invited to apply now at https://www.tbmakeover.org/rrp-tb-makeover-vendors/tb-makeover-vendor-signup. Early bird pricing is available for booths paid prior to May 1.