Patience, perseverance key for bringing OTTBs back from injuries sustained post-racing
"How did my off-track Thoroughbred, who retired sound after a 51-race career, sustain a fracture while playing in the pasture on a random Friday afternoon?"
That was the question I asked as the veterinarian and I stood in the dark barn aisle, staring at the bone chip on the screen of the digital X-ray unit a few days after the swelling had gone down. Whatever had happened out in that pasture, it had left a nasty injury for us to manage.
My horse, It Happened Again, would need stall rest and, eventually, controlled exercise. And so began the arduous business of healing.
Like "Happy" (Proud Citizen — Quiet Lucky, Quiet American), OTTBs can and do sustain serious injuries in their post-racing careers, even after retiring sound. Other horses have conditions that weren't evident during racing but raise their unwelcome heads after restarting in a new riding discipline. But no matter the situation or whether it's bony or soft-tissue-related, many of these injuries are recoverable with time, proper care and patience.
The Usual Suspects
Erin Denney-Jones, DVM, is an FEI veterinarian and owner of Florida Equine Veterinary Services Inc., in Clermont. Between her clients who resell retired racehorses privately or rehome them as charitable organizations, anywhere from 40% to 60% of her patients are OTTBs.
Denney-Jones looked back at her case database to determine which injuries she's diagnosed and treated most among this demographic. "You would think SDFT (superficial digital flexor tendon) bows, core lesions, that kind of thing, but not necessarily so," she says.
Rather, she's seen many injuries to the suspensory ligament, which runs down the rear of the cannon bone, dividing into two branches that attach to the sesamoid bones at the back of the fetlock. Most injuries are to the branches. She's also seen a lot of foot problems.
Half the challenge with these types of injuries is the diagnosis.
Historically, in horses with pain blocking to the heel (with diagnostic analgesia) and clean X-rays, vets would diagnose navicular disease. But now, Denney-Jones says, "we send them for MRI and you see that they're not necessarily bony; there are some bone contusions (bruising), but they're actually deep digital flexor tendon (DDFT) tears."
She attributes both suspensory branch and DDFT problems to the mechanics of long-toe, low-heel conformation commonly seen in racehorses — at least at the lower levels — which can stem from irregular or incorrect shoeing.
These can be rehabbed successfully in performance or pleasure horses, given timely diagnosis and treatment and correct shoeing.
Such was the case with a Thoroughbred that Denney-Jones' client, DreamCatchers Horse Ranch and Rescue, also in Clermont, was retraining. When staff began riding the 11-year-old OTTB gelding, they noticed he was short-striding on one leg, so they worked him up for lameness, localizing the injury to the foot but finding nothing remarkable on X-rays.
Denney-Jones says MRI showed the gelding had inflammation of the DDFT and the navicular bursae that cushions the bone within the foot, short pastern and coffin bone contusions, mild inflammation of the proximal suspensory ligament of the opposite leg and mild fluid swelling in both front navicular bones.
"There is so much going on in the heel of (a horse's) foot, so if people don't shoe properly for that heel, (something like this can happen)," she says. "It was a pass-around horse (prior to arrival at DreamCatchers), and it probably got passed around because it had intermittent lameness."
Denney-Jones and her colleagues administered Tildren — a bisphosphonate drug labeled for use to control clinical signs associated with navicular syndrome — and conducted regional limb perfusion with stem cells.
"They actually kept the horse at the rescue, they're jumping it," she says of the gelding, who is now 19. "This is a horse that's pleasurably ridden, on trails, in the arena taking lessons and is jumped maybe once a month at a show, or every other month at a show, depending on the time of year."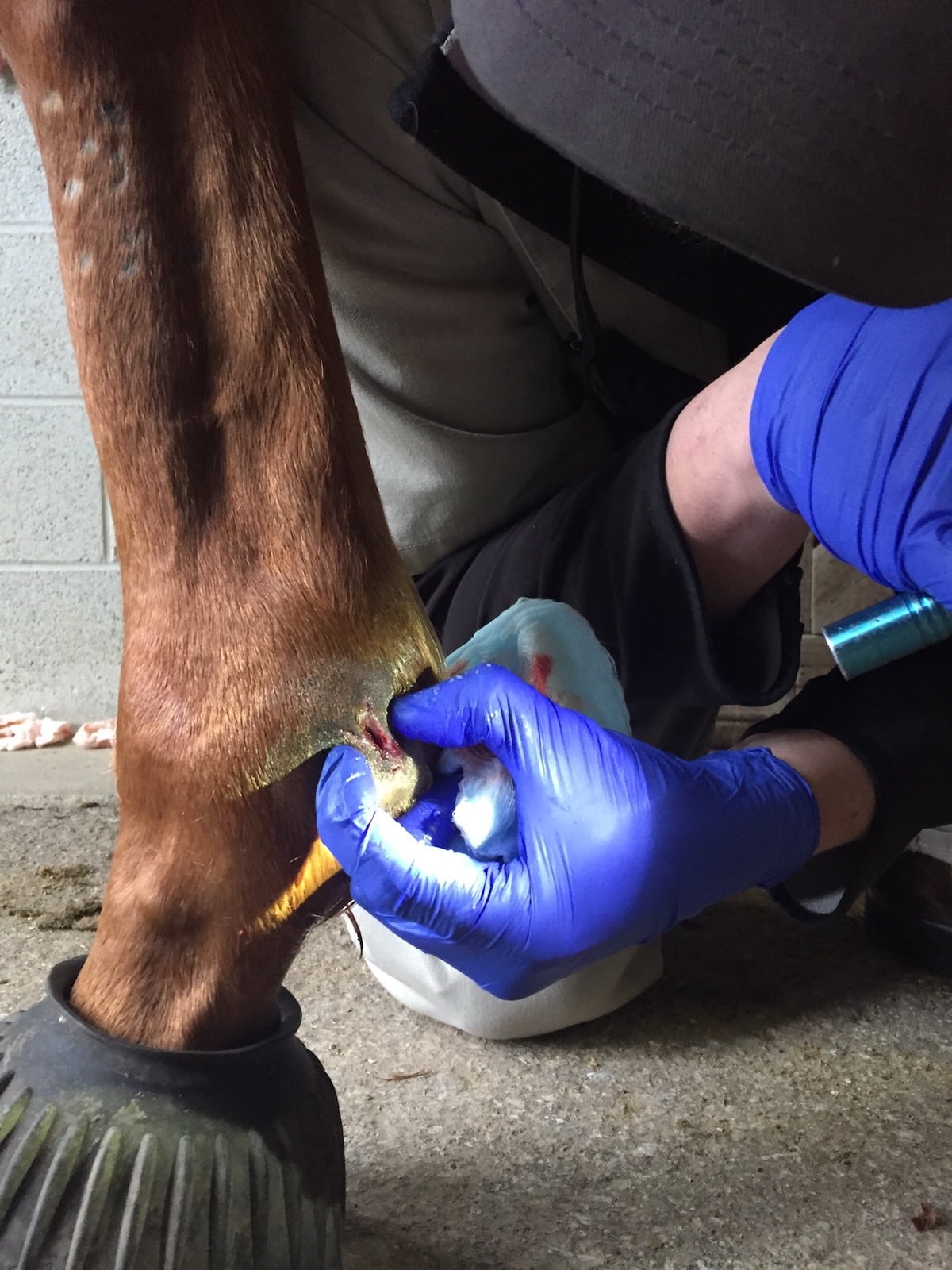 Rarer, But Just as Frustrating
Less common are the injuries like Happy's — fractures and bone-related issues. With Happy's injury, a fetlock laceration was a clear indicator of the problem spot and the potential that a fracture lay beneath. However straightforward, though, after our season of stall rest, hand-walking, rehab-farm controlled exercise and turnout and return to work, there was still something going on in that fetlock. He was intermittently lame.
Additional X-rays showed a second sesamoid chip we hadn't noticed in the wake of the injury. This time I sought surgical intervention, and 174 days after that Friday pasture injury, Happy underwent surgery to clean up the sesamoid and the nearby joint. He spent nine weeks back at the rehab farm, undergoing the same protocol as before — Class IV laser, hand-walking, exercise on the automatic walker and controlled turnout. This time Happy also got Pro-Stride APS, a concentrated protein solution made from his own blood for intra-articular injection.
Audrey Buoniconti, of Newburg, Maryland, can relate to my plight, also having endured a long season of rehabilitation, but her horse's initial injury was harder to pin down. She describes 11-year-old Wild Mambo (Wildcat Heir — Mambo Queen, Kingmambo) as a difficult horse to get going at the beginning. Even after consistent work with trainers, "Sheldon" remained uptight, resistant to going forward and relaxing, and he'd bolt when cantering to the left.
In Buoniconti's first year of riding him, he did crossrails and 2' jumper divisions, advancing to 2'6" in his second year showing and 2'9" in his third. But Sheldon remained inconsistent in the bridle and was intermittently lame. Even after treating gastric ulcers and recurrent foot abscesses, beating Lyme disease and managing an old forelimb injury with corrective shoeing, she knew Sheldon still was not quite right.
"One thing I started to pick up … was he would quiver at the sight of a saddle pad," she says. "And his lower back was sore … everybody thought he's green, he's young, he's sore from working things he's never worked before, he's having to carry himself differently."
After six saddles, Equi-Tape, muscle relaxers and injections, Sheldon was still intermittently lame. Buoniconti brought him to Wolf Creek Equine Hospital, in Lothian, Maryland, for another workup. While CJ Caniglia, DVM, Dipl. ACVS-LA, was waiting for a digital nerve block to set, he rested his hand on Sheldon's lumbar vertebrae, and the horse nearly sat down — a response Buoniconti had never seen. He recommended X-rays, which revealed four areas of spinal process impingement.
"Injections were an option, and that would get me through the season, but I didn't want a short-term solution," says Buoniconti. "Every horse is different with injections. For Sheldon the injections might work for three days, and we 'd have to get them again. (I asked myself) would that be worth it?"
Surgery to reshape the vertebrae was also an option and one the insurance company recommended. So Sheldon underwent standing surgery and stayed at the clinic for a month for stall rest, hand-walking, medications and suture-removal. Back at home, Buoniconti provided him controlled turnout and started mobilization exercises (carrot stretches) to rebuild flexibility and core strength. Sheldon graduated to longeing with the De Gogue training aid, going over ground poles and, eventually, riding.
"His back now does no justice to the way he looked before," she says. "It went from that really narrow Thoroughbred build to a tabletop. Now that he can use his body the way that he's supposed to and he's comfortable, and he's carrying himself better, the difference in his build is just phenomenal."
Sheldon no longer flinches when she tacks him up. He's returned to jumping and showing, capturing top ribbons at his first few shows.
"He's bolder," she says. "He was not coming to the fences before. He's not hesitant anymore, he's confident and he's comfortable."
Denney-Jones also managed a kissing spine case whose diagnosis was tricky — similarly, the horse sat down unexpectedly when she palpated the back as part of a lameness exam — but it didn't require surgery. She was able to treat the bone edema seen there with Tildren (off-label, per her experience with the drug).
Indeed, whatever the injury, the treatments she recommends depend on the case and the economics. "The first thing I approach is controlled exercise — that's No. 1. I don't think you can look beyond that no matter what you do."
The noninvasive therapies she offers are electrical muscle stimulation, physical therapy, extracorporeal shock wave therapy, "and we 'd throw (Class IV) laser in, too, if we had it."
Invasive therapies have more associated expense, of course, and include everything from platelet-rich plasma and stem cells to joint injections and surgery.
Take-Home Message
Our Thoroughbreds can and do get hurt, even in their second careers.
Denney-Jones advises any OTTB owner handling a diagnosed soft-tissue or bony equine injury to be patient. Seek to understand the extent of the injury and what you need to do to treat it.
"There are some injuries that are probably going to be longstanding and will limit the horse," she says. "But for most of them, patience and time just seem to be the best ingredient, and they've really got to try to work with the vet, with the horse, in making it a doable situation."
She says up to 75% of these injuries can resolve to the point the horse returns to his or her previous level of work or higher, if the owner is compliant about care and no complications occur.
I'm happy to report that thanks to time, patience, excellent veterinarians, a fantastic farrier, and the support of friends and even his racing connections, Happy returned to regular work last year, and we showed a few times — even at the 2018 Thoroughbred Incentive Program dressage championships. We have just recently returned to jumping, and we're having a ball. 
This article was originally published in the Summer 2019 issue of Off-Track Thoroughbred Magazine, the only publication dedicated to the Thoroughbred ex-racehorse in second careers. Want four information-packed issues a year delivered to your door or your favorite digital device? Subscribe now!