Register and track your Thoroughbred with this important identification tool
Each spring the veterinarian comes out to the barn where I board my off-track Thoroughbred and, stall by stall, conducts exams for health certificates, pulls blood for Coggins tests and administers vaccinations. This April, she came armed with another tool. After each injection and blood draw, she used a scanner to check the horse's neck for evidence of a microchip. If it didn't beep in recognition, she inserted a chip into the horse's crest, noted the identification number and continued to the next horse.
Increasingly, major equine registries and organizations are mandating horses be microchipped with 15-digit International Organization of Standardization (ISO) chips for identification purposes. The Fédération Equestre Internationale (FEI) has required it since 2013. All Thoroughbred foals born in 2017 and later must be microchipped to register with The Jockey Club. And, starting in 2019, all horses competing at United States Equestrian Federation (USEF) and United States Hunter Jumper Association (USHJA) events, as well as the Thoroughbred Makeover, must have one. Western disciplines don't yet mandate microchipping, but organizations such as the American Quarter Horse Association are encouraging it through educational and pilot programs.
How it Works
The microchipping process itself is fast, simple and low-cost — typically $30-60 per procedure.
"We do a sterile preparation of the horse's skin with a chlorhexidine scrub solution, then rinse it with alcohol and place the microchip on the left side of the neck in the middle of the crest," says Laura Werner, DVM, MS, Dipl. ACVS, an equine surgeon and sport horse veterinarian at Hagyard Equine Medical Institute, in Lexington, Kentucky.
She inserts the grain-of-rice-sized microchip, using the manufacturer-provided applicator, through the skin, embedding it in the nuchal ligament about halfway between the horse's poll and withers. Then she checks the chip's placement with the microchip scanner to make sure it's accurate.
"Most horses tolerate it very well," says Werner. "Sometimes if it's a foal or a younger horse, I'll place some local anesthetic (on the skin) just to help, because it is a larger needle. Sometimes we will twitch them if necessary for restraint. But most adult horses tolerate the process."
Once implanted, the microchip is easily detectable with an ISO-compatible universal scanner. When scanning, Werner recommends going over the entire neck, on both sides, just in case.
"Sometime the microchips can migrate, so it's important just to scan the entire neck," she says. "Sometimes we do different patterns … say, vertical swipes vs. horizontal swipes — just to make sure that microchip has not migrated."
Take a picture of the microchip number with your smartphone so you have it whenever you need to reference it. Then register it with the appropriate organizations. These might include:
■ The Jockey Club Click on the "Microchips Lookup, Request & Reporting" tab on The Jockey Club's interactive registration page (registry.jockeyclub.com/registry.cfm, you'll need to log in or create a free account), and input your microchip number and horse information.
■ USEF If you compete in USEF-sanctioned events, you'll need to fill in your horse's microchip number when registering him for the first time. If your horse is already registered, sign in to your member dashboard to add it online. This information links to your USHJA profile, if you compete in those events.
■ Retired Racehorse Project When you submit your final entry form to the Thoroughbred Makeover, you must report your horse's Jockey Club-registered microchip number.
■ Equine Microchip Lookup Tool The American Society for the Prevention of Cruelty to Animals (ASPCA) has partnered with the American Horse Council to develop this database of all registered equine microchips. Veterinarians, owners, first responders, state regulatory entities and others seeking information about microchipped horses can input chip numbers at horselookup.org to discover the animals' identities.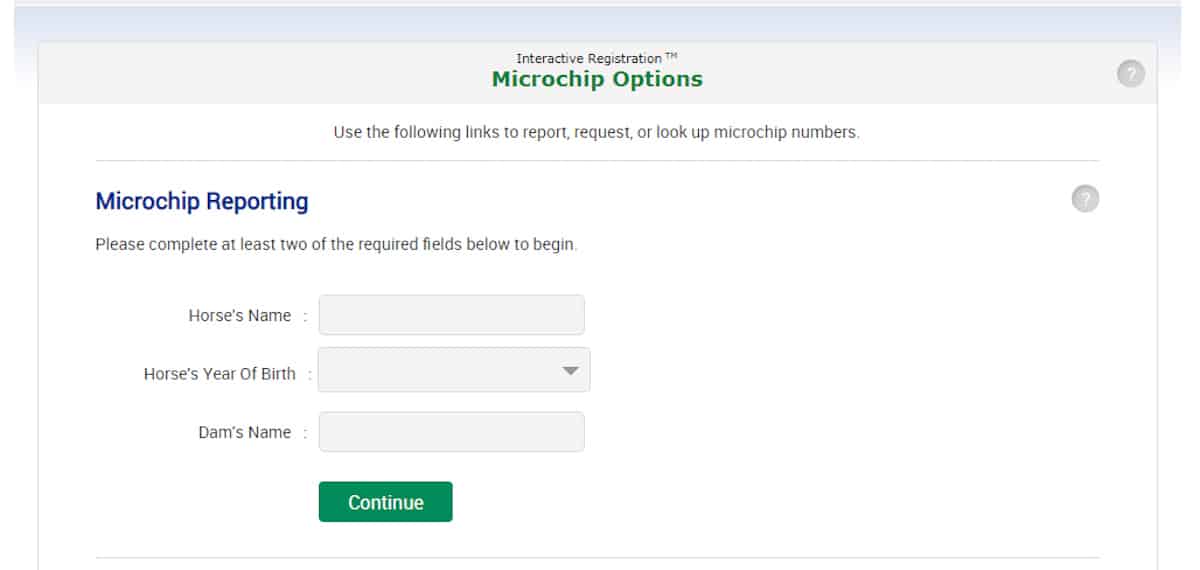 Why Microchip?
On the most basic level, microchipping is a permanent and effective way to identify horses.
"It's been used in Europe for many years (in 2009 the European Union started requiring all foals to be microchipped) to identify the proper horses as they go through there, especially because in Europe horses do enter the food chain," says Werner. The FEI has been "using them for quite a while now because, unfortunately, there are some dishonest people in the industry that try to cheat or substitute horses."
On the Thoroughbred side, microchips can prove an invaluable tool for not only identifying horses in a race but also deciphering retired racehorses' identities and tracking horses as they pass from owner to owner.
"Theoretically, it should be easier to identify them (with microchips), whereas the lip tattoos haven't always been identifiable," says Werner.
Microchips can also provide a safety net to help prevent OTTBs from falling through the cracks and ending up in bad situations, says Emily Weiss, PhD, Cert. AAB, vice president of ASPCA Equine Welfare. Using this technology, a veterinarian or rehoming group, for instance, can scan the horse, look up his past connections and help reunite him with his owner.
"We see the (microchip) database as a really valuable potential tool for owners to stay in touch with horses that have been in their lives previously," she says.
Weiss lists Thoroughbred Connect (ThoroughbredConnect.com), The Jockey Club's resource for connecting racehorses and people who can care for them after their racing careers, as an example of its use. Through this program, individuals can indicate their willingness to provide aftercare or assistance to an OTTB they've owned or admired. Should the horse become available or need help, upon inputting his microchip number that person's information pops up.
"The microchip is a way in which we can both identify who that horse is and who's attached to that horse," she says. "That microchip number becomes the point of contact. Rehoming programs and rescue groups are able to potentially stay attached to that horse, and the new owner certainly has the ability to have their information attached to that horse. It helps provide a safety net."
Microchipping has also proved invaluable in the face of natural disasters such as hurricanes and wildfires.
"In times of disaster, the best option can be to let the horse go and then be able to recover that horse," once the danger has passed, says Weiss. "Having those microchips is a huge tool. There's good data to support this from Hurricane Katrina in Louisiana, (a state that) has been requiring microchips in horses for 25 years now. They had almost full recovery of the surviving horses reuniting with their owners because those horses were microchipped."
Horse theft is another reality, she says. Microchipping might deter would-be thieves and elucidate the rightful owner of a stolen horse.
Lastly, this digital tool makes it easier to track a horse to which you've been connected. "Knowing that horses tend to change homes over the course of their lifetimes, being able to stay attached to that horse is really important," says Weiss, again noting how Thoroughbred Connect keeps people connected to Thoroughbreds they've sold or managed in the past. "That's huge. That's what we all want to be able to do — to help a horse that's been in our lives. (Microchipping) gives us the opportunity to be able to do that."
Take-Home Message
As a horse owner, microchipping my OTTB was a no-brainer, regardless of whether we make it to the Makeover in October. I've now registered him with The Jockey Club and the USEF. Through tools such as Thoroughbred Connect and Equine Microchip Lookup, I have more confidence that he'll be supported throughout his life should I sell him.
If you don't have to microchip your horse to participate in an event or organization, consider it nonetheless.
"We always think, 'It's not going to happen to me,' until it does," says Weiss. "One of the best motivators is to be thinking about what's happening in this country as it relates to storms and weather and fires and the increased potential that your horse is going to be involved in something like that. If your horse needs to be recovered in one of those events, it's easy for him to be identified and sent back home."
And it allows us to better distinguish and track OTTBs over their racing and sporting careers and beyond.
RRP Requirements

Trainers applying for the 2019 Thoroughbred Makeover saw a new box to tick on their road to Kentucky: This year, all competing horses must be microchipped.

"Microchipping is an inexpensive, noninvasive and reliable way to ensure lifelong identification in animals, including horses," says Kirsten L. Green, Retired Racehorse Project (RRP) director of operations. "For these reasons it is rapidly becoming industry standard both domestically and abroad, across racing, sport and recreational riding. We at RRP feel that identification is key to ensuring equine welfare, and so we want to support efforts to increase the widespread acceptance of microchipping."

She offers a few microchipping tips for Makeover trainers:

■ Check to see if your horse already has one. "Microchipping became the standard with the 2017 (Thoroughbred) crop but, even if your horse is older, there's a chance he might be chipped," says Green. "Many North American tracks are implementing their own policies to microchip horses stabled on-site for training, and many aftercare organizations will chip horses that come through their programs before they're adopted out. Have your vet scan, and if you find one, jot (the serial number) down and check in on The Jockey Club website to make sure it was recorded with them."

■ Don't forget to register the microchip's serial number. "Make sure to report your microchip insertion to The Jockey Club," she says. "It's fast and free and literally takes 60 seconds."

■ Report your horse's microchip number on your final Makeover entry form. A volunteer will scan each horse for its microchip and check the number against The Jockey Club database as part of the arrival exams at the Kentucky Horse Park, in Lexington.

"Make sure you get this all squared away early," says Green.
This article was originally published in the Summer 2019 issue of Off-Track Thoroughbred Magazine, the only publication dedicated to the Thoroughbred ex-racehorse in second careers. Want four information-packed issues a year delivered to your door or your favorite digital device? Subscribe now!