Tips For Selling Your OTTB
A step-by-step guide to marketing your off-track Thoroughbred, finding the right buyer and closing the deal successfully
It's time to make a decision. You've been there every step of the way for your racehorse's career, from buying him and selecting a trainer to smiling in the winner's circle and giving him a hug after a narrow defeat. But now it's clear that he's not performing as well as he used to, and you want to do what's best for him. The good news is that he's still sound and in good health. The bad news is that, like most Thoroughbreds, he'd rather have a job to do than lounge in your pasture all day. You finally come to the conclusion that your horse needs a new home, one with potential for him to succeed in a second career. How do you make this happen?
There are multiple avenues available for finding a new home for a racehorse. There are sales barns and good-quality auctions, as well as private individuals that purchase and resell horses once they've undergone some retraining. Or, racetrack connections can market and sell their horses themselves to ensure they go to homes where they will be well-cared-for and loved.
Two seasoned professionals — Jen Ruberto and Courtney Cooper — shared their advice and experiences with placing and selling off-track Thoroughbreds (OTTBs). Ruberto operates Wire to Wire Sporthorse Sales and Services, in Lisbon, Ohio, and has extensive experience working with racing connections to find homes for retired racehorses straight off the track. Cooper is a four-star three-day event rider who owns and operates C Square Farm, in Nottingham, Pennsylvania, with her partner Neal Camens, and sells horses that have already been restarted in their second careers. 
Marketing Your Mount
Whether you're selling a horse straight off the track or after some retraining, you'll need to grab potential buyers' attention with a well-thought-out and professionally produced advertisement.
An ad needs to include all the basics, including the horse's name, age, sex, height and, of course, breed and price. Cooper recommends including the horse's training, potential and type of rider he is appropriate for. Ruberto says information regarding the horse's personality, any vices he has, previous or current injuries and performance restrictions can also help a potential buyer decide whether to pursue the horse.
"Additional information like pedigree and family line is important to a lot of sport horse people because they look for certain bloodlines, depending on chosen discipline," Ruberto adds. "I like to add in race record and any other info I might find while evaluating each horse."
A Photo (or Video) is Worth a Thousand Words: Take time to capture photos for your advertisement that represent the horse accurately and paint him in the best light possible.
"Horses need to be clean, have their feet picked out, the mane and tail should be combed through, and the bridle path should be tidy," says Ruberto. "I like (them to wear) a nice leather halter and to have their feet polished. It just makes for a better presentation, and buyers are able to make their decisions better because they aren't trying to look through dirt and manure all over the horse."
Then stand the horse on level ground and keep the sun to your back when snapping your photos. "Otherwise," Ruberto says, "their legs and body will be in shadows, and buyers will be asking for more pictures."
Ideally, include images showing the horse from each side and from the front and back. Be sure the horse is standing fairly square in all images so buyers don't mistake a funky stance for a conformational fault, and capture the head and neck in a relaxed position. 
Photos that show a horse's positive personality traits (think of the ones you've seen shared on social media of the snuggly horse or the one that's sniffing a barn cat) can be lighthearted additions to your conformation shots.
In a session on selling off-track Thoroughbreds at the 2015 Retired Racehorse Project Thoroughbred Makeover presented by Thoroughbred Charities of America (TCA), panelists agreed a smartphone camera is not ideal for taking sale photos. But if nothing else is available, it'll do.
The panelists also agreed that, in most cases, if you're unable to take high-quality photos of your horse, the price of hiring a professional photographer is worth the investment. 
Another component of a sale ad are videos. Ruberto collects videos of horses walking and trotting in a straight line at the track to give potential buyers a taste of how the horse moves. "The videos should be long enough at the walk and trot that potential buyers have at least 15 to 30 seconds of video to evaluate," she says. "You have to remember that a lot of buyers are buying from out-of-state, so they want as much information as possible to make the best decision."
Cooper says she shares video sparingly, limiting it to unedited footage of the horse competing. "Videos can be misleading, and horses, especially ones that are being retrained, can change so quickly that a video can be misrepresentative," she says.
If you elect to include videos in your advertisement, make sure they portray the horse's abilities accurately, and update them as training progresses.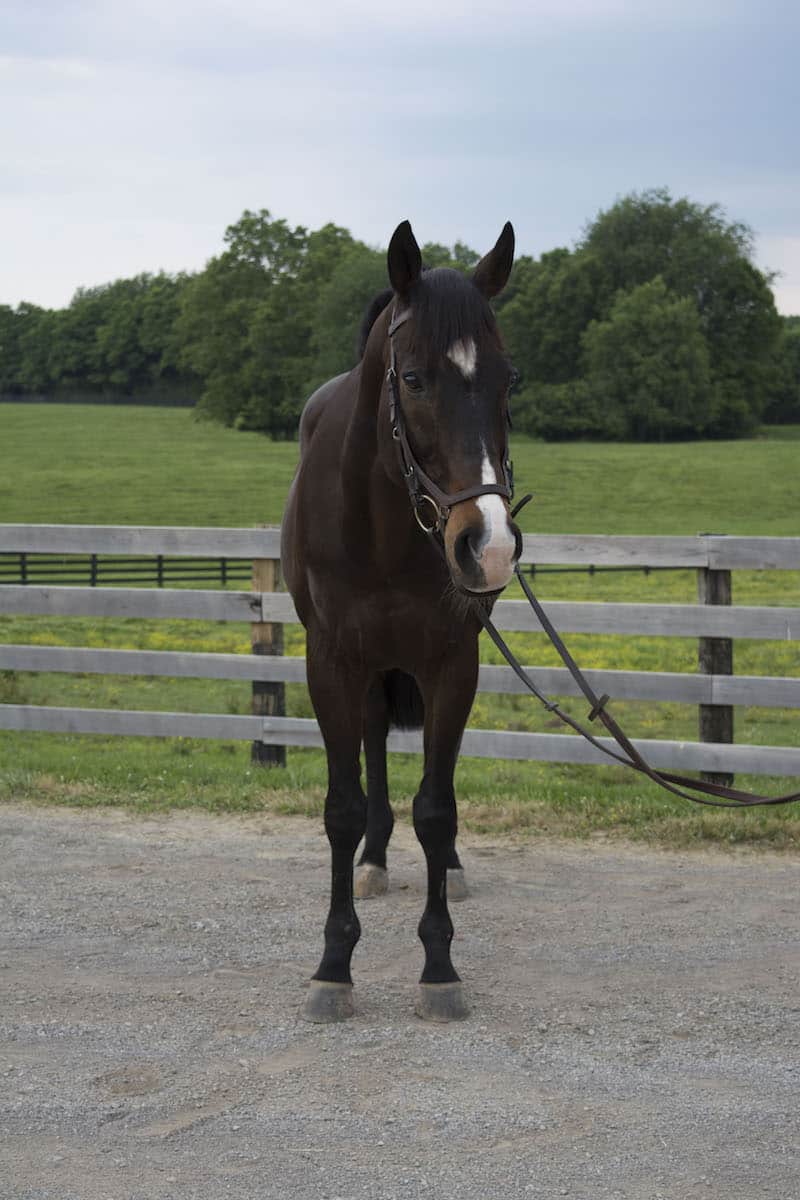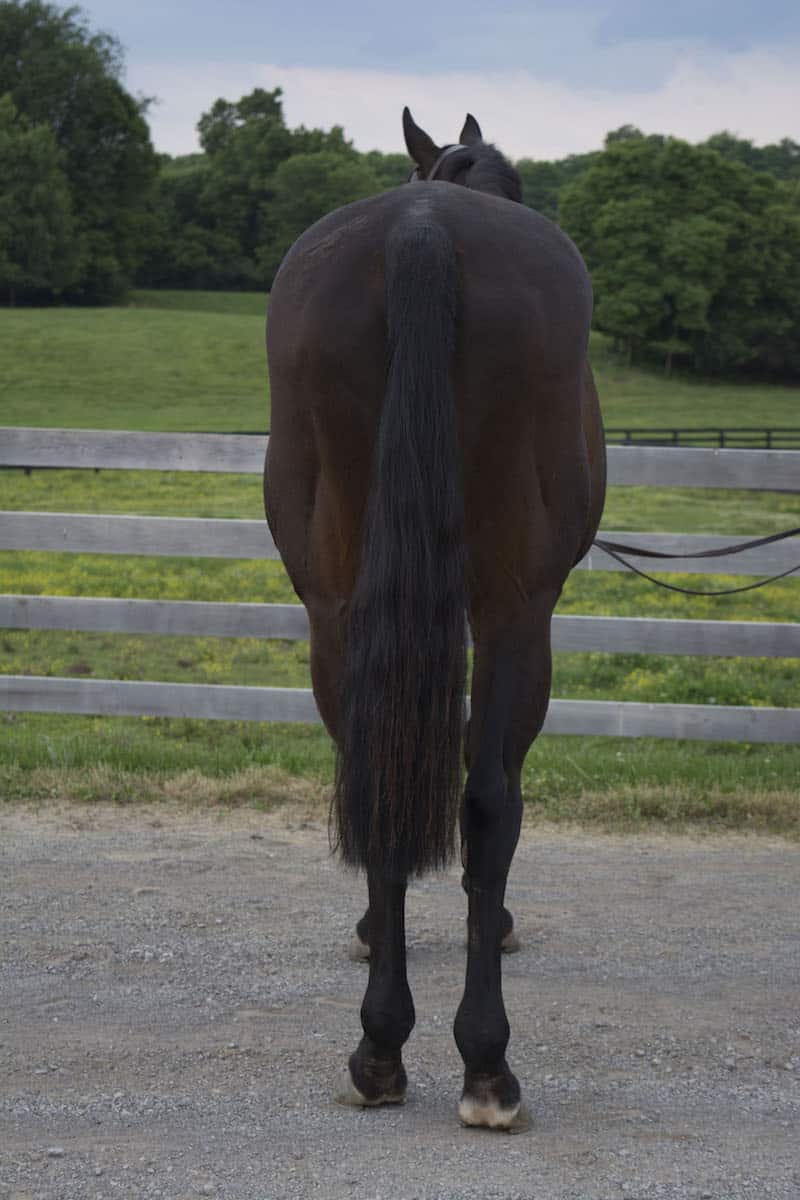 Spill the Beans: Both Cooper and Ruberto stress the importance of disclosing any pre-existing health conditions or injuries a sale horse might have.
"I always include anything I find or anything the trainer tells me" in a horse's listing, Ruberto says. "I feel it is a big responsibility to inform buyers of anything and everything I can find when I list a horse for a trainer. It is the best way to find the right home for each horse and the best way to ensure that horse doesn't end up in a bad place."
And while some major issues limit an OTTB's performance potential, many others have few to no lasting effects once healed.
"Some people want a horse that can do lower level competition," Ruberto says. "In most cases an old osselet (inflammation of the connective tissue of the cannon bone and fetlock joint, usually secondary to trauma during training) or bowed tendon will hold up to that type of work."
Cooper says she takes health condition disclosure one step further. "I will also provide whatever vet records I have available to (the buyer's) vet once a prepurchase is scheduled," she says.
Take a Closer Look: Speaking of prepurchase exams, both Ruberto and Cooper have no qualms about a potential buyer having a horse evaluated by a veterinarian.
While skipping a prepurchase exam does speed up the sale, it can also leave the buyer — and seller, for that matter — unaware of subclinical issues that haven't yet impacted the horse's performance. Some of these issues might never cause the horse any trouble, while others could develop into performance-limiting ailments.
Ruberto cautioned that it's uncommon for an OTTB to have perfectly clean radiographs after a racing career, but that many things are considered nonissues for buyers.
Also, she added, "it's nice to have baseline films for future reference."
Of course, a key component of an ad is asking price. Ruberto says deciding on an appropriate price is crucial to successfully rehoming a horse. Know, for instance, that an older horse with some physical baggage coming straight off the track probably isn't going to bring the big bucks.
Honesty is the Best Policy: A word of caution on creating your sale listing: Always be honest. Yes, you want your horse to appeal to potential buyers, but you also want to find the right buyer. Embellishing the truth or leaving out important details could attract an inappropriate buyer — for example, one that's too novice for the horse or has aspirations bigger than the horse's physical abilities.
Working With Potential Buyers
In many cases, your first interactions with interested parties will be via phone, email or social media. In addition to providing more information about your horse, this gives you the chance to get a feel for the potential buyer.
Ruberto screens possible buyers for the horses she owns or represents whenever possible, though sometimes it's more feasible than others.
"I ask questions to make sure I feel the potential buyer knows what they are doing and doesn't just know the right words to say," she says. "I look at Facebook posts and pictures, and I ask mutual friends about buyers. If they do come to see my horses, watching how they are around my horse is a key indicator as to whether or not they will be able to properly handle that horse." She does this both for the horse's sake and the rider's.
While the ultimate goal is, of course, to sell your horse, both Cooper and Ruberto agree that there are instances in which it's acceptable to decide not to sell to a particular person.
"If I feel that it is not a good match, I will not sell a horse," Cooper says. "It is always the seller's prerogative to not sell a horse."
Ruberto concurs. "I've turned people away. It's important to be nice about it and maybe help them find something else that is more appropriate for their needs. I want my personal horses in the best homes possible. The last thing I want to see happen is the horse to be resold multiple times or have them end up in a bad situation."
If Ruberto is marketing the horse for a commission in the sale, "It's really up to the trainer to decide (if the match is appropriate). If I feel there is a different horse that I have listed that would suit (the buyer) better, I try to steer them in that direction."
Some sellers permit potential buyers to take horses on trial before completing the purchase, while others do not. Cooper, for instance, does not send her horses out on trial, but encourages people to try the horse multiple times before purchase.
If you do elect to send your horse out on trial, there are steps you can take to increase the likelihood that it will be a positive experience. For instance, have a detailed written sale agreement (and make sure the buyer signs it before taking possession of the horse) and require a significant cash deposit up front. Many sellers limit the trial period to a week or two at most. Be sure you're clear on what the potential buyer has your permission to do with the horse during the trial period (i.e., transport and/or compete the horse) and who is responsible for any medical problems or emergencies that arise when the horse is out of your care. Also, have the buyer sign a liability release.
Consider having an attorney familiar with equine pursuits produce a trial and sale agreement to help protect everyone's interests.
Also consider equine insurance — many sellers require the buyer to insure the horse for the trial period to protect against unforeseen illness, injury or death. An equine insurance agent can explain what you'll need for your horse to be protected during a trial.
It's a Done Deal!
The ideal buyer has found your horse, her veterinarian didn't find any major issues on the prepurchase exam and she's made you an offer you can't refuse. Congratulations!
But don't let your excitement take over just yet. You still need to sign a purchase agreement.
In her purchase agreements, Cooper says she always includes the basics (the horse's age, height, sex and breed), the agreed-upon sale price and any commissions being paid and to whom.
Some sellers also include a clause indicating they retain the right of first refusal should the buyer ever decide to sell the horse, and others have clauses designed to prevent the horse from ending up at a low-quality auction or on his way to Canada or Mexico for processing. An equine attorney can also help you draw up the purchase agreement.
Sell Away
Selling an OTTB, like any horse, can be a time-consuming and tedious process. However, with proper preparation and a little luck, you can successfully place your horse with an owner, rider or trainer that will help him reach his potential, whether in high-level competition or as a pleasure horse.
"Sticking to your guns when you think a horse and buyer are not a good match is important," says Ruberto. "Reputation is so incredibly important in this business. Bad press spreads like wildfire on social media. So choose wisely, represent your horses well in your ads and most importantly, be honest!"
This article was originally published in the Summer 2016 issue of Off-Track Thoroughbred Magazine, the only publication dedicated to the Thoroughbred ex-racehorse in second careers. Want four information-packed issues a year delivered to your door or your favorite digital device? Subscribe now!