What your OTTB's past performance record can potentially tell you about his second-career capabilities
Knowledge is power. When it comes to off-track Thoroughbreds, one of the most powerful tools for gaining knowledge about your horse is his past performances, or PPs. A horse's lifetime PPs are a historical documentation of his athletic career, including the races he ran, dates, caliber and results of those races, every owner and trainer he's ever had and so much more. When viewed online, they can also include links to race replays.
But, you might ask, does any of that really matter if my horse isn't racing anymore? In short, yes.
Whether you're shopping for a new horse or trying to learn more about one you already own, taking an in-depth look at his PPs can give you a wealth of insight into where he's been, in what arenas he might excel and what potential issues could arise.
You Don't Know What You Don't Know … Until You Look
There are several ways to look up your horse's lifetime PPs online, thanks to services such as Daily Racing Form, Brisnet and Equibase. Equibase also offers a free "horse search" option, which lets users enter their horse's Jockey Club-registered name and view an array of data about the individual, including sire and dam, owner and trainer as of its last race, breeder, auction history, workouts (if the horse is still racing), links to full chart results from each race (which include a detailed description of how the race played out for each horse) and lifetime record and earnings.
Research into a horse's training and racing career can lead you to questions you might never have thought to ask. 
One of the easiest and most basic things to note in a horse's PPs is a gap of time, or layoff, during his racing career. If a horse ran consistently every four or five weeks, for example, then had a span of several months or more in which he did not make a start, the natural question to ask is "Why didn't he run during that time?"
There are several possible answers. Many trainers opt to give their horses a handful of months off each year, often in the winter, and the layoff could be nothing more than proactive downtime to allow the horse to rest. It could, however, be due to an injury the horse incurred and needed time to recover from.
Researching a horse's race charts can also lead you to ask key questions that might offer insight into a horse, both mentally and physically.
"Much can be gleaned by looking at the (lifetime PPs)," says Thoroughbred racehorse and sport horse owner Barrett Warner. "For example, does a horse improve for a while each time it changes barns or training programs? This might suggest that the horse thrives on variety."
Warner and his wife own An Otherwise Perfect Farm, in Upperco, Maryland, where they have been breeding, training, selling, racing and eventing Thoroughbreds for more than 20 years.
Having a front row seat to see how so many of their horses have transitioned from racing to eventing has allowed Warner to develop a keen sense for how on-track tendencies translate to the sport horse world.
"Looking at the pace figures over fractional mile distances, did the horse break on top, make the lead, then relax?" he says. "In other words, can he switch his maximum effort on and off as needed? Also, one should consider that the first step out of the gate is a jump. Racehorses jump into their gallop from a standing position. So, if you're looking for a jumper, look at how the horse started each race. Did he break on top or was he the last to come out of the gate?"
Other insightful questions to consider when perusing a horse's PPs and race charts, says Warner, include:
■ Did the horse run straight at the end of a race or did he lug in or out? This can point to a physical issue.
■ Did the horse show versatility over different tracks, surfaces, distances? This can indicate general versatility and adaptability.
■ Did the charts note that the horse washed out (sweated profusely due to nerves) prior to the start or was unruly during the race? This can suggest being easily excitable or a mischievous use of energy.
Straight From the Horse Trainer's Mouth
Analyzing the PPs and race charts with a critical eye can help you create a list of important questions regarding a horse's history. The best way to find out the answers? Connect with the owner, trainer or breeder.
You might see by looking at the PPs that the horse was owned by his trainer and breeder through much or all of his career, or perhaps was he sold through auctions, claims or private sales. An owner/breeder can often offer a more complete synopsis of the horse's life and career, though you can work to track down previous connections of a horse that changed hands multiple times.
"Good old investigation will help you find the contact information," says New York-based Thoroughbred trainer Rick Schosberg, who conditioned Grade 1 winners Maria's Mon and Affirmed Success after growing up on his family's Pine Lane Farm, in New York.
"When looking at past performances as an indicator of second career options, I start with the mental aspect," he says. "A peek at the horse's charts, for example, would indicate if that horse always seems to find trouble in a race. If so, they may not overcome adversity particularly well, and this might translate into second career activities. Sprinters, and especially turf sprinters (which excel at distances of less than a mile), are more likely to be higher strung than distance horses. It's not a proven fact, but just an educated guess, and most will relax somewhat once removed from the racetrack atmosphere."
While Schosberg has made a name for himself as a top Thoroughbred trainer, his experience competing on the East Coast hunter/jumper circuit helped him gain insight into predicting sport horse potential based on a horse's racing history. He has put that experience to good use, by not only thoughtfully rehoming horses that retire while in his care but also helping create programs and protocols that help horses and horsemen at the state and national level do the same.
"The racing office or horsemen's association at the racetrack may or may not be able to give out a trainer's contact information based on their policies, but social media can be quite helpful," he says. "After years of managing Take The Lead (Thoroughbred Retirement Program, I've observed that) most trainers want to remain engaged and assist in the horse's (post-racing) progress."
Internationally competitive three-day event rider Andrea Davidson has found the same to be true. She came across her first off-track retraining project, Mensa G, on the backside of Charles Town Races, in West Virginia. The gelding, who ran 40 times before Davidson bought him, helped her notch her first Advanced level win at the 2011 Jersey Fresh CCI***. 
"Seeking out information about a horse's racing history can offer a lot of insight," says Davidson, "but I think it's really important to get a sense of what their brain is like, too, and the best way to do that is by talking to the previous trainer or trainers to find out things like if the horse has any quirks, what he was like on the track in the mornings, was he good with different types of riders, does it have issues in the barn." Also consider what issues you are willing to accept and what issues might be deal-breakers.
Davidson cautions not to focus solely on information gleaned from the PPs but, rather, to use that information to enhance the overall picture of the horse.
"Looking at them on paper helps you learn a lot, like if they ran a long time and consistently, they're probably going to hold up, but they probably also have a bit of wear and tear, so it makes the prepurchase exam all the more important," she says. "While their PPs offer a lot of useful information to consider, it's important not to get stuck on what's on paper — do your best to seek out and talk with the horse's connections to find out if it is the right horse for you."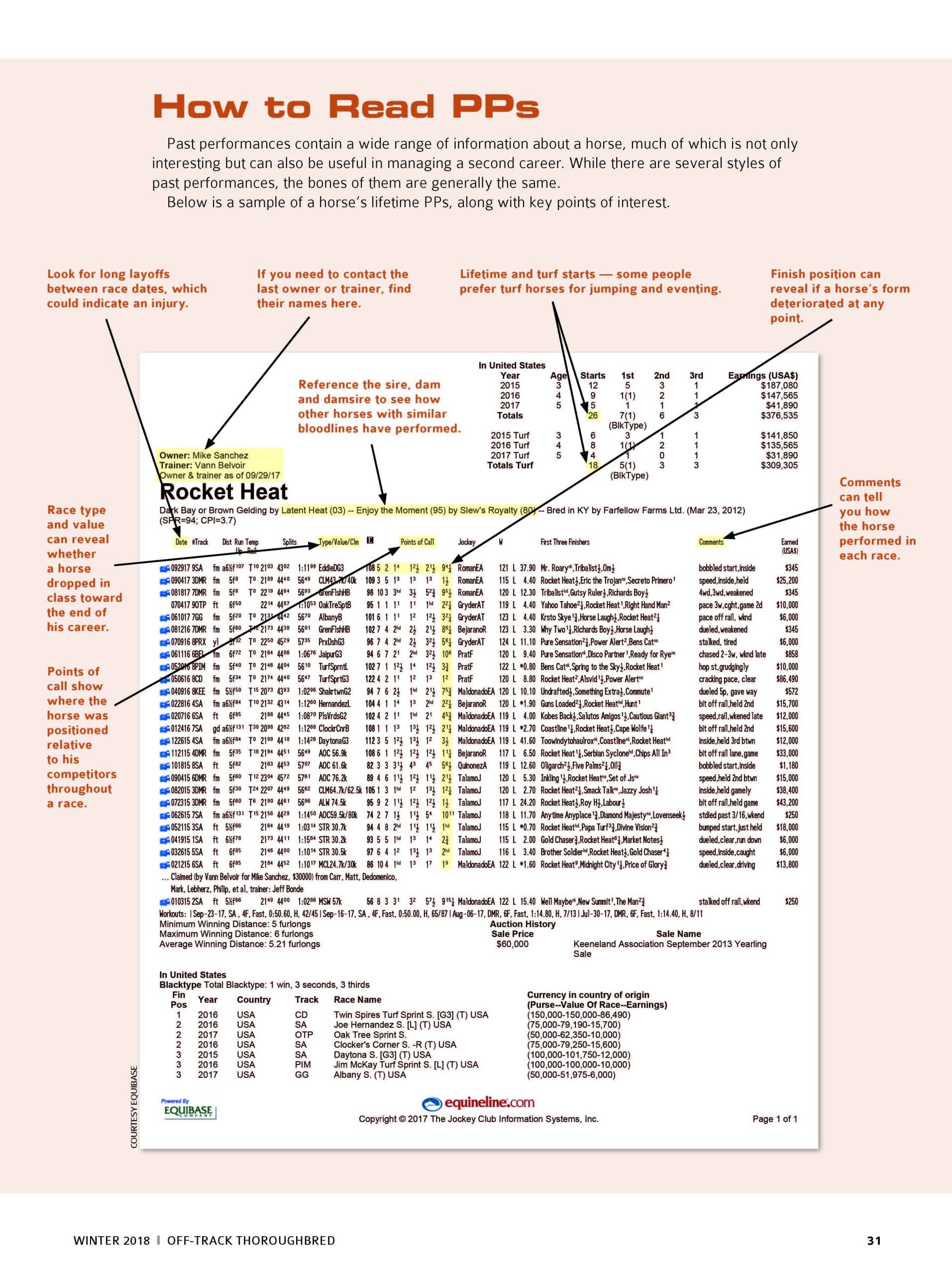 This article was originally published in the Winter 2018 issue of Off-Track Thoroughbred Magazine, the only publication dedicated to the Thoroughbred ex-racehorse in second careers. Want four information-packed issues a year delivered to your door or your favorite digital device? Subscribe now!