The Makeover & the Racing Industry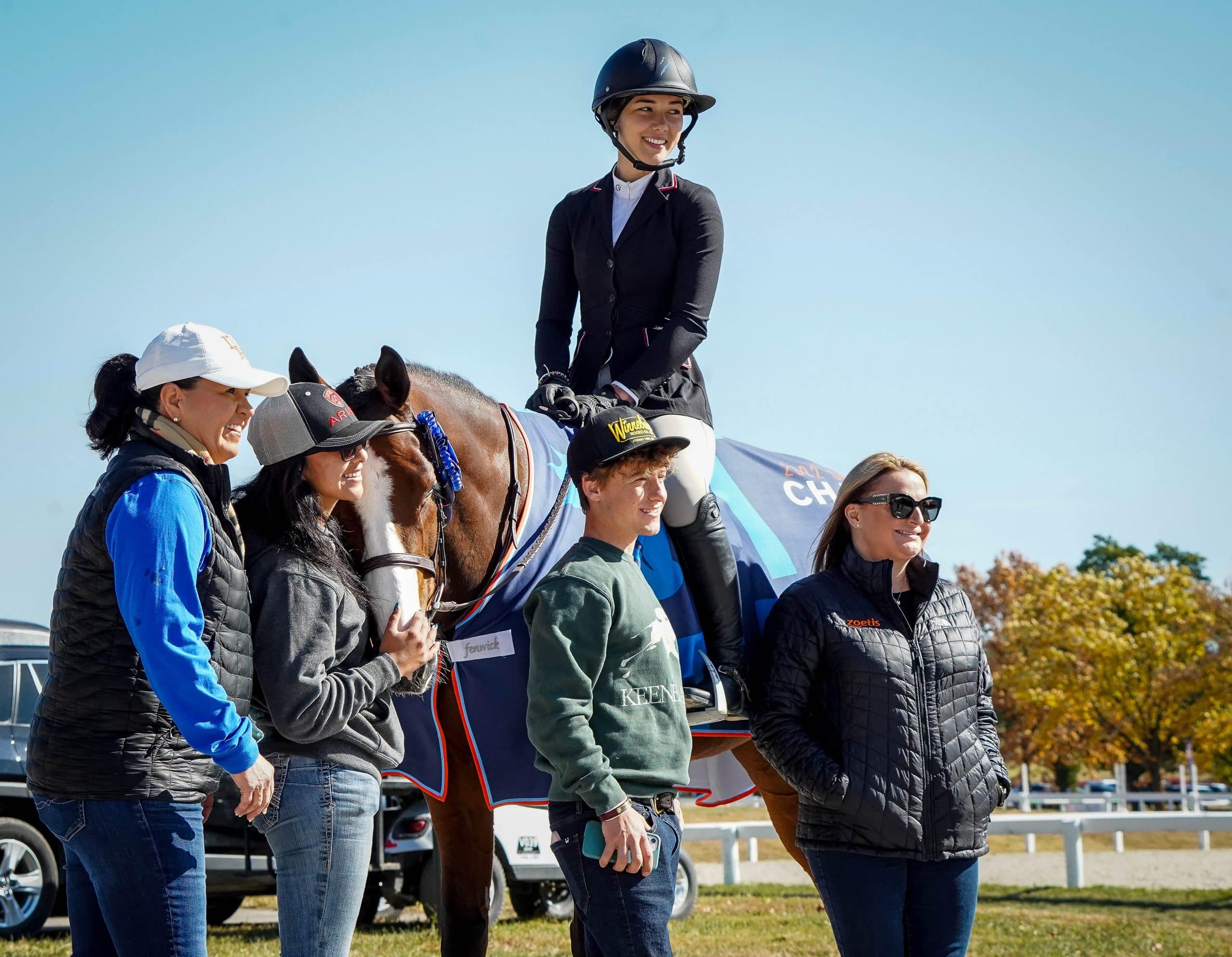 The goal of the Thoroughbred Makeover is to showcase the trainability and athleticism of Thoroughbred ex-racehorses, and inspire more equestrians to get involved with the breed for sport and recreational purposes. Participation in the Thoroughbred Makeover sets horses up with a solid foundation of training and provides a network of educational support for the participating trainers as well. Here's how the Makeover can fit into your aftercare plan for your horses.
What "RRP Eligible" means: on social media and horse listing sites/apps, the phrase "RRP eligible" has come to represent that a horse meets the requirements laid out in the rulebook to compete at the Makeover. This includes the following criteria:
Must be registered with The Jockey Club and have a lip tattoo or Jockey Club microchip. Thoroughbreds from other countries must have equivalent registration and identification, and horses who meet other requirements of eligibility but were never tattooed can be microchipped with Jockey Club approval if they have registration papers and proper identification.
Must have raced or had a published work on or after July 1 two years prior to the competition year in question (i.e., horses eligible for the 2023 Makeover raced or had a published work on or after July 1, 2021).
Must not have started training for a second career before December 1 of the year prior to the Makeover competition year, other than a maximum of 15 allowable rides or training sessions that introduce skills specific to non-racing careers. A few conditions are further outlined in the rulebook.
Horses that competed in sports other than racing before December 1 of the year prior to the Makeover competition year are ineligible. A few conditions are further outlined in the rulebook.
The RRP confirms eligibility of every horse at the time of registration for the Makeover.
2023 Pilot Broodmare Program eligibility: new for 2023, the RRP has added a pilot broodmare program alongside the traditional retired racehorse division. Learn more about that division here. Broodmare division eligibility is as follows:
Jockey Club-registered

Have foaled or been bred in the 2021 breeding season or after, as reported by The Jockey Club

Have one lifetime start or published work

Since the history of each broodmare can vary significantly, broodmares will not be subject to the 15-ride limit

Broodmares may not have had prior shows or competitions
Connecting with accepted Makeover trainers: all accepted Makeover participants are referred to as "trainers" in the rulebook and all published materials. Trainers do not need to own the horse they compete at the Makeover; some trainers ride under contract for a horse's owner and others participate in the team competition format.
Whether you intend to retain ownership of your retiring horse or would like to sell it to a home that intends to compete at the Makeover, you can connect with accepted Makeover trainers via our entry list. Trainers who have not yet registered a horse will appear at the bottom of the list. Trainers whose names are linked in blue have made their public-facing website or social media link available and can be contacted if you'd like to discuss placing a horse.
Makeover timeline: several key dates may assist you as you connect with trainers about competing your horse at the Makeover:
December 1: training opens for the following year's Thoroughbred Makeover
January 2-20: applications are open for trainers for the Thoroughbred Makeover (dates may vary slightly year to year but will always be in January). Horses can be registered at the same time that applications are submitted
February 15: accepted trainers are announced for the Thoroughbred Makeover
July 28: horse registration closes, and any trainers without a registered horse are withdrawn
After July 28th, no unregistered horse may be added to the Makeover. Final entry is opened in August for trainers to declare their disciplines of competition.
Attend the Thoroughbred Makeover: the Thoroughbred Makeover takes place at the Kentucky Horse Park in Lexington in mid-October of each year, always running concurrently with the Keeneland fall meet. It's a great opportunity to connect with your past horses and experience the resurgence in popularity of the Thoroughbred as a sport horse mount!
The Retired Racehorse Project contacts all breeders of Makeover horses each August, and also does its best to reach out to former connections to offer additional updates throughout the event. The Makeover is heavily covered by racing and equestrian media, and offers a great opportunity to show your support for Thoroughbred aftercare and your individual horses.