A new wave of equestrian enthusiasts is trying Thoroughbreds for the first time or returning to the breed after decades away -- but getting started with a new off-track project can be overwhelming. The Makeover Master Class was conceived to give spectators a comprehensive look at what to consider when evaluating prospects and how to approach those early rides off the track.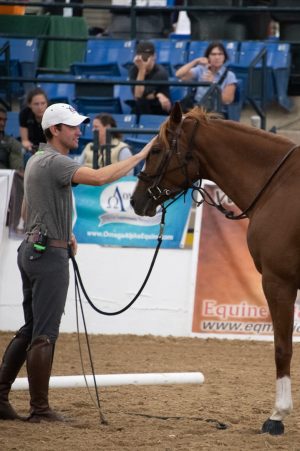 In 2022, the Makeover Master Class featured clinician Jorge Vasquez as he coached a small group of riders and recently retired Thoroughbreds through a series of foundational groundwork lessons. Vasquez tackled the challenges that OTTBs often face as they transition to second careers, guided riders through flatwork exercises that served as a basic introduction to polo. Commentators helped guide the session, providing feedback and questions as each horse and rider were evaluated.
About Jorge:
Jorge Vasquez is the USPA Midstates Circuit Governor, co-founder of the Commonwealth Polo Club, and the Gainesway Farm Polo Manager. He was also the 2017 and 2019 U.S. Team Captain in the Manipur Polo International Invitational.
2022 Makeover Master Class:
Presenting sponsor: Thoroughbred Education and Research Foundation